The man who should be National Artist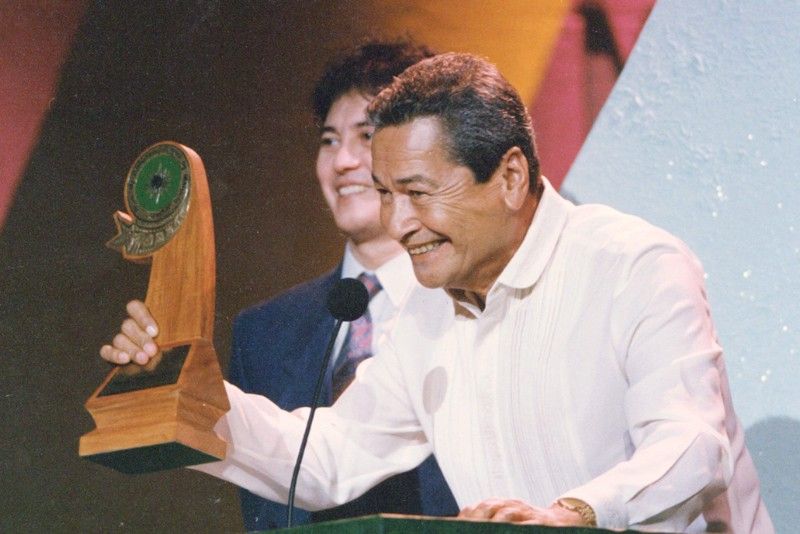 MANILA, Philippines — An outpouring of public sympathy, grief and tributes met the passing of Philippine showbiz legend and icon Eddie Garcia last Thursday (June 20). He was 90 years old.
Calls from in and out of the film community are also mounting for the National Artist award to be bestowed on the actor.
"Ibigay po natin sa kanya ang National Artist Award (Let's give him the National Artist Award)," director Benedict Mique made an emotional appeal while accepting on behalf of Garcia his third Gawad Urian award for Best Actor for his role in Mique's ML last June 18. Garcia was still in a coma at that time after his reported accident on the set of a GMA Network series last June 8.
The Order of National Artist is the country's highest and ultimate honor for one's achievements in the field of arts. The order is jointly administered by the National Commission for Culture and the Arts (NCCA) and the Cultural Center of the Philippines (CCP) and conferred through a Presidential Proclamation. According to the NCCA website, among the criteria for inclusion are "artists who have created a significant body of works and/or consistently displayed excellence in the practicing of their art form" and "artists who enjoy broad acceptance through prestigious national and/or international recognition… and/or respect and esteem from peers within an artistic discipline." Lifetime emolument and material and physical benefits comparable in value to those received by the highest officers in the land, including a state funeral and burial at the Libingan ng mga Bayani, are some of the privileges that come with the rank and title.
Manoy, as Garcia was fondly called in the industry, dedicated seven decades of his life to the craft, leaving a legacy of over 600 film and TV roles, and countless awards that celebrated his work both as an actor and director. He is the only artist to be inducted into the FAMAS Hall of Fame as Best Actor, Best Supporting Actor and Best Director for winning in these categories multiple times.
"His was a long and inspiring career, whose greatness never waned, even as he generously contributed to the national film culture as an actor right up to the age of 90," said the Directors' Guild of the Philippines in a statement.
"Despite his record-breaking awards and hundreds of films, he remained humble and grateful to Philippine cinema which he helped mold and develop through his years of service," the government's lead agency for film, Film Development Council of the Philippines (FDCP), also said.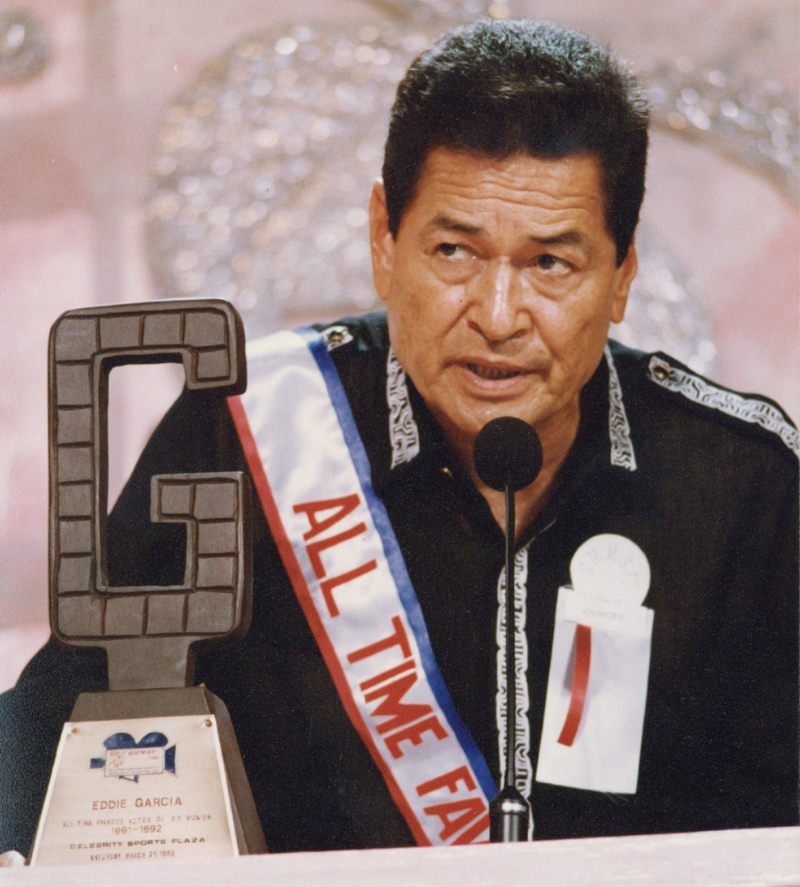 Eddie was named 'All Time Favorite Actor of RP Movies' at the Guillermo Mendoza Memorial Scholarship Foundation on March 21, 1992 — Photos by Richard Chen
For all his contributions to the industry, Garcia was somehow overlooked as a contender for National Artist.
"In the three nomination seasons (every three years) I've been involved in, Eddie Garcia has never been nominated. I believe since emphasis was focused more on Nora (Aunor), Vilma (Santos) and Dolphy," confirmed Teddy Co, NCCA commissioner for the arts.
"Most people have been clamoring for Manoy to be National Artist, but they don't know that one has first to be nominated by a credible body," he added.
NCCA and CCP, he clarified, do not make the nomination. "The nomination comes from the people, through a legit org. Then the NCCA jointly withCCP look for a panel of experts and peers from the artist's sector to help in the selection process."
The tedious selection process goes through three rounds of deliberations, with the last one gathering the joint boards of NCCA and CCP, plus the living National Artists, for a vote.
Garcia "can still be nominated posthumously" by any credible body, which means it should have an existing corporate and legal personality, Co noted. Last year's National Artist and "Father of Philippine Independent Cinema" Kidlat Tahimik was nominated by the University of the Philippines Film Institute (UPFI) while "Superstar" Nora Aunor was nominated by her official fans club.
"The next round of nominations call starts again later this year until next, then next round of deliberations will be in 2021," said Co.
Meanwhile, the party-list coalition in the House of Representatives issued a statement last Friday (June 21) that it would nominate Garcia for posthumous conferment as National Artist.
"As a group, the party-list coalition will nominate Eddie Garcia for the posthumous conferment of the National Artist award. The man and his legacy stand for what is beautiful and true about Philippine Art, specifically in Film and Television," said Bagong Henerasyon Party-list Rep. Bernadette Herrera-Dy, secretary general of the Partylist Coalition Foundation, Inc. (PCFI). PCFI is being led by 1-Pacman party-list Rep. Michael Romero, the son of Garcia's long-time partner Lilibeth Romero.
FDCP chair Liza Diño said they are backing any move or call for Garcia to be named National Artist. "FDCP fully supports this call. Dapat dati pa (it should have been done long before). And we will lend our support to make this happen."
What would Garcia think had he been proclaimed National Artist when he was still alive? In an ABS-CBN News report dated Nov. 7, 2018, he was asked his thoughts and quoted as saying: "Well, it's up to them. Para sa akin kung ano ang dumating na grasya, tatanggapin ko."