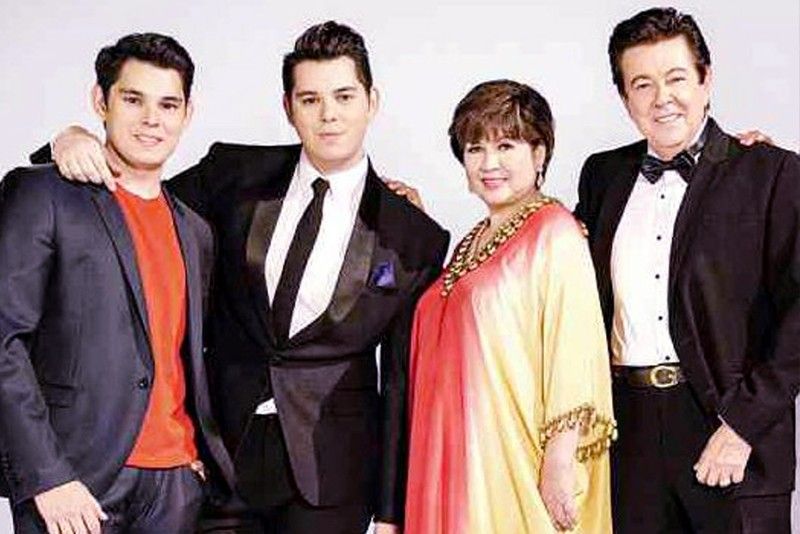 Eddie Gutierrez (with wife Annabelle Rama) and identical twins Richard (left) and Raymond
Photos from the stars' Instagram accounts
The art of twin fathering
CONVERSATIONS
-
Ricky Lo
(The Philippine Star) - June 9, 2019 - 12:00am
A Father's Day Special Feature
Twins are very much in the news these days, thanks to the birth of Pepe and Pilar who are making former DILG Sec. Mar Roxas and Korina Sanchez the happiest parents in the world, so proud and happy that they regularly post the twins' photos on their social media accounts, much to the delight of their followers who number hundreds of thousands. We all know how Mar and Korina are doing with their Pepe and Pilar.
What about other fathers of twins?
As a nod to Father's Day, celebrated next Sunday, June 16, Conversations asked them.
Eddie Gutierrez
"Do I ever play favorites between Richard and Raymond?" Eddie Gutierrez repeated our question. "No. Never! You know, Annabelle and I consider the twins our lucky charm. Since the twins came into our lives, sinuwerte ang business namin. Dobleng suwerte. Same with the twins. They are doing very well." (Richard's career is going great and same with that of Raymond who is in-demand as events/TV host here and especially abroad.)
Richard and Raymond looked so alike, especially when they were babies, and Eddie and Annabelle sometimes had difficulty telling who was who.
"Like any father," confessed Eddie, "I learned how to change diapers and prepare the feeding bottles. As the twins grew somewhat bigger, wala nang confusion in identifying them. We bought a long stroller not just for two but for three because their brother Elvis was about the same size kaya tatlo silang nakasakay."
When Eddie carried the three kids, Richard would be in his left arm, Raymond in his right and Elvis astride his shoulders.
"Kaya ko silang tatlong kargahin," said Eddie with a laugh, adding, "that was before, noon 'yon. But now, hindi ko na kaya. Sila na ang kayang magkarga sa akin, hahaha!!!"
Eddie described his fathering style as liberal/disciplinarian.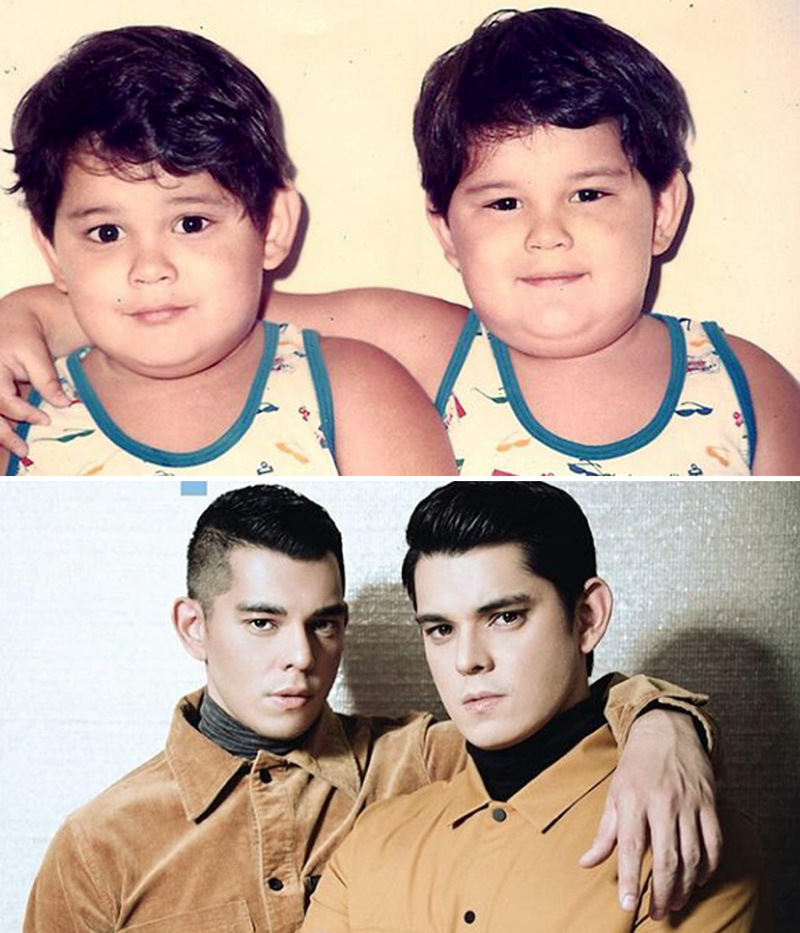 Richard and Raymond as kids. Can you tell who is who? As grown-ups, it's easy to tell one from the other.
"As they grew up, I would say 'yes' to them when they asked permission for anything. But when I saw something wrong, I talked to them in a nice way, never in a loud (angry) voice. I would remind them, 'You know, I want you to grow up to be good people…you should respect your parents and other people.' I never spanked them. Hindi ako marunong magalit. Well, I do get angry but very seldom."
Doesn't he meddle in the twins' personal lives?
"Not so much, hindi masyado. They are big now and they have minds of their own. Luckily, I don't see anything wrong in what they are doing. I'm happy na lumaki silang mabubuting tao."
How is he as lolo to Richard's two children (with girlfriend Sarah Lahbati), Zion and Kai?
"I spoil them," admitted Eddie. "I am a spoiler grandpa. Maski anong hawak nila, okey lang. I leave them alone as long as they don't hurt themselves. Iba si Annabelle, 'Uy, don't touch this! Don't touch that! Don't go there! Stay here!' Ganyan siya. Ako, iba." (Actually, Eddie has several other grandchildren: Two from Ruffa, two from Elvis, one from Rocky, two from Tonton Gutierrez and four from Ramon Christopher.)
On Father's Day, Eddie and Annabelle will be celebrating with "all of them"…and more!
"It's fun having a big…bigger family," assured Eddie.
* * *
Aga Muhlach
Aga Muhlach (with wife Charlene Gonzales) and fraternal twins Atasha and Andres
"Do I observe a double standard, my twins being a boy and a girl?" Aga asked. "No, I don't. Sometimes, me being a guy, I am more comfortable with Andres since I know how it is to be a guy. But it's a different feeling when I am with Atasha and it's Charlene who understands her better kasi pareho silang girl."
Turning 18 in November, the twins are graduating Grade 12 next year, Andres from Brent International School and Atasha from the British School.
"Now that they are grown," added Aga, "intinding-intindi ko na ang pagiging tatay. I could feel it in my heart. It is not being 'me' anymore, wala nang para sa akin. It's now for them. There are so many things that I want to do and it's always with them, such as when we travel as a family. Kapag wala sila, parang hindi kumpleto. And also, parang the table has been turned. Now, it's me learning more from them than the other way around."
Especially now that the twins are in the "courting/being courted" stage. For his junior-seniors prom, Andres wanted as his date Juliana Gomez, daughter of Ormoc City Mayor Richard "Goma" Gomez and wife Ormoc City Rep. Lucy Torres, but he was too shy to ask Juliana. Dad Aga to his rescue.
"That was nice," confirmed Aga. "Andres is now into dating just like any guy his age. With Juliana, it was a wholesome date. When I asked him who his date was, he said, 'I want Juliana.' Tawa siya nang tawa. So I asked him, 'Are you serious?' He said, 'Yes, I am.' He didn't know how to get hold of Juliana, nahihiya siya, so I had to ask Goma and Lucy's permission. They said, 'Sure. Sige, sige!'"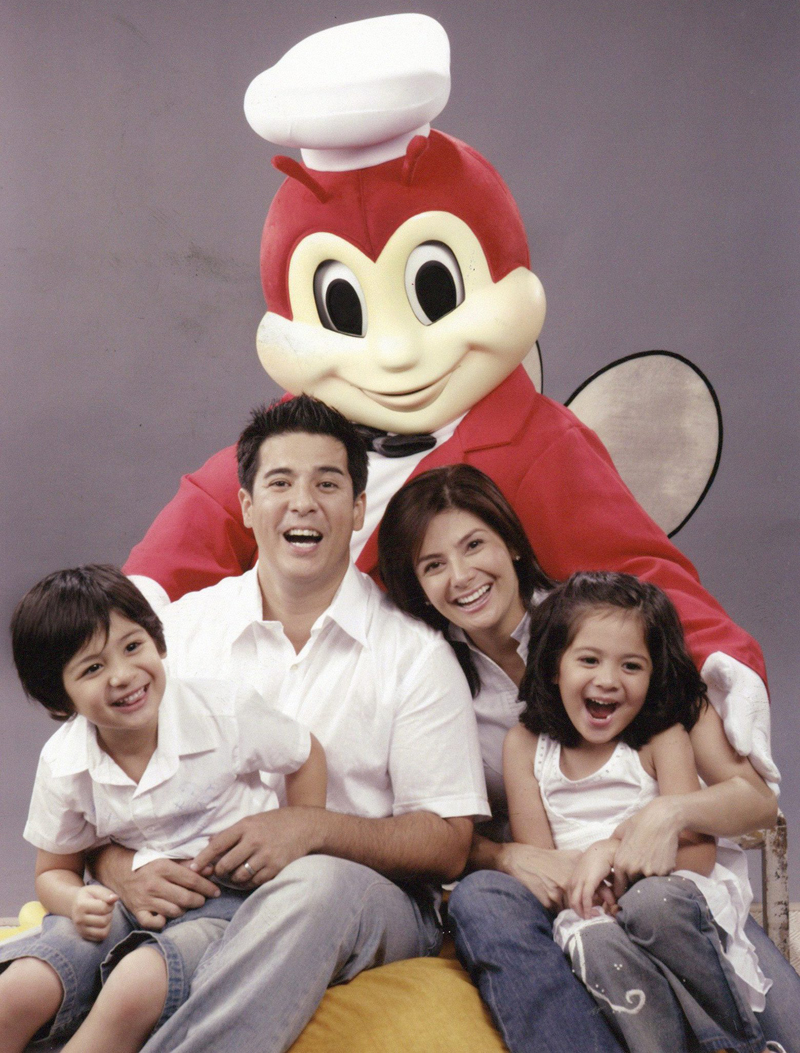 Aga and Charlene with Atasha and Andres (right) in the Jollibee commercial.
What if, just if, Andres and Juliana got so attracted, got to know each other closely and, nobody can ever tell, they became an "item?"
"Ah, eh, hahaha! Hindi ko iniisip 'yon. I don't think about it. Kami nina Goma…I guess bahala na sila dyan. Hahaha!!!"
And what if, just if, he learns that Atasha is being courted?
"Ah, eh, maybe six years ago I would resist siguro. But now, I think mas naiintindihan ko na. Bahala na pag nandyan na."
Looking at the twins grown up, with Andres (a basketball player in school) taller than him, Aga can't help but look back when the twins were small.
"They were not identical so there was no confusion; it was easy to tell one from the other. Of course, they had their yayas (nannies) but Charlene and I were hands-on parents, especially since I got married, medyo nag-lie low ako sa showbiz. I became active again only when the twins were teenagers na."
Aga recalled that when the twins were entering their tweens, he was kind of (reasonably) strict, a disciplinarian.
"But now that they are grown, malalaki na sila, I am more liberal. I feel that okey na sila and it's time for them to face the real world now."
The family stars in the Jollibee commercial, and if and when Andres and Atasha decided to venture into showbiz, Aga said it's up to them.
"After they finish college, if there are offers it's their call. I won't stop them, just as nobody stopped me when I decided to join showbiz when I was barely a teenager."
* * *
Zoren Legaspi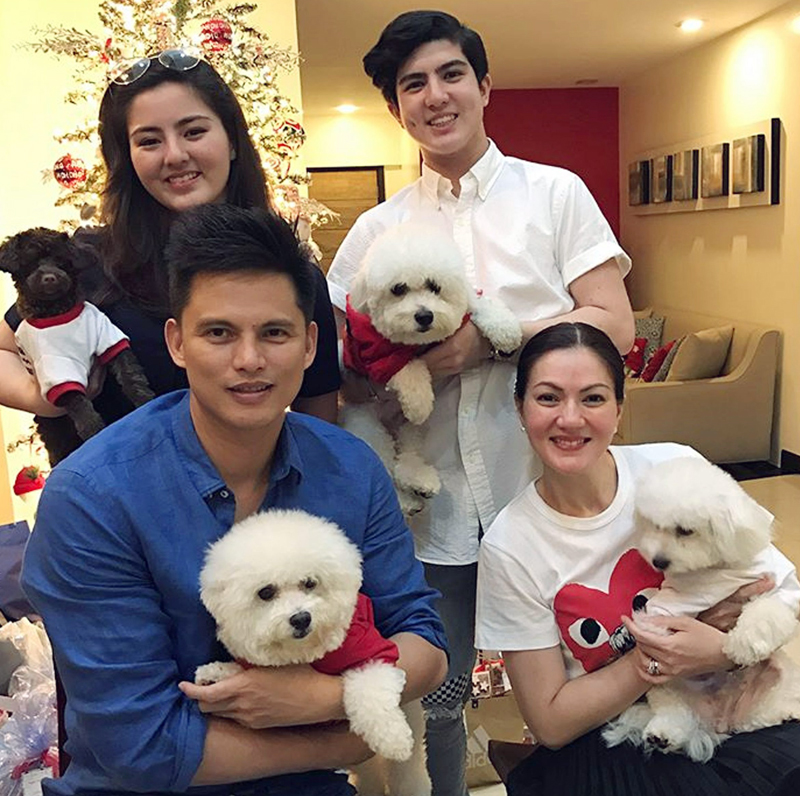 Zoren Legaspi (with wife Carmina Villarroel) and fraternal twins Cassandra/Cassy and Maverick/Mavy
For Zoren, "twin" fathering is a breeze.
"My twins are easy to raise," said Zoren. "I don't really have to worry about them. Just like other kids, they do give me problems but never too big to be unmanageable, nothing for me and Mina to lose sleep over. Just simple problems of teenagers. No big deal."
The twins turned 18 last Jan. 6 and have just graduated senior high school two weeks ago from the same school. They are both taking up a business course in college.
Is Zoren more strict with Cassy than he is with Mavy?
"Iba ang rules ko sa girl at iba naman sa boy. When I see Cassy wearing short-shorts, I make her change, pinag-papalit ko siya. I saw Mavy on his Instagram hugging girls…girls ha!...so I called his attention. Binabawalan ko siya. I told him, 'Huwag ka masyadong magyayakap ng mga babae.' He'll never know if the girls have boyfriends who might get jealous."
Unlike some parents who give their children the go-signal to have a boyfriend or girlfriend as soon as they hit 18, Zoren believes otherwise.
"Instead of having a boyfriend or a girlfriend, what they should do is set their goals and priorities, kung ano ang gusto nila sa buhay. Hindi nila dapat unahin ang pagbo-boyfriend o paggi-girlfriend."
Claiming to be a late-bloomer, Zoren had his first girlfriend (was it RG?) when he was 19.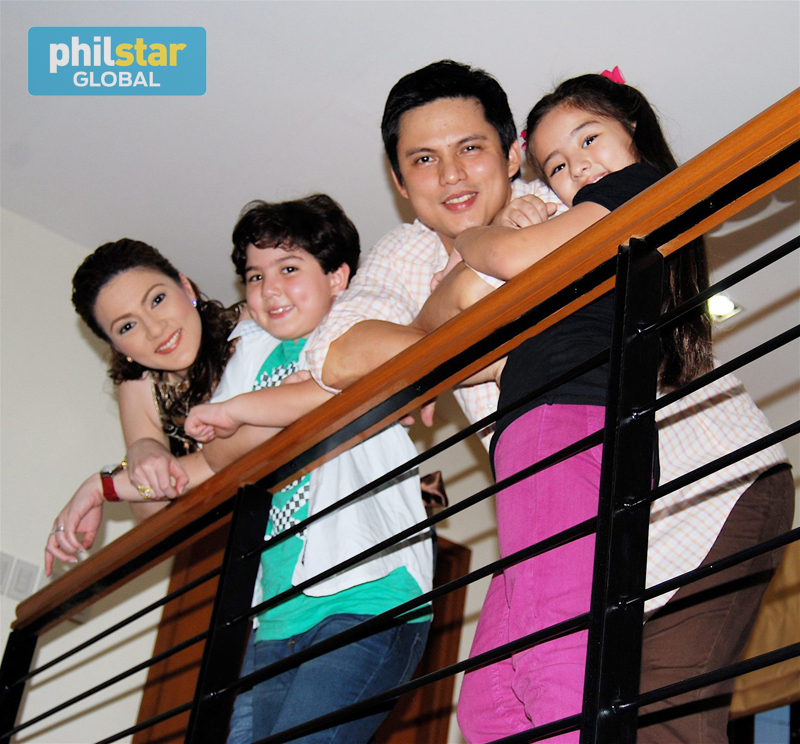 Zoren and Carmina with Mavy and Cassy flash a happy smile for a STAR pictorial. -Ver Paulino
The twins have joined showbiz, appearing on GMA's Studio 7 and as their mom's co-hosts in Sarap, di ba?
"It was a hard decision to make," admitted Zoren. "Mina and the twins didn't want to decide so ako ang nag-decide. Their entering showbiz is actually a trial…you know, to find out if they would like it or not, just to test the waters kumbaga. Mukhang gusto naman nila. So far, they are enjoying it naman."
Competition in showbiz is a cutthroat one and Zoren as well as Carmina know it. Carmina was a pre-teen when she embarked on a showbiz career through commercials, same with the twins who, with their parents, are Jollibee endorsers.
Carmina has been the brand's endorser since she was a kid.
"They should be ready to fight for projects that they want to do, talent-wise. They think, wrongly, that they are in friendly surroundings when in fact, there's so much competition. There are 15/16-year-olds who consider showbiz as a means of livelihood at d'un sila nagugulat."
Zoren is into sports and that's how the twins got interested in tennis.
As a father, Zoren stays on the "balance" side.
"When they become teenagers, I have to make a balance and sometimes bend the rules. I usually set a 12-midnight curfew when they attend a party. When they come home at 12:30 or 1 a.m., I understand because maybe they lose track of time while enjoying with their friends. Hindi naman sila umuuwi ng mukhang lasing or naka-drugs. They are just having clean fun."
(E-mail reactions at rickylophilstar@gmail.com. For more updates, photos and videos, visit www.philstar.com/funfare or follow me on Instagram @therealrickylo.)