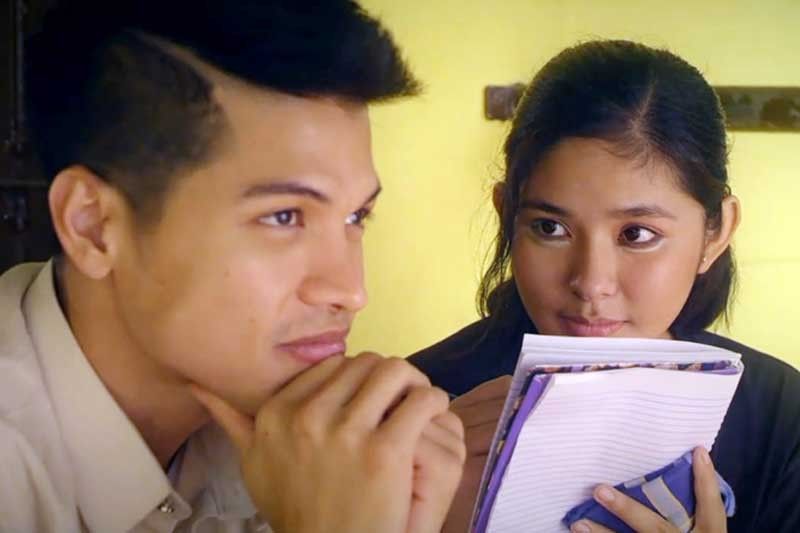 Vin Abrenica and Loisa Andalio as high school teacher Daniel and student Shantal in iWant's Past, Present, Perfect?.
A reflection on love through time
MANILA, Philippines — Time allows individuals to see the kind of actions they have made. It has a healing or a learning effect on them. Past, Present, Perfect? somehow explores all this. It also sees how its dramatis personae, especially Shantal, will create the now with the days gone by in mind.
At the helm of the latest iWant digital TV series is Dwein Baltazar. The seven-episode Past, Present, Perfect? is now streaming. Shaina Magdayao and Loisa Andalio play the Shantal 2018 and 2003, respectively. Vin Abrenica, on the other hand, is Daniel, their literature high school teacher.
"Although I knew where it (the story) would go, it was nice that I had other writers whom I could exchange ideas with," replied the Gusto Kita With All My Hypothalamus director when The STAR asked her about the challenging and exciting parts of narrating story with two timelines (past and present) in a recent media call. "We outlined the how's (of executing it). But things would change during editing," added Dwein, who found collaborators in Eljay Castro Deldoc, who has theater grounding, and Carlo Vergara, who wrote Zsazsa Zaturnnah. "Pinaka hindi na sunod, script-wise, yung episode four. I know that I needed to use mirroring, kailangan na may itatanim ako (sa past) at aanihin sa present." Case in point, as Dwein shared, is episode three, where Shantal 2003 falls in love with Daniel, while Shantal 2018 falls out of love with Daniel, who is now a different person.
With this overlapping, interacting (reflexive, you know the way of going back to and reflecting on) nature of storytelling, Dwein said, "(It's) also very tricky (to do) because the two (female) characters have different feelings (towards Daniel). Pero i-ju-jump mo (sila) sa emotions na yun. It's tricky and challenging at the same time." Remember the present Shantal and the past Shantal are one and the same person. One may look at one character as an extension of the other. The past remains an essential part of the present. What the director also looked forward to was how she seamlessly wove "that kind of story in which (the timelines) should be apart from each other but have to emerge as one." With that, the public deserves to watch this narrative (and the technique it employs) in understanding Shantal, who, according to Shaina, "does not know what to do in her life." Having published a successful romance pocketbook, Shantal experiences writer's block and needs to score a follow-up. She dabbles in translating books and sub-titling porn. A high school reunion changes her mundane life and ushers her to a phase when she can't help but look back.
"Shantal 2018 has mga bagahe (unresolved issues in the past), and she has only learned all this during a reunion. Parang duon nabuksan yung Pandora's box ika nga, dun niya ma-re-realize ang mga bagay bagay," said Dwein.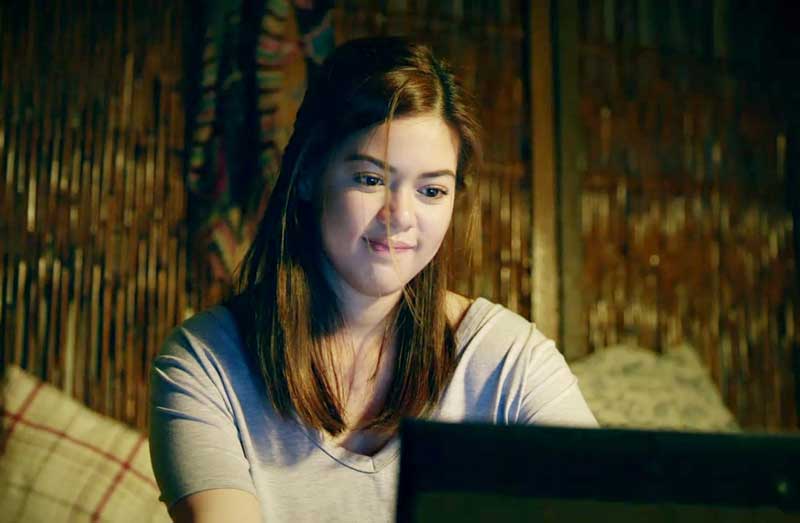 Shaina Magdayao plays Shantal, a romance pocketbook writer.
"I'm thankful for my past," said Shaina during the presscon, "My past, just like all of you, is imperfect, maraming pinagdaanan, pero marami rin akong aral na napulot." She added that with her now, the actress feels blessed and she is now in a good place.
As for Loisa, "One can learn a lot (by looking back at) the past. That's why (one's) past is important, kung ano ka ngayon ay dahil sa pinagdaanan mo." One cannot simply move on without acknowledging and confronting the past.
The Kapamilya stars were also asked about things from the past that they still carry with them now and intend to bring with them in the future. Shaina had this to say: "Perhaps, you wanted to hear a specific answer from me. The truth is buong-buo ko (itong) dala-dala. Whatever happened in the past, hinding-hindi ko kakalimutan yun. I've gone through a lot before but I remain grateful. Sa sobrang dami na nangyari, ang hirap na isa lang ang banggitin. My entire past is what makes me who I am right now and I can humbly say I want to bring it with me in the future, so I will not make the same mistakes again."
"What I want to bring with me in the future, at bitbit ko ngayon sa present, are my lessons learned, for they serve as guides or reminders to me," shared Loisa, "those pieces of advice from older people, yun yung mga gusto kong bitbitin hanggang future, yung mga payo na I remain humble and that I pray."
As their Shantal reflects on the past and the present or rewrites the past to better the present, Shaina and Loisa said they also appreciate what they have now and surely, what they will gain in the future. Time allows persons to understand their being and to find their meaning. This resonates, in one way or another with Past, Present, Perfect?. The ending will provide the final analysis.
"I don't know, though what I'm sure of is that... everytime I write, it's not (just about making it) aesthetically pleasing, manggulat ng audience, it's always for the story," said Dwein on how she wrapped up the narrative. "The story is always the king for me. How it ends, it's because feeling ko, that's what the story asks me (to do)."
(Past, Present, Perfect? also stars Romnick Sarmenta, Allan Paule, Awra Briguela, Amy Nobleza, Angelie Sanoy, Elijah Canlas, VJ Mendoza, Alorah Sasam, Eda Nolan, Anthony Falcon, Iana Bernardez and Peewee O'hara. To watch, download the iWant app on iOS or Android or register via iwant.ph.)