To a Camia & other Phl melodies by Sally Pinkas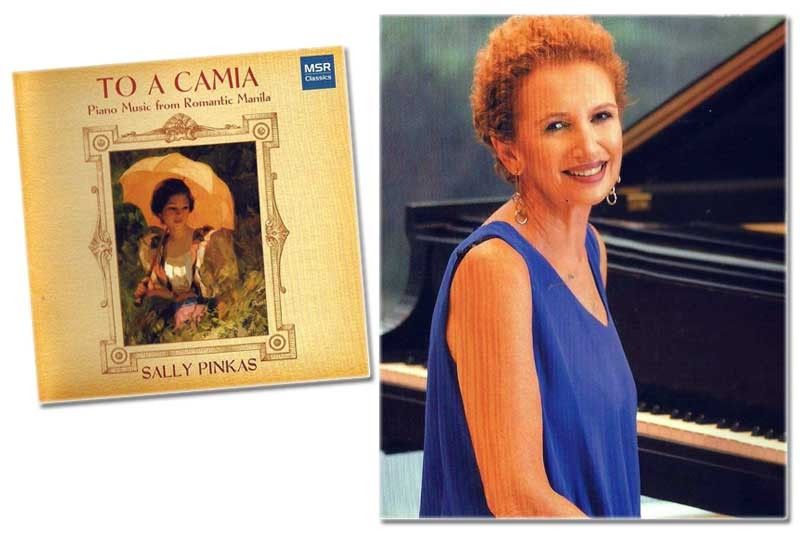 It happened long before Billy Crawford and James Reid trioed with Marcus Davis in Filipina Girl and longer still before Almo$t set this nation into slinky turns with his hip-hop homage titled Dalaga. There was this Catalan gentleman named Ignacio Massaguer (1846-1906), who came to the Philippines, fell in love and extoled the beauty of the Filipina in his composition La Bella Filipina.
Massaguer married a Filipino mestiza and spent the rest of his life in this country. His charming, simple danza talked of women with spell-binding black eyes and hair that fall like a royal cloak, with a smile and sweet looks that carry him to the altar. Doubtless dedicated to his wife, the song, written in the 1870s, became very popular. In fact, it was even used as the theme song of a famous radio show, hosted by Dely Magpayo back in the '50s era.
Massaguer's La Bella Filipina and La Sampaguita (1879) by Dolores Paterno (1854-1881) are the most familiar pieces included in the album To a Camia, Piano Music from Romantic Manila. This is a collection of one movement compositions from colonial Manila all performed by Sally Pinkas, who is in the faculty of Dartmouth College, where she is also the pianist in residence.
The Israeli-born Pinkas is a strong and sensitive pianist with gorgeous tones. Her repertoire includes Faure, Schumann and Debussy, among others. A few years ago, while performing during a symposium in Manila, she discovered the compositions from the colonial period and decided to record some of them. The result is To a Camia, where it is revealed that Pinkas has an innate affinity with the unique mix of Latin and Asian influences inherent in Filipino works during the Spanish era. She made every cut so beautiful and affecting. Tertulia memories, anyone?
How nice too that Pinkas decided to use a painting by the National Artist Fernando Amorsolo that he titled The Yellow Parasol on the album cover. Perfect choice. And I also like it that she calls Manila of the old days, romantic. It has been quite a while since I have heard Manila described as romantic.
To A Camia includes Filipino music that has never been recorded before. I am sad that it had to take Pinkas to record those works by some of our greatest composers and to release it out into the world. On the other hand, I am also glad that Pinkas took the job upon herself. If she had not and with the local music business not exhibiting any concern about our music heritage, some of those songs might one day be lost forever.
Isn't there a record label around interested in doing something like this? Maybe the government should issue a directive to local music companies requiring them to record and release at least one album of old Filipino compositions. Somebody has to do something to preserve those works.
I do not know of any local store that carries To A Camia but I am sure those interested in getting a copy can check Amazon or other mail-order services. I say be interested all you, music lovers. This music is your heritage. It is easier to get to where you want to go if you know where you are coming from. Besides, the album makes for really enjoyable listening.
To a Camia is divided in several sections. Literary Inspirations, commonly used as background music for poetry readings, is made up of Camia (1942), Mamer (Cradle Song) (1960) and Malikmata (Transfiguration) (1939), all composed by Antonio Molina (1894-1980).
Danzas Filipinas (Habaneras) includes La Sampaguita; Recuerdos de Capiz (1891) by Julio Nakpil (1867-1960); Porque Llorabas (1886) by Diego Perez (1870s); Harana (Serenade) (1945) and Sonrisa (1949) by Francisco Buencamino Sr. (1883-1952); Capricias (Danza) by Juan de Sahagun Hernandez (1882-1945); and La Bella Filipina.
Romances has Damdamin (Romance) also by Buencamino; Nocturne in E-Flat Minor (1922) by Francisco Santiago (1889-1947); and Nocturne in C-Sharp Minor (1921) by Nicanor Abelardo (1893- 1934).
The Waltzes section has Violeta (Vals facil) (c. 1870s) by Massaguer; La Julita (Pequena walz lento) (c.1920s) by Marcelo Adonay (1848-1928); Gratitud (Valse Caprice) and Kayumangui (1944) again by Buencamino, Sr.; Valse (1923) by Ramon Valdes y Pica (1895-1960); La Marieta (c.1920s) by Adonay; and In The Orient (Valsette in F major) (1952) also by Santiago.
The closing portion is titled Civic Pride and is made up of Pahimakas (1897) and Pasig-Pantayanin (1897) by Nakpil; and Purita (Two-Step) (1908) also by Santiago.