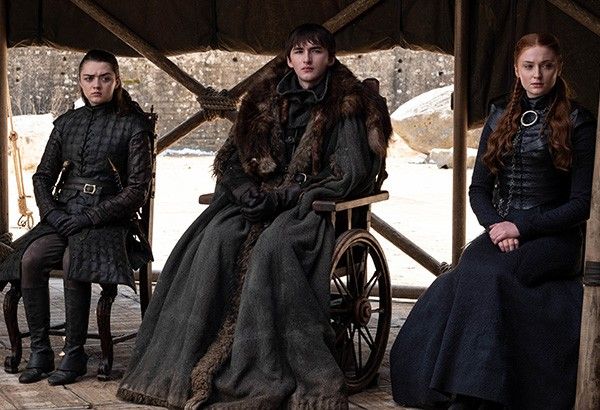 Scene from "Game of Thrones" finale
HBO/Released
'Our watch has ended': 'Game of Thrones' cast reacts to show's finale
MANILA, Philippines — After eight seasons with 73 episodes, "Game of Thrones," the so-called "greatest show on Earth" in terms of budget and viewership, has ended.
Cast of the of the award-winning fantasy drama took to social media to bid their farewell to the show that shaped their careers.
Emilia Clarke
The woman behind Daenerys Targaryen said: "Finding the words to write this post has left me overwhelmed with how much I want to say but how small words feel in comparison to what this show and Dany have meant to me."
She added that playing in the series has "taken up the whole of my adult life" and Dany's character "taken up the whole of my heart."
"I've sweated in the blaze of dragon fire, shed many tears at those who left our family early, and wrung my brain dry trying to do Khaleesi and the masterful words, actions (and names) I was given, justice," she said.
"Game of Thrones has shaped me as a woman, as an actor and as a human being. I just wish my darling dad was here now to see how far we've flown," she added.
She also thanked the fans for supporting the series.
"But to you, dear kind magical fans, I owe you so much thanks, for your steady gaze at what we've made and what I've done with a character that was already in the hearts of many before I slipped on the platinum wig of dreams. Without you there is no us," she said.
"And now our watch has ended."
In an interview with Entertainment Weekly, she admitted that she cried and went for a walk after reading the finale's script.
"Absolutely never saw that coming," she said of Daenerys' decision to burn King's Landing.
"It was a f**king struggle reading the scripts... (but) An actor should never be afraid to look ugly. We have uglier sides to ourselves. And after 10 years of working on this show, it's logical. Where else can she go? I tried to think what the ending will be. It's not like she's suddenly going to go, 'Okay, I'm gonna put a kettle on and put cookies in the oven and we'll just sit down and have a lovely time and pop a few kids out.' That was never going to happen. She's a Targaryen."
Although fans were protesting Daenerys' transformation into a "mad queen," Emilia thinks the finale is still "a very beautiful and touching ending."
"Hopefully, what you'll see in that last moment as she's dying is: There's the vulnerability — there's the little girl you met in Season 1. See? She's right there. And now, she's not there anymore... But having said all of the things I've just said... I stand by Daenerys. I stand by her! I can't not."
Sophie Turner
Turner, who played Sansa Stark in the series, thanked her character for teaching "resilience, bravery and what true strength really is."
She also said that she will leave the show, but will never leave behind the lesson she learned from it.
"Thank you (for) teaching me to be kind and patient and to lead with love. I grew up with you. I fell in love with you at 13 and now 10 years on.. at 23 I leave you behind, but I will never leave behind what you've taught me," said the "X-Men: Dark Phoenix" star.
Sophie also thanked the people behind the series for the trust in her and the show's fans for supporting.
"To the show and the incredible people who make it, thank you for giving me the best life and drama lessons I could have ever asked for. Without you I wouldn't be the person I am today. Thank you for giving me this chance all those years ago. And finally to the fans. Thank you for falling in love with these characters and supporting this show right through till the end. I'll miss this more than anything," the new Mrs. Joe Jonas said.
Nikolaj Coster-Waldau
The man who played Jamie Lannister posted a video of him on his Instagram account, saying: "So it's the final episode of the final series of 'Game of Thrones' tonight. Who will win the Game of Thrones?"
"Thank you for watching #gameofthrones #seasonfinale," he captioned the video.
Gwendoline Christie
The lady who played Brienne of Tarth posted a photo of her and Kit Harington (Jon Snow) jokingly saying that Jon was telling her the ending of the series.
"BEING TOLD THE ENDING TO @gameofthrones," she wrote.
John Bradley
John, who played the bright Samwell Tarly, posted a photo of him with his schedule in the series.
"So tonight we have our very last episode. It's the final step of a long and wonderful journey. A journey that, for me, started at 10am on Monday 19th of July 2010. I know this because recently I found my rehearsal and prep schedule for season 1, week 1," he said.
"This was given to me when I landed in Belfast for the first time, weeks before we even started shooting. Listed here is the rehearsal where I first met Kit, and the first time I wore the costume that's seen me through 8 seasons. I'm glad I kept this," he added.
He said meeting the people of the series and the experience it brought to him will stay in his heart.
"I met so many people that week who have come to mean so much to me. Back then we couldn't have known the journey we'd go on together. I wouldn't swap that experience, or those people, for the world. Enjoy the episode and thanks for everything," he said.
Pilou Asbaek
The actor behind the villain Euron Greyjoy paid tribute to the show's original hero, Ned Stark (Sean Bean). He posted a photo of Ned on the iron throne and captioned it, "Where it all began!!!"
Jacob Anderson
The man behind Grey Worm posted photos on his Instagram account: his first day and last day in the set of the series.
He described the series as "The craziest school trip ever" and "a 6 year Adventure Weekend."
"Grey Worm. You went from a robot to a real boy. I'm proud of you. I'll miss you bud. Thank you to everybody that cared about him and rooted for him. He was really scared at first, but you made him feel loved. He appreciates it. I asked him," said.
Kristofer Hivju
The man behind Tormund Giantsbane posted a photo on his Instagram account with his on-screen love interest Gwendoline (Brienne).
"Definitely a win win situation :-) Homage to Gwendoline Christie @gwendolineuniverse for her brilliant preformance [sic] as the warrior, the knight and the beautiful human being Brienne Of Tarth #GOTafterparty With my wife @grymolvaerhivju," he wrote in the caption.
Vladimir Furdik
The actor and stuntman behind the Night King posted a photo of himself saying: "Enjoy the latest episode of the final season."
Kit Harington
In an interview with Entertainment Weekly, Kit justified his character, Jon Snow, for killing Daenerys.
"I think it's going to divide (fans). But if you track her story all the way back, she does some terrible things. She crucifies people. She burns people alive. This has been building. So, we have to say to the audience: 'You're in denial about this woman as well. You knew something was wrong. You're culpable, you cheered her on.'"
He compared Daenerys' death to that of Ygritte, played by Rose Leslie, who eventually became his real-life wife.
"This is the second woman he's fallen in love with who dies in his arms and he cradles her in the same way. That's an awful thing. In some ways, Jon did the same thing to Ygritte by training the boy who kills her. This destroys Jon to do this."