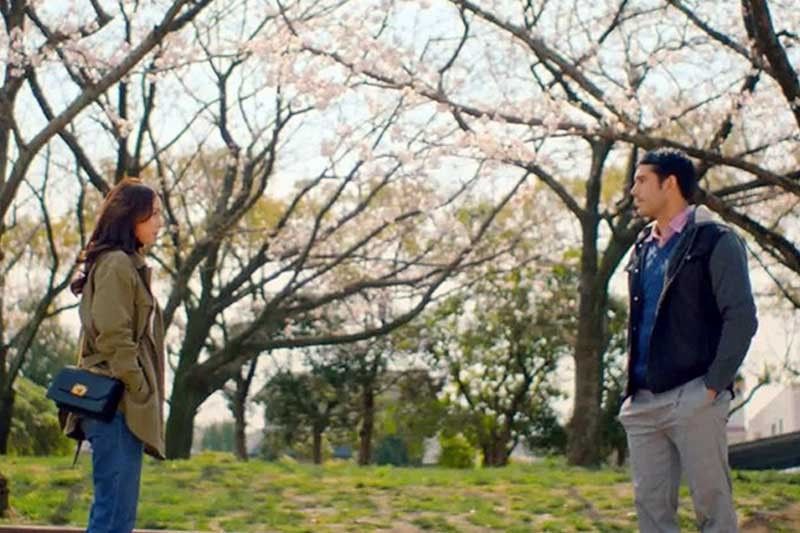 Julia Barretto and Gerald Anderson in a scene from Between Maybes: Fresh and highly-inspiring partnership.
Gerald & Julia: Unlikely loveteam
Black Sheep Entertainment has done what many showbiz-watchers would deem unimaginable: That is, to pair Julia Barretto up with Gerald Anderson for its latest movie, Between Maybes, now showing nationwide.
You see, the two Kapamilya actors are very much identified with their respective real-life beaus. Julia has Joshua Garcia while Gerald has a smooth-sailing romance with Bea Alonzo. That's why, local cineastes, especially the fans of JoshLia, were expecting that the two will be together in a movie after it was reported that Julia will topbill another romance-themed movie.
What came next was the announcement of a Julia-Gerald project. As expected, it drew various reactions from movie-watchers. Some deemed it was an unlikely pairing yet there were also many who welcomed the idea of Black Sheep on veering away from the tried-and-tested loveteam formula.
Julia expressed her desire to explore other opportunities and if that would also mean working outside of a loveteam, then she sees nothing wrong with it.
"I always tell that (if) given the chance to work outside of our loveteam, I knew it has to be with somebody much older than me. Actually, many people were surprised but that's the thing kasi, I want to explore other opportunities."
She revealed that it took her some time before telling about the project to Joshua because she wanted to make sure that the actor that the production team had chosen would accept the project. "And once I found out, I told him. But to be very honest, he (Joshua) is happy (that) it's Gerald. He is happy because it's with somebody a couple of years older than me, rather than of the same age."
Julia never denies that being in a loveteam can truly help boost a career. "It can really do a lot of (good) things for you. It can take you to so many places where you can also learn a lot, and you'll be thankful for that experience."
But she further added that she and Joshua know that they would eventually be paired with other actors.
"Josh and I are aware that sooner than later, in this journey, there will be a time when we will have our own projects and we respected that because we both love what we do. It's what best for us; it's for our growth as actors."
Julia also cleared that she didn't seek permission if there is a sexy scene in the movie from Joshua before accepting the project. She said, "One of the things that I've learned from my mom (Marjorie Barretto) is that while you are still in control of your life, your career, your decisions in life, you don't ask anybody for permission. If you feel it would benefit you, then you should go with your instinct. As respect to Joshua, I told him not necessarily to seek permission from him, it's more of just letting him know."
As for Gerald, he also started carving a name in showbiz as the other half of the Kimerald loveteam with Kim Chiu after their stint in Pinoy Big Brother. But after their team-up went kaput, Gerald was paired with different leading ladies.
"I wouldn't be here if not for the loveteam. It's because of our loveteam ni Kim, doon din ako nagkaroon ng confidence to explore and dun din ako na in-love sa craft ko," the 30-year-old actor said. "I would say I'm very blessed and grateful. Aside from that, my hard work is also a factor for me to reach where I am today. And I'm just very thankful."
Black Sheep's Chris Gazmen gave light on how the Gerald-Julia tandem came about. First off, he revealed that they accepted an offer from the Saga Film Commission to shoot a movie in Japan and director Jason Paul Laxamana was assigned to handle the project.
"After reading the script, we learned that the material was written for an edgy casting combination and not for a loveteam. We knew from the very start that JoshLia fans will react but there's really no other person to play the role of Hazel but Julia," said Chris.
"We were also thinking who would fit for the male character and we thought of Gerald because we were looking for an actor na tahimik pero may quiet confidence. And it's Ge (short for Gerald) kasi he's quiet and he doesn't need to brag about his accomplishments in life. He's quiet pero alam mo he's secure so kinailangan namin i-match perfectly 'yung casting combination since it's a very difficult script to pull off. Kapag mali ang cast namin, parang mali na 'yung lalabas na pelikula."
In Between Maybes, Julia is Hazel, an actress experiencing troubles in her career and not having control of her life. Feeling lost and wanting to escape, she books a random flight and eventually ends up in the secluded prefecture of Saga, Japan. There, she finds an unexpected confidant in Louie (Gerald), who isolated himself after experiencing heartbreak from his family. The two develop a functional relationship and finds comfort in each other.
Gerald shared it was his first time to work in a location where only a few people were in sight. During shooting breaks, he would walk around to see the place and meet other people "but there were only few. There were restaurants pero walang kumakain but I was thankful ganun 'yung location kasi walang distraction. I was able to get into the character easily."
He, too, said that it excites him to work in a new movie with new leading lady. "It's very refreshing kasi iba naman ang dynamics and it's a challenge to create chemistry in a short time with someone whom you will work with for the first time."