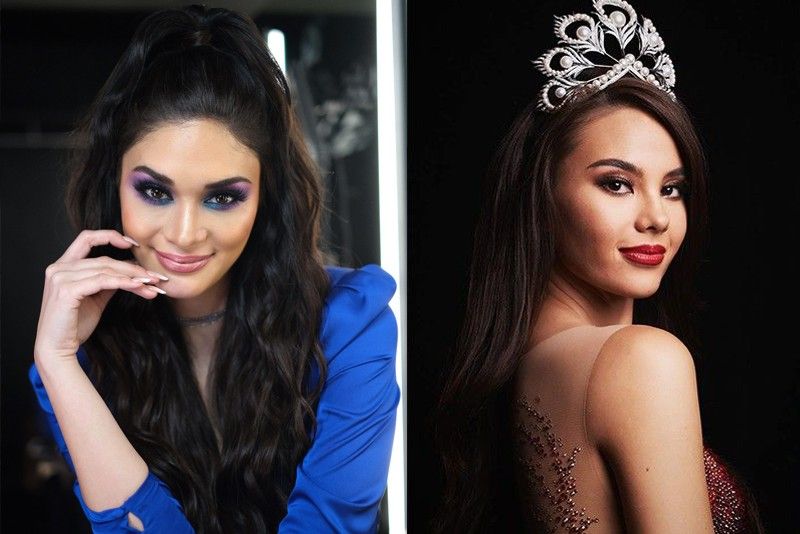 Former Miss Universe Pia Wurtzbach together with reigning Miss Universe Catriona Gray (right) will grace the benefit gala, The Universe Gives Back, on June 4 at the Marriott Grand Ballroom. They will see the beauty fashion and philanthropy create.
MANILA, Philippines — Beauty is something to behold. But it also serves an inspiration for a good cause. Pia Wurtzbach, 2015 Miss Universe, along with Catriona Gray, 2018 Miss Universe, will showcase both in a benefit gala, The Universe Gives Back, on June 4. It's a fashion-meets-philanthropy event.
"I think that's what they're trying to do, to make it more than just a title and I think it's nice that they're trying to create events like this that give back," said Pia on seeing the Miss Universe Philippines title as a brand or a platform for advocacies in a recent media group interview. This goes beyond the pomp and pageantry of beauty competitions.
Architect Richelle Singson-Michael and fashion designer Albert Andrada are Pia's fellow chairpersons for the affair. "It's about time that we have fashion shows that give back to beneficiaries or to the community," she added.
Pia knows gracing gala or fashion shows (like those mounted by Bb. Pilipinas) like the palm of her hand. This one is special, as Pia put it, for it will be "showcasing Filipino designers" — and focusing on health and children's causes.
Taking part in it also thrills Pia, who is happy to still be "considered and being invited to events like this," said she, recalling that it reminded her of the Governor's Ball that she participated in with Miss Universe two years ago.
What excites her is the help the benefit gala will extend to its beneficiaries Love Yourself (that promotes self-love and equality and provides health information on issues like HIV to the LGBTQI+ community) and Young Focus (that educates underprivileged children). "She's gonna be working with Young Focus. I'll be working with Love Yourself," said Pia of the organizations she and Catriona represent. "But they're both Catriona's advocacies, parang nag-ma-match din naman ang lahat."
Pia also shared that she finds joy in doing similar events because they keep her connected "with the advocacies that I used to work (on or get involved in) as a Miss Universe." Recently, she went to New York to receive an award for Smile Train on behalf of the Miss Universe Organization president Paula Shugart.
With the social causes behind the benefit gala, everybody can only wish for its success and sustainability.
"The point of all this is sana mag-tuloy-tuloy for the coming years," Pia said, "especially if we see how successful it's gonna be this year, and the kind of impact it's gonna have. I think this event, in particular, has been tried and tested na rin naman with the Governor's Ball that we had."
Looking forward, Pia and the rest can turn it into a foundation that will address issues that concern women.
"You know that's a good idea," she said. "But for now, I think we don't want to overwhelm ourselves too much... (In the future,) we could also focus on other issues like domestic violence, bullying, mental health and (other) issues that are relevant now."
"We don't know how big the pie is gonna be," she added. "We already know we have to split it into half."
The proceeds will be evenly distributed between Love Yourself and Young Focus. Since Pia doesn't believe in dole-outs, she and her chosen organization intend to invest in campaigns and acquire equipment for the treatment centers that can be used by many for a long time. "But who knows if it (gets) bigger and bigger through the years? Maybe we can even have the girls choose their own advocacies."
Asked to comment on the changing concept of beauty and image of beauty queens, Pia replied, "Definitely, there has been a big change. Malaki na rin talaga yung pinagbago (as compared to) a few years ago. Since Catriona and I are both the Misses Universe of IMG years, the IMG era, kumbaga, so nagbago na rin yung definition nila ng beauty… kung ano ang hinahanap nila sa isang Miss Universe, (now) it's really more than just being pretty, they don't even look at your height too much anymore, even your body type.
"(It's a) given that everybody is beautiful, may hitsura, may kanya-kanyang ganda. But it's different when one has a heart and the determination not just to win, but after (your reign), itutuloy tuloy mo pa rin ba yung trabaho mo? (Will you still continue on your work?)."
One agrees with Pia that the playing field for beauty contests has even become more competitive. Aspirants should not only possess good looks and personality but should also have advocacies.
"Even before they compete, they have (started) their advocacies (already)," she said. "They (have started) their preparations (already)… The most important thing is that they keep pursuing it and keep working (on it) even after the pageant."
The gala, to be held at the Marriott Grand Ballroom, will feature the designs of Andrada, Avel Bacudio, Martin Bautista, Ito Curata, Rhett Eala, Michael Leyva, Jot Losa and Cherry Veric.
(Tickets to The Universe Gives Back start at P10,000 and with VIP seats for P15,000 per head. For details on the event ticket and table selling, call Michelle Tulagan at 0977-2391677.)