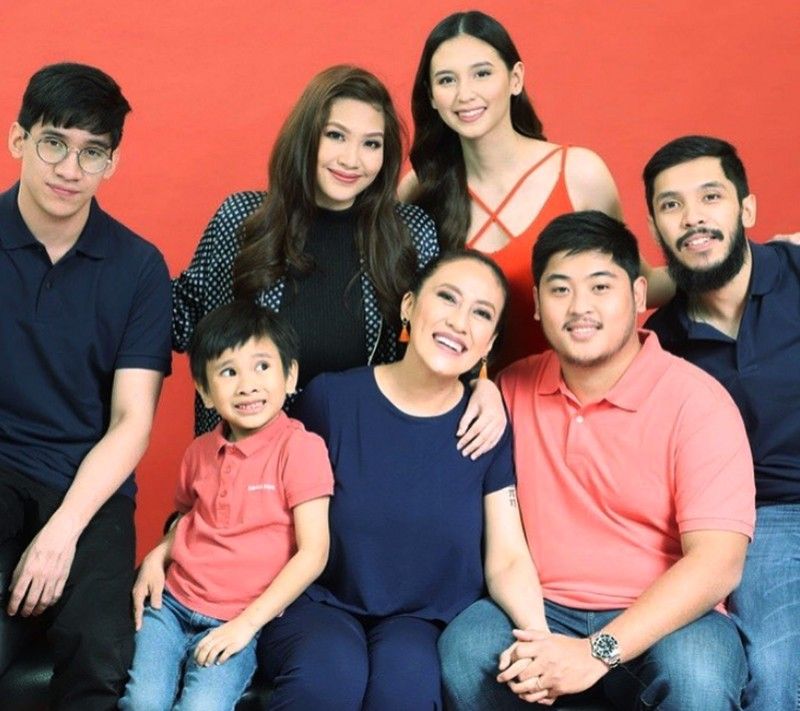 Ai-Ai delas Alas and husband Gerald Sibayan with children (from left) Nicolo (Niki), Sophia and Sancho (rightmost), with Sancho's girlfriend Shanna Retuya (second from right) and Seth Andre: 'I have no regret as a mother. There have been trials and I learned lessons from all of them.'
Ai-Ai rates self 9.9 as a mother
FUNFARE
-
Ricky Lo
(The Philippine Star) - May 7, 2019 - 12:00am
Asked to rate herself as a mother, Ai-Ai delas Alas said, with a perfect smile, "Only God is perfect, so I give myself a 9.9."
Ask her about having been adopted even before she was born, and the smile instantly dissolves into a subtle frown until her voice cracks.
Sure, the topic has been only glossed over during previous interviews and it was only during the recent one, for her new starrer, Viva Films' Sons Of Nanay Sabel (SONS), that somebody asked Ai-Ai to elaborate on it as a nod to Mother's Day on Sunday, May 12.
As the story goes, Martina Eileen (Ai-Ai) was inside the tummy of Gregoria Hernandez delas Alas when Gregoria's childless sister, Justa delas Alas (an engineer at the Bureau of Lands), asked to adopt her. Economically-strained, Gregoria and her husband, Rosendo delas Alas, said yes.
Ai-Ai was seven years old when she learned about it. Since then, she would pay her biological mother a visit in Calatagan, Batangas, where Gregoria and Rosendo lived. Every time, Gregoria would say, "I'm sorry!" to Ai-Ai, and then they would hug in tears. When she became successful as an actress, Ai-Ai assured Gregoria, "It's okay. I think it's destiny. Who knows, otherwise I wouldn't have been where I am now."
When Gregoria got sick, Ai-Ai took care of her and when she passed on a few years ago, Ai-Ai attended to every little detail of her wake. "That's why Ai-Ai was thankful to those who condoled with her," said somebody close to her, "and she remembers all of them."
(Reminder: read on for "mountain-size" revelation end of this piece.)
Adding Ai-Ai's friend, "That's why Ai-Ai has a soft spot for kids, especially adopted kids. She has one."
In a sense, Ai-Ai has also "adopted" the members of Ex Battalion with whom, she's starring in SONS, which marks her return to comedy after doing dramas, Area and School Service, that have won her Best Actress honors in international film festivals.
Directed by Dado Lumibao from a story by Mel del Rosario, SONS is about a mom (Ai-Ai) separated from her children (the Ex Battalion guys) by poverty, only to work hard to reunite the family when she has the means.
"Patawa na may kurot sa puso," is how Ai-Ai described the movie which opens nationwide tomorrow, May 8, as Viva's Mother's Day offering.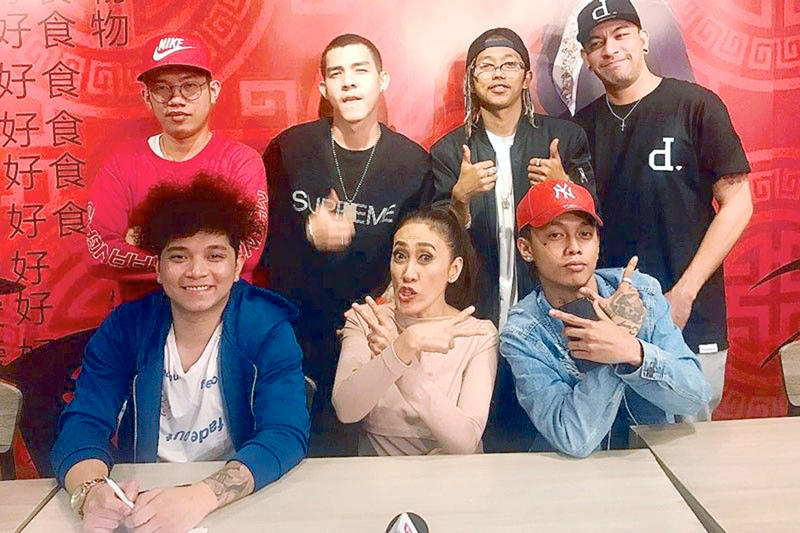 Ai-Ai with the Ex Battalion guys who play her children in Sons Of Nanay Sabel (SONS), Viva's Mother's Day offering opening nationwide tomorrow, May 8.
And as a nod to Mother's Day, Ai-Ai answered the following questions:
What do you consider your greatest achievement as a mother?
"My greatest achievement is having raised my children well na may takot sa Diyos (God-fearing) at marunong makipag-kapwa-tao (know how to deal with other people). I provide them a good education." (Sancho, who appears in FPJ's Ang Probinsyano, is a Culinary Arts graduate; Niki works as a machinist in Los Angeles; and Sophia, a Child Education graduate from La Salle.)
How is your relationship with your children?
"Very good. We are just like a barkada, pero with respect. I never run out of reminders (pangaral) and disiplina."
Do you ever spoil them?
"A bit…to make up for the time when I am at work and I cannot always be with them. Para balance. But still, nandyan pa rin 'yung disiplina."
You are a Marian devotee. How does it factor in raising your children?
"I want to believe that The Lord and Mama Mary are guiding me from the very start. I always pray that my children grow up to be kind, not to hurt other people, finish their studies, have a good career and end up with good partners in life."
Don't you have any regret as a mother?
"Nothing. No regrets. Wala akong pinagsisihan. Bing a mother is a blessing. Not everybody is given a chance to be a mother. There have been trials along the way and I have learned valuable lessons from all of them."
Postscript: Oh yes, the "revelation." Did you know that Ai-Ai owns a three-hectare lot in a mountain in Calatagan? Her grandparents used to work for the Zobels and they were given that lot as a token for their loyalty. Ai-Ai inherited that lot.
(E-mail reactions at rickylophilstar@gmail.com. For more updates, photos and videos, visit www.philstar.com/funfare or follow me on Instagram @therealrickylo.)