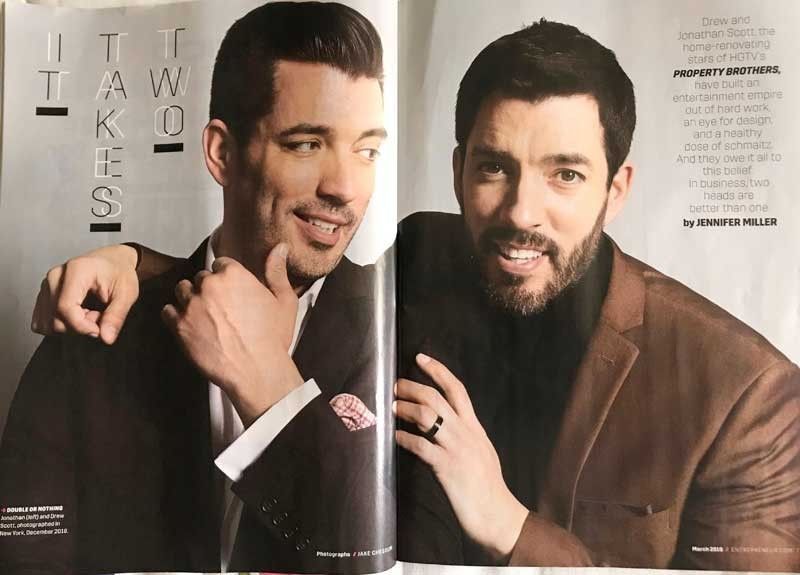 Jonathan Scott (unshaven) and twin brother Drew, hosts of the HGTV hit show The Property Brothers, in Entrepreneur magazine and on the cover of the same magazine.
A chance encounter with a Property brother
FUNFARE
-
Ricky Lo
(The Philippine Star) - April 27, 2019 - 12:00am
I grieved when several Borders closed, one in Singapore and the other(s) in L.A. But I thanked heavens that Barnes & Noble continues to do brisk business. With Borders gone, B&N is my and my equally bookworm friends' favorite hangout because it's reader-friendly. You can stay there the whole day browsing or actually reading magazines and books without buying as long as you don't, ehem, surreptitiously bring any copy out. Did you know that, at B&N, I read Mitch Albom's Tuesdays with Morrie from cover to cover in just one sitting while sipping a glass of iced tea bought from an in-store café?
Don't get me wrong. I do buy best-sellers and magazines (Vanity Fair, People, Entertainment Weekly, etc.) as pasalubong for friends back home. Yes, I'm a B&N card-carrying member entitled to some discount.
Our visits to B&N (our favorite is the outlet in The Grove off Beverly Hills) have been uneventful but the one last February had a welcome twist. My nephew Raymond de Asis Lo (The STAR's L.A. Correspondent) and I were busy checking the books at the "New Releases" section when we noticed our companion, the ever-loyal friend immigration lawyer Jemela Nettles, talking to a tall, good-looking guy in the magazines section with another guy holding a camera.
Curiously, we asked Jemela a bit loudly in Tagalog who the guy was. The guy was then posing beside a row of Entrepreneur magazines while his companion was clicking away. Approaching us, Jemela said, excitement lighting up her face, "Don't you know who he is?" We shook our heads. "He's Drew Scott, half of the twins hosting the show Property Brothers on HGTV. I watch their show all the time. I'm a big fan. He's so friendly pala."
Jemela related that when she spotted Drew, she wondered aloud, "Are you who I think you are?" Drew smiled and replied, "Yes, I am." Jemela asked, "May I have a photo with you?"Drew said, "Sure! Selfie!"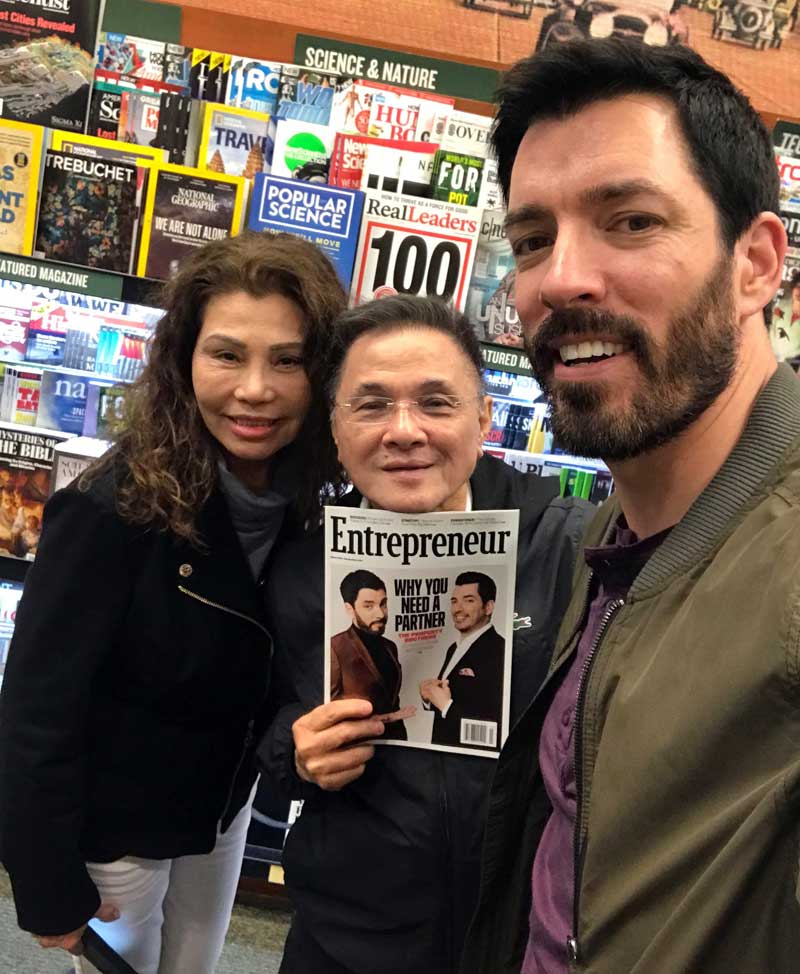 A 'groufie' with Your Funfarer and immigration lawyer Jemela Nettles at The Grove (off Beverly Hills).
The three of us went back to Drew who gladly engaged us in a small talk, telling him that we were from the Philippines.
"My brother Jonathan and I were in the Philippines a few years ago to promote our show," he said.
During that visit, the brothers participated in a series of roadshows and exclusive events in Manila where fans had the opportunity to "meet and greet" them at the Glorietta Activity Center. They were even featured on Modern Living TV, produced by The STAR, hosted by Bianca Gonzales and Stephanie Zubiri.
Property Brothers first aired on Cineflix, a midsize Canadian production house that developed the idea and sold it to Canada's W Network where it premiered in 2010 and attracted a legion of mostly female followers that turned it into a consistent top-rater until HGTV picked it up in the US where the viewership skyrocketed.
On the show, according to the Entrepreneur story "the Scott brothers help buyers purchase a fixer-upper and then spend a couple of months on renovation and design. The two are dynamic partners and charmingly goody which keeps viewers until the end of each episode when there's a big reveal, TV-worthy gasps and joyful tears. It's a formula that has worked for 13 seasons and counting, and has inspired equally hot HGTV spin-offs, the latest of which, Forever, will debut later this year."
The Entrepreneur feature written by Jennifer Miller recalled a story more than 10 years ago when Drew and Jonathan were in Budapest about to enter their first-ever escape room containing a series of puzzles that must be solved before time runs out. The brothers went to the basement where they found themselves locked out. Well, they did make it out "but barely."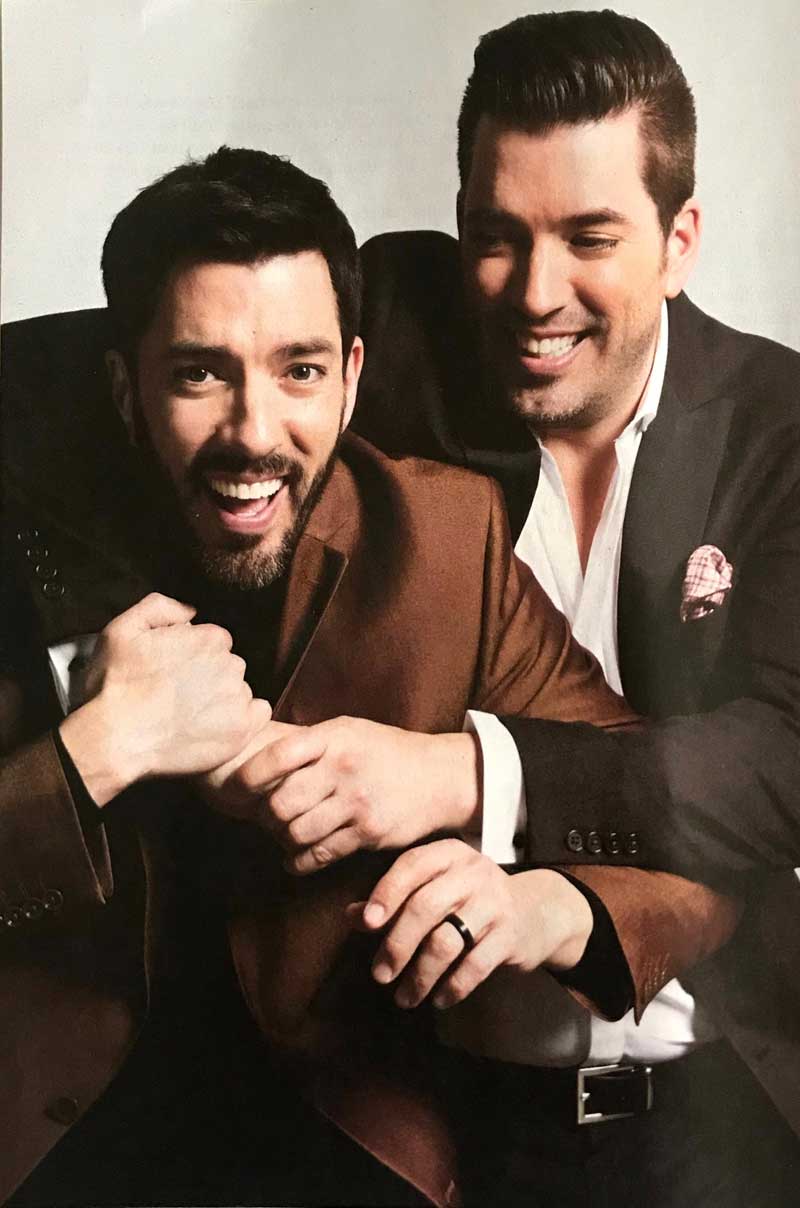 Still from Entrepreneur: Both brothers dreamed of fame. Drew wanted to be an actor; Jonathan, a magician. But in 1996 they weren't really either ­— just broke high school grads in search of a side hustle. As a way to make cash, they started flipping houses. It seemed like a good plan; the two were handy (they learned from their father who built the family home in High River, south of Calgary), and a provision in Canadian real estate law allowed them to take over someone else's mortgage without personally qualifying. They made $50,000 on their first flip. It was addictive.
And, as they would say, the rest is history.
Asked when he and Jonathan were going back to Manila, Drew said, "We would gladly go back. We hope soon."
Before we parted, Drew agreed to have more selfies with Jemela and me.
Back in Manila, I looked for Property Brothers on HGTV. Sob and sigh, I wasn't subscribed to the channel…and promptly did a subscription.
(Property Brothers is available on SKYCable on Channel 88 and Channel 246 [HD], and on Cignal Digital TV.)
(E-mail reactions at rickylophilstar@gmail.com. For more updates, photos and videos, visit www.philstar.com/funfare or follow me on Instagram @therealrickylo.)