Dingdong's contract signing with (from, left) Lilybeth Rasonable (senior vice president for Entertainment Group), Gilberto Duavit (president/COO), lawyer Felipe Gozon (chairman/CEO) and Dingdong's manager Perry Lansigan
FUNFARE
-
Ricky Lo
(The Philippine Star) - April 25, 2019 - 12:00am
…always a Kapuso, claims Dingdong Dantes who recently renewed his exclusive contract with GMA Network within a week after the birth of Ziggy (on April 16), his second child with wife Marian Rivera
For sure, there must have been "feelers" from other networks but Dingdong Dantes values loyalty (a very rare commodity in showbiz) so last Monday, April 22, he affirmed his being a Kapuso with the renewal of his contract.
"I've been a Kapuso for 21 years and that's more than half of my life," said Dingdong. "It was here (at GMA) where I met and married my wife, where we had our first child and now our second child. All the highlights of my life happened here."
His wife, Marian Rivera, can say the same thing. Turning four years old in November, their daughter Maria Letizia (nicknamed Zia) now has a baby brother named Jose Sixto IV (nicknamed Ziggy), born on April 16, six days before Dingdong renewed his GMA contract. A happy coincidence.
At the moment, Dingdong hosts Amazing Earth and pinch hits for Marian (until she returns to work) on Tadhana.
Dingdong is lucky since, aside from Jennylyn Mercado, he's allowed by the GMA management to do movies for Star Cinema (sister company of GMA's rival network ABS-CBN). On the side, Dingdong is an active advocate of nation-building and social movements that empower the Filipino Volunteer Sector. He's also the founding chairman of YesPinoy Foundation, an institution which partners with several organizations that promote education, disaster preparedness, battling climate change and more. YesPinoy is celebrating its 10th anniversary this year.
After the contract-signing, Dingdong answered some questions from Funfare.
Once a Kapuso, always a Kapuso?
"Definitely."
Isn't it a wonderful coincidence that your renewal of GMA contract happened within the week of Ziggy's birth?
"I believe everything happens in God's time. Siya talaga ang may plano ng lahat ng ito."
Aside from letting you do movies for Star Cinema, what are the other perks of your GMA contract?
"The perk is that I still get to work with talented and passionate people not just in front of the camera but also behind the camera."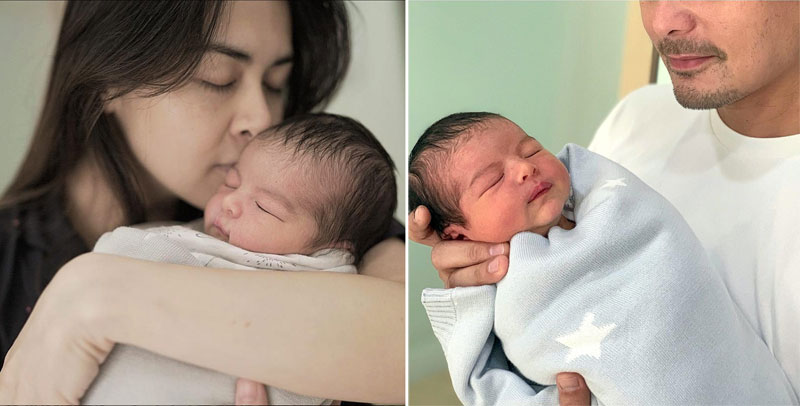 What can we expect from you during your new contract (new kind of shows, etc.)?
"More involvement behind the camera." (At the contract-signing, it was announced that Dingdong will play Captain Lucas, the Big Boss in the hit Koreanovela Descendants of the Sun which will be adapted by GMA.)
Will you be doing a project with Marian (they have done several, including Marimar where they met and Encantadia matched, the reboot and My Beloved, among others.) You once said that you would.
"That was before. The situation is different now. We already have two children. But I'm still waiting for the day when we can work together again, either in a film or a TV series. I don't think that will happen this year."
How different is being the father of a boy from being the father of a girl?
"Still figuring that out."
How will you and Marian prevent Zia from feeling sibling "jealousy" with Ziggy?
"We involve her in the process that we have at home. We make her feel that she is the older sister and that she has a very important role to play in Ziggy's growth. She was excited. As soon as Ziggy arrived home, Zia hugged him at once. After a 10-hour labor, Marian is doing well. She delivered Ziggy that natural way. Bumalik na siya sa kanyang gardening."
Having had practice with Zia, mahusay ka na ba magpalit ng lampin at mag-prepare ng feeding bottles?
"EXPERT LEVEL."
How do you think the coming of Ziggy will affect your and Marian's sleeping routine?
"If you ask me now, we don't have any pattern. Sleep? What sleep?" (Chuckles)
When will the baptism be and who will be the godparents?
"We don't know yet but definitely we have godparents."
By the way, is Ziggy really your son's nickname?
"Depends kay Zia. Ziggy and Six."
Rachel in international award-winning film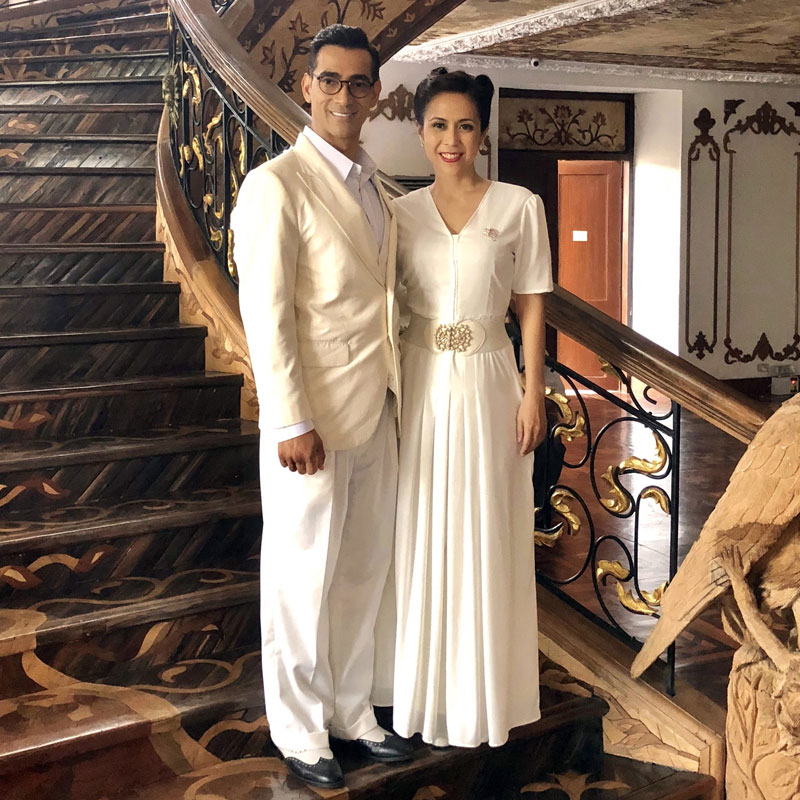 Rachel Alejandro and Raymond Bagatsing in Quezon's Game, he as Pres. Manuel Quezon and she as First Lady Aurora Quezon
Breaking News: Quezon's Game has won four prizes at the WorldFest-Houston International Film Festival including Best Foreign Film. The event claimed to be the oldest independent film and video festival in the world. The film stars Raymond Bagatsing as Pres. Manuel Quezon and Rachel Alejandro as his feisty First Lady Aurora Quezon, and supported by an international
Previously, the film received 12 more awards at the 2018 Cinema World Fest in Canada, including an Award for Excellence in Acting for Raymond, Rachel and supporting actor BillyRay Gallion.
Quezon's Game tells the little-known story of how, when almost no country in the world was willing to accept Jews fleeing persecution in Nazi Germany, Quezon convinced the American authorities to issue visas to the Philippines to hundreds of refugees. The Philippine president's altruism allowed as many Jews to escape the Holocaust as German industrialist Oskar Schindler, who inspired the 1993 Oscar-winning picture Schindler's List.
Quezon's gesture of compassion on behalf of Filipinos toward the Jewish people led to the 1958 signing of the Treaty of Friendship between Israel and the Philippines, the only Asian country to vote in favor of creating the state of Israel in 1947.
Quezon's Game opens in theaters across the Philippines on May 29, and will later be available to stream on iWant.
(E-mail reactions at rickylophilstar@gmail.com. For more updates, photos and videos, visit www.philstar.com/funfare or follow me on Instagram @therealrickylo.)