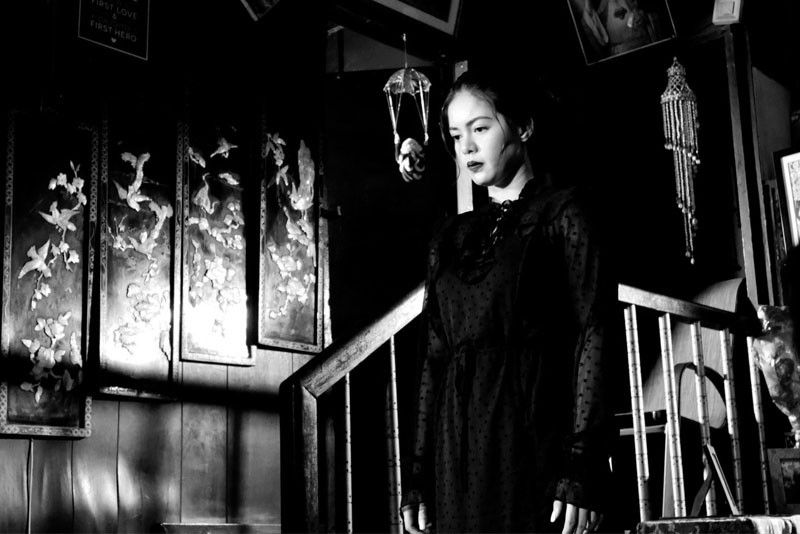 Shaina Magdayao in a scene from Ang Hupa (The Halt), directed by Lav Diaz.
Lav's film in Cannes' Directors' Fortnight
FUNFARE
-
Ricky Lo
(The Philippine Star) - April 24, 2019 - 12:00am
Breaking News: Lav Diaz's new film, Ang Hupa (The Halt), has made it to the Directors' Fortnight of the 2019 Cannes Filmfest next month. The movie stars Joel Lamangan, Piolo Pascual, Shaina Magdayao, Pinky Amador, Hazel Orencio, Mara Lopez, Noel Miralles and Bart Guingona.
Here's what the movie is all about, according to Lav:
It is the year 2034 AD and Southeast Asia has been in the dark for the last three years, literally, because the sun hasn't shone as a result of massive volcanic eruptions at the Celebes Sea in 2031. Madmen control countries, communities, enclaves and bubble cities. Cataclysmic epidemics razed over the continent. Millions have died and millions have left.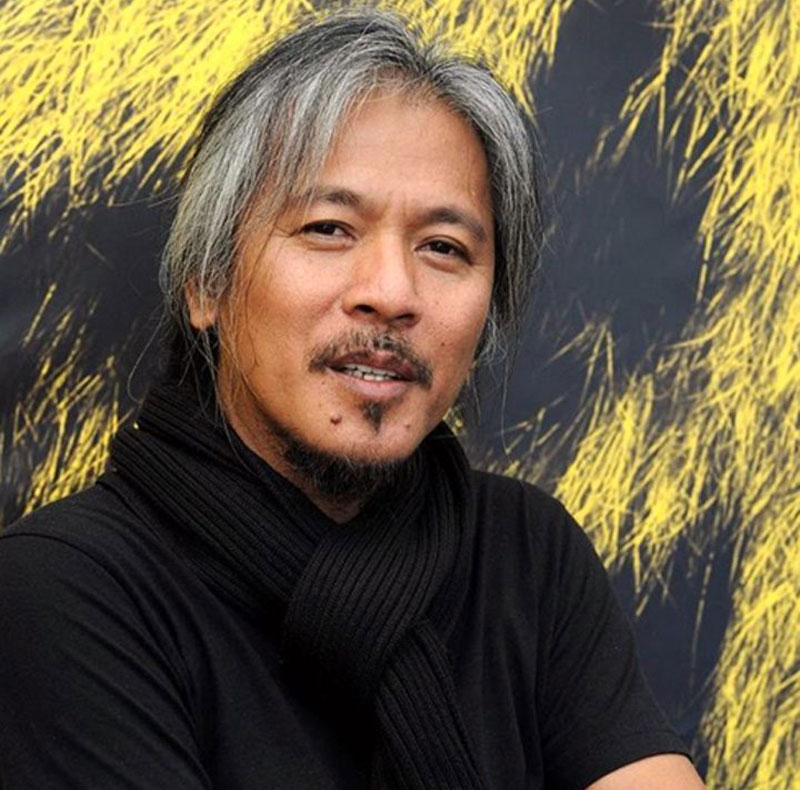 Lav Diaz
Lav told The STAR in an exclusive interview: "I was wandering aimlessly by the waters of one of the cities I visited last year (for a film festival that hates Hollywood so much) and I passed by a group of locals listening intently, fondly to their 'Socrates,' an old man, and I had my camera and I recorded some parts of his soliloquy; the big waves and the strong wind, plus the wails of seagulls, albeit distracting, created a mix of poignancy and urgency, some dirge."
And here's what Lav has recorded:
Dictators… fascists… despots… mad leaders… they all have genetic predisposition to telling the world that they have the biggest cocks; or, they have voluminous bragging tales about their molestations and rapes of women; or, that they are the biggest cocksuckers in the world, with their plundered millions and billions stashed in their secret bank accounts in Switzerland and Singapore and the Bahamas; and having perennial delusions and fantasies of ambrosial romantic affairs; or, they profess to actually hearing the voice of God and other mystical creatures from thunderstorms and behind their ears, anointing them as the chosen ones. These incessant blusters extend to the other side of the black hole because this universe is just too small for these megalomaniacs. Humanity's proclivity to ignorance and mythmaking always leads us to these people unfortunately, these psychos and schizos. Complicity and apathy play big roles, too, albeit there are myriad reasons why people act the way they do. Psychiatrists and psychologists are wont to deduce that we are all guilty, on varying degrees and levels, depending on what interest we have. What are they inside the walls of their palaces, mansions, summer hideaways and safehouses? And why is it that only mob culture can truly destroy them?
"When the crowd dispersed, and him now seemed calm and seated on a big stone and just staring at the imposing ocean," added Lav, "I tried to connect by saying hello."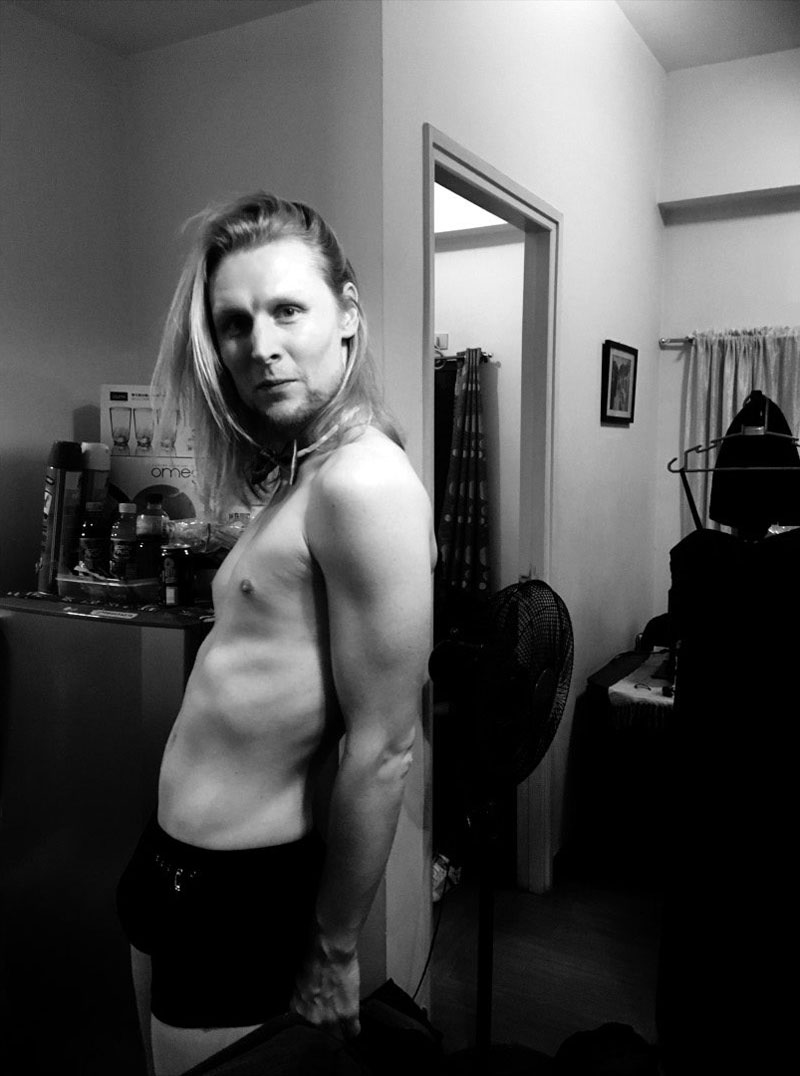 Another scene from the movie
He said not who but, "What are you?"
I said, "I am a filmmaker, sir."
And the next question came fast: "What can cinema do?"
I was petrified.
We went for a few beers, lamenting about the state of the world. But he remained optimistic.
"I told him that I was about to shoot a new film, which is a mix of sci-fi and horror; about the death of a dictator, the death of morality, the death of truth."
His parting words before he was engulfed by the darkness: Don't trust what you know.
The producers of Ang Hupa are Spring Films and Sine Olivia Pilipinas. The film's distributor is ARP Selection of France.
Fond farewells
• Josephine Estrada (1944-2019)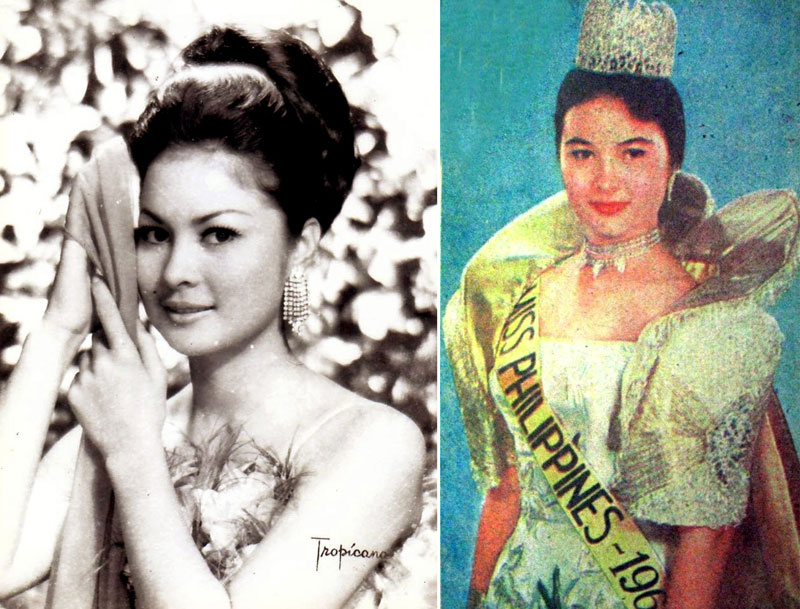 Josephine Estrada in a classic Tropicana photo and as 1962 Miss Philippines
Mrs. Brown, you've got a lovely daughter.
I remember that title (as a nod to the Herman's Hermits' hit song) of Douglas Quijano's story in Weekly Nation ages ago. Mrs. Brown was Encarnacion Estrada Brown and her daughter was Josephine Estrada who had joined showbiz as a contract star of Sampaguita Pictures two years before she was named1962 Miss Philippines as the country's representative in that year's Miss Universe pageant in Miami Beach, Florida.
As The STAR reported last week, Josephine died in Arizona, USA, of kidney failure (she was on dialysis for quite a while) on April 13. She turned 75 on April 9. Born in Isabela, Basilan, she dreamed of becoming a nun or a doctor, and ended up in showbiz.
As Funfare's "other beauty expert" Celso de Guzman Caparas reported, Josephine joined the Dream Girl contest in 1959, won as Miss Luzon to 1960 Miss Philippines (for Miss International) Edita Vital and was crowned Miss Aviation in 1961.
In 1960, she had a screen test in Lawiswis Kawayan topbilled by Gloria Romero and Luis Gonzales, and was introduced in Ginang Hukom, Case No.2: Pinatay Ko Ang Aking Ina with Luis Gonzales, directed by Ding M. De Jesus.
She co-starred with Carmen Rosales and Eddie Gutierrez in The Sinner, fifth episode of Mother Dearest which was based on letters to the Our Mother of Perpetual Help Shrine in Baclaran. In 1961, Josephine did a weekly radio program in DZXL titled Mahirap Espilengin. Her launching movie was June Bride (opposite Eddie Gutierrez), directed by Rosa Mia.
After doing more than two dozen films at Sampaguita, Josephine became a freelancer at the end of 1965 and did films with Tagalog Ilang-Ilang Productions, Larry Santiago Productions, Emar Pictures and GM Films, and was paired with Joseph Estrada, Tony Ferrer, Jun Aristorenas, Bernard Bonnin, Eddie Fernandez, Roberto Gonzales, Arnold Mendoza and Ronaldo Valdez, among others.
In 1967, Josephine, along with her mom Encarnacion put up Gilbert Roland Productions. Josephine also became a recording artist with Top Tunes Records where she recorded Love, This is My Song and Why Not Now?. She was tapped by the Department of Foreign Affairs (DFA) as an official Ambassadress of Goodwill to the 1965 Berlin Film Festival. She was our lone delegate to the 1965 David de Donatello Film Festival in Italy. In 1966, she received the Ciriaco Santiago Memorial Award from FAMAS.
Josephine migrated to the USA in 1969 and worked with Paramount Pictures. While in the US, she starred in TIIP's Aloha, My Love (1972) starring Vilma Santos and Edgar Mortiz, filmed entirely in Hawaii and Hollywood. She came back to Manila in 1974 and did movies until 1983 including blockbusters Dear Heart (1981, Sharon Cuneta and Gabby Concepcion), Puppy Love (1982, Janice de Belen and Gabby Concepcion) and Gaano Kadalas Ang Minsan? (1982, Vilma Santos, Hilda Koronel and Dindo Fernando).
In the US, Josephine became an active volunteer of a national non-governmental organization. She was deeply involved in numerous activities that addressed the growing needs of Filipino migrants in the USA.
• Jose Mari Gonzales (1942-2019)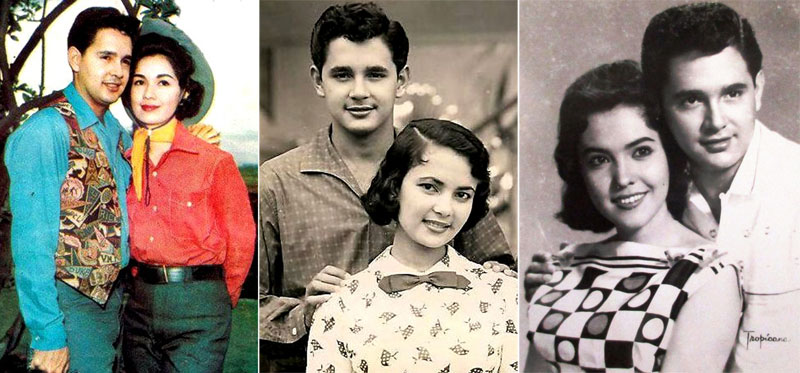 Jose Mari Gonzales and some of his Sampaguita leading ladies: Susan Roces (left) Amalia Fuentes (center) and Liberty Ilagan (right) — Photos from the collection of Celso de Guzman Caparas
Here's another nostalgia piece on Jose Mari Gonzales who, like Josephine, was also a Sampaguitan. Jose Mari died of pneumonia and cardiac arrest on April 17. He was 80.
In this report, Celso noted that Jose Mari was barely 16 when he was introduced in Vera-Perez Productions' Palaboy starring Gloria Romero and Luis Gonzales, released May 4, 1958. He was billed as the "First Star of 1959" in Handsome with Susan Roces as his leading lady, produced by Sampaguita Pictures and shown at Dalisay Theater, March 6-15, 1959.
Jose Mari made more films with Susan than any other actresses. He was either paired or co-starred with Amalia Fuentes, Liberty Ilagan, Jean Lopez or Helen Gamboa, among others.
Jose Mari went freelance in 1964 doing films with Larry Santiago Productions, Dalisay Pictures, GM Film Organization, Ambassador Productions, Kayumanggi Cinemas, Alpha Pictures and Associated Artists Productions.
Jose Mari was once the manager of The Electromaniacs, a five-man band known for being the first to play at the Rizal Theater in Makati and in Araneta Coliseum where they performed with Neil Sedaka and Paul Anka in early '60s. Lead guitarist Ernie Delgado's composition and hit song, I Miss You So, was used as a title in the movie of Jose Mari and Liberty Ilagan, I Miss You So...Hinahanap-Hanap Kita, in 1966.
In his capacity as president and general manager of his own company, the Cinema Audio, Inc., Jose Mari was appointed as one of the board members of Philippine Academy of Recording Arts and Sciences (PARAS) during the chairmanship of Danny Villanueva in 1970. In 1971, he was elected as the first president of the Philippine Association of the Record Industry (PARI) and assumed the position until early 1973. In 1981, he was elected president of the Philippine Amateur Radio Association (PARA), Inc. and was re-elected from 2002 to 2005.
Then Pres. Cory Aquino appointed Jose Mari as the interim director of the Bureau of Broadcast Services. During his leadership, Jose Mari established DZSR Sports Radio on May 10, 1986, the country's first radio station dedicated to sports. He became the president and general manager of RPN 9 in 1994.
Jose Mari was elected congressman for the lone district of San Juan and served in the 11th Congress from 1998 to 2001.
• Grimilda Santiago Ortiz (1934-2019), Gary Valenciano's mom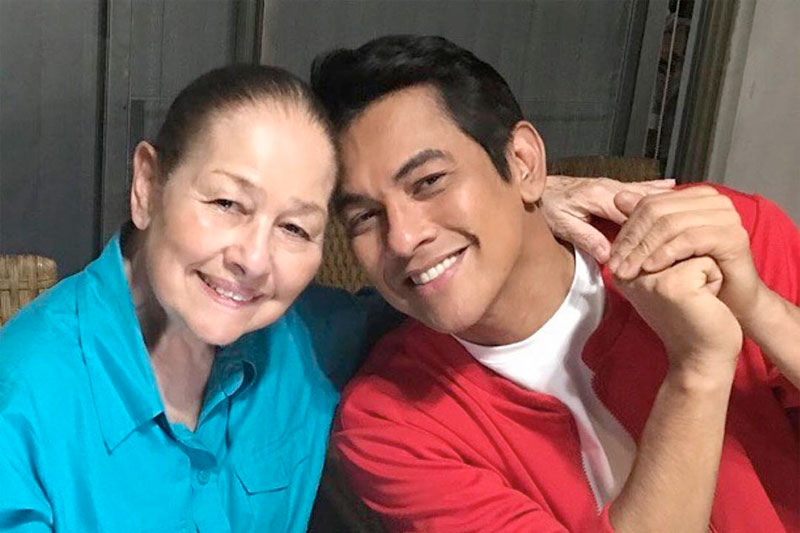 Gary Valenciano and his mom, Grimilda Santiago Ortiz
And here's what Gary posted on social media, printed in this corner with his permission:
April 17, 2019: Today at 12:42 p.m. here in Orlando (12:42 a.m. in Manila) ...my mom was welcomed home into the arms of her Lord and savior Jesus Christ.
I know this may come as a shock for some of you, as she has always been seen as someone with a lot of life to live. She was always the life of any gathering, but last week was really tough on her as she had to battle it out against pneumonia, congestive heart failure, and H1n1 flu...all of which came almost at the same time on her 84-year-old body.
I want to thank the few that first became aware of what we were all facing these past few days and sent us encouraging messages of hope. Now the news is spreading that Mom, or Tita Grimi, or Mamita to others, has gone home.
On her 80th birthday four years ago, these inspiring words were displayed on the reception table of her celebration...
"Only a life lived for others is a life worthwhile."
Somehow this sums up how she lived...and how she loved.
Her crazy comments, her jokes, her words of encouragement, her laughter, her habit of standing by the driveway waving goodbye to us until our car turns the corner, are just some of the things we all will miss. I'm sure my siblings have countless other things to add on to this list.
But we thank you all...our friends, our neighbors, and most especially our cousins like the Valenciano, Martin and Anson families, who simply always responded to her words and actions of love, by loving her back in your most special of ways.
A new season in our lives has begun. We now move on, forward to life with mom not being around us...but in us.
It will take some getting used to but I believe if we can practice to love each other the way she loved us, which was always as unconditional as can be, we will get by with more laughter, yes with some tears, with thankfulness, and gratitude for having had her with us for these many years.
The hue of this picture of our family's history may look painful and sorrowful...but because we allowed God to be in our midst, He took this event in His hands and turned it into a masterpiece.
Thank You, Jesus...Yours is all the glory. And thank You for this most precious and priceless woman who You destined to become our mother. We forever will love You for this Lord....thank You.
(E-mail reactions at rickylophilstar@gmail.com. For more updates, photos and videos, visit www.philstar.com/funfare or follow me on Instagram @therealrickylo.)