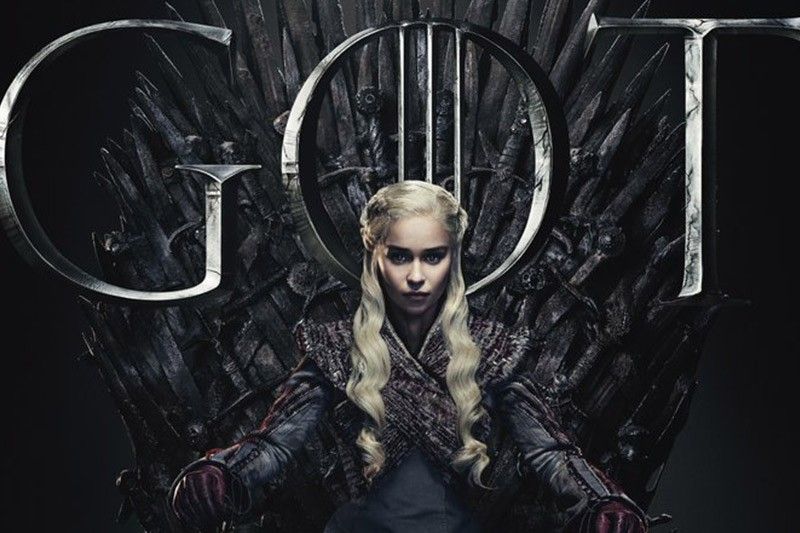 Even though its tongue is planted firmly in cheek in reviewing "Game of Thrones," the Australian Red Cross said that beyond fiction, laws still apply even in times of war.
Twitter/Game of Thrones
Red Cross crunches numbers to find worst war criminal in 'Game of Thrones'
MANILA, Philippines — International humanitarian law experts at the Australian Red Cross binged on all "Game of Thrones" episodes that aired so far to identify who among the key characters in the hit series is the worst war criminal and who has done the most to uphold the laws of war.
"Game of Thrones" fans know that there's no shortage of violence in the award-winning show so it may come as no surprise to them that an astounding 103 laws of war violations were tallied over the show's seven seasons. That's around 1.5 atrocities committed for each of the 67 episodes.
The law experts took over six weeks to finish all episodes and then cross-referenced their findings for each character, fan-favorite or not.
But even though its tongue is planted firmly in cheek in reviewing the show, the humanitarian organization reminded that beyond "fun-fiction" laws still apply even in times of war.
"While our analysis sits firmly in the realms of fun-fiction the laws of war are serious business," Australian Red Cross, which works to educate the public about laws of war, said.
"Every day they protect the lives of people who are not, or are no longer, part of a conflict — including civilians, wounded soldiers and prisoners."
WATCH: 'Game of Thrones' releases official season 8 trailer
The organization monitored 24 characters and it wasn't a shocker that sadistic villain Ramsay Bolton was found to be the worst offender with 17 violations.
For those needing a recap, here's a long list of his crimes: torture, cruel or inhuman treatment; perfidy; taking hostages; wilful killing of those who are hors de combat, such as injured soldiers or prisoners; use of means or methods of warfare that inflict superfluous injury or unnecessary suffering; sexual violence, including rape, sexual slavery, enforced prostitution and enforced pregnancy; and making civilians not taking direct part in hostilities the object of attack.
The apple clearly doesn't fall far from the tree as Ramsay's father, Lord Roose Bolton, is third on the list with eight violations. The now extinct House Bolton had a flayed man hanging upside-down on an x-shaped cross as its sigil, a nod to its centuries-old practice of skinning their enemies alive.
Second on the list, however, is the mother of dragons Daenerys Targaryen who committed 15 violations mostly for her use of dragon fire in warfare to inflict superfluous injuries and execution of her enemies without previous judgment of a regularly constituted court. RIP, Lord Randyll Tarly and Dickon.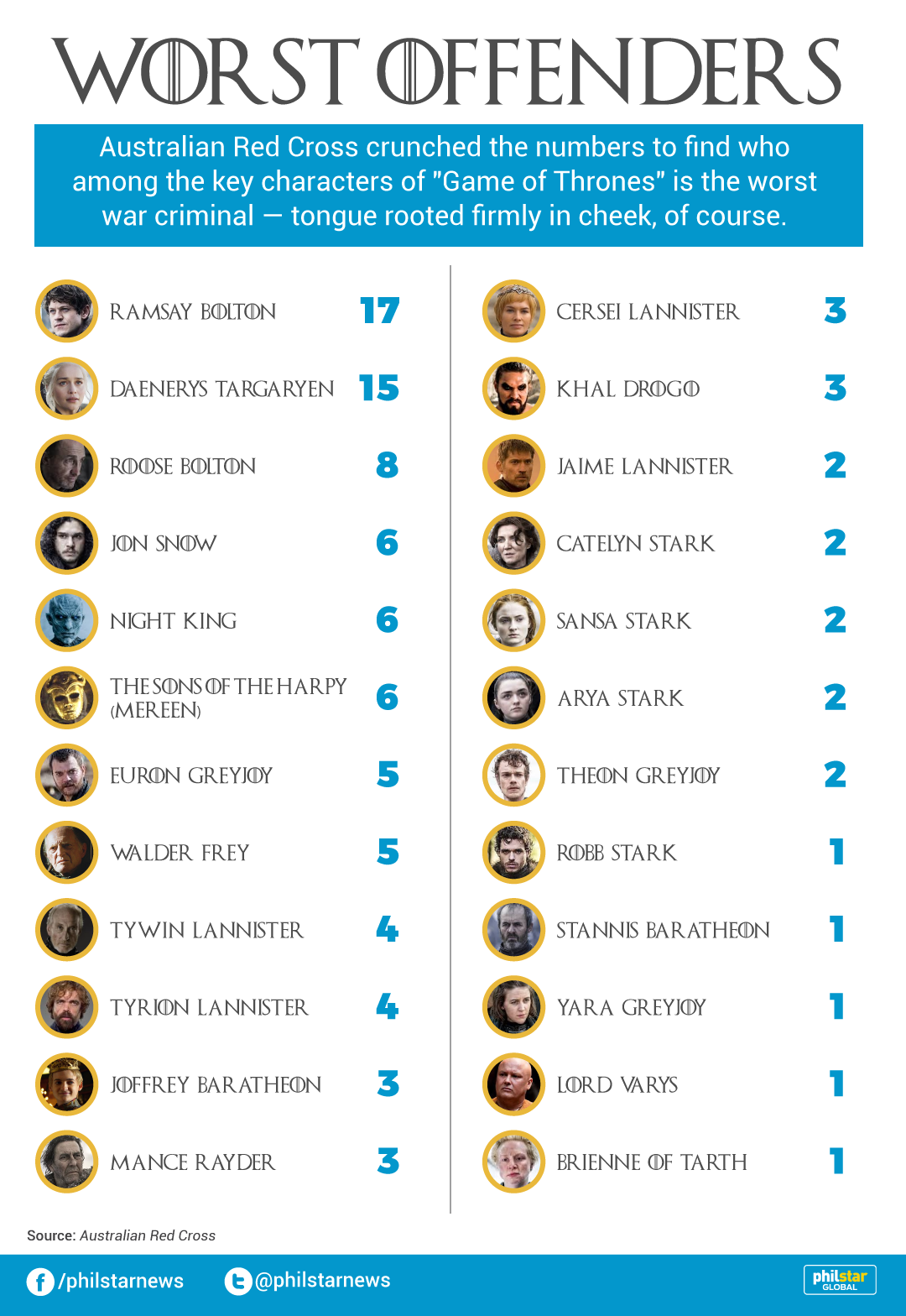 The Night King is the fourth worst offender in the show with six violations which include enslaving dead civilians to be part of his wight army, use of child soldiers, making civilians not taking direct part in hostilities the object of attack, making religious or cultural objects the object of attack and the use of incendiary weapons against civilian objects.
Tied with him is the King in the North himself Jon Snow, or Targaryen, for using child soldiers in the fight against the army of the dead and use of torture, cruel or inhuman treatment. Although, he also showed compliance with humanitarian laws by protecting civilians and providing adequate care to prisoners of war.
Tyrion Lannister who scored four violations also holds the record for most lives saved, the organization noted.
"He deserves the credit for talking the Mother of Dragons out of indiscriminately releasing dragon fire on Kings Landing — saving the lives of combatants and a million civilians."
READ: Tyrion lookalike: Pakistani finds fame as 'Game of Thrones' Peter Dinklage doppelganger
Queen Cersei Lannister and son Joffrey are both on the lower end of the list with three war crimes violations each. The organization, however, noted that Cersei committed crimes outside the scope of armed conflict which include the attempted murder of Brandon Stark, mistreatment of Queen Margaery and the use of wildfire to destroy the Great Sept of Baelor and kill all those inside.
The boys are back. #GoTPremiereNYC #GameofThrones (????: Zack Lane/MSG Photos) pic.twitter.com/RFKjtvikkY

— Radio City (@RadioCity) April 3, 2019
The women of House Stark — Lady Catelyn, Sansa and even Faceless Men assassin Arya — all committed two violations each.
READ: Last day on Game of Thrones: 'Tears from everybody'
The most compliant to the laws of war, on the other hand, was the ill-fated King in the North Robb Stark.
"His conduct on the battlefield includes taking hostages but on the flipside he provided adequate care to detainees/prisoners of war and targeted only combatants," the organization said.
Weirdly though, Littlefinger was paid scant attention with Lord Petyr Baelish absent on the list of characters monitored.
Australian Red Cross released the report as "Game of Thrones" returns for its final season on April 14, 2019.