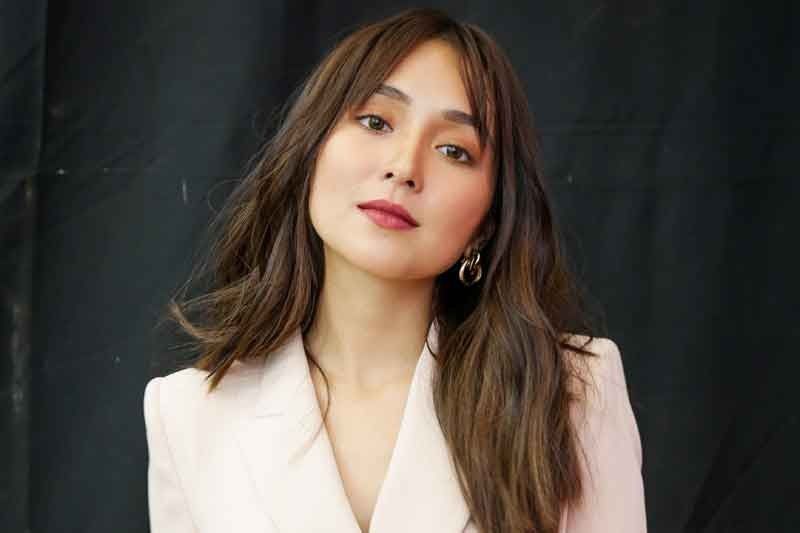 'Karamihan, natatakot na sila to be themselves. Feeling nila people judge them and hindi sila ma-accept ng society but at the end of the day, being authentic is the secret para mas mahalin ka ng mga tao.'
Photos by GEREMY PINTOLO
Kathryn Bernardo opens up about Daniel Padilla, struggles in new open letter
MANILA, Philippines — Kapamilya actress Kathryn Bernardo wrote an open letter that revealed her secret to "becoming a superstar in her own right."
In an article published in Preview, Kathryn wrote the letter titled,"Confessions of a Former Teen Queen: An Open Letter by Kathryn Bernardo."
Kathryn, who is turning 23 this month, began her letter by opening up about her struggles in starting a showbiz career, which included traveling long hours from Cabanatuan to Makati to attend auditions that only lasted for a few minutes, and worrying that she is not "tisay" or pretty enough to get the job.
"While other children my age were busy trying to master the periodic table, I was memorizing lines for a VTR, which—fingers crossed—could potentially land me a short role in a drama or a TV commercial," Kathryn wrote.
"While waiting for my turn beside fair-skinned girls who were vying for the same role, there I was, worrying that I might not be 'tisay' enough or pretty enough to actually get the job. It's okay, though, my parents would say. There's always a next time," she added.
She also shared what advice she would give to her seven-year-old self after her struggles.
"If I could travel back in time and give that seven-year-old girl a pat on the shoulder along with some sisterly advice: 'Don't worry too much and take things slowly,' I'd tell her for sure. 'You have to be tough. You have to be strong. It won't be easy, but if you're patient, you'll get there eventually'."
Though her early career robbed her of a "normal" childhood, Kathryn said she is glad she experienced those "because nothing worth it ever comes easy."
"And throughout that tough climb, I was lucky to have a strong support system. My family was with me every step of the way, always reminding me to look at the bigger picture. It was because of them that every single rejection and failure seemed fleeting," she said.
On being dubbed as "Teen Queen," Kathryn said she does not anymore remember when it started as she first does not know how to react on her alias.
"I'm flattered as I think about it now, because now I see it as a testament that people respect me as an artist. I realize, they must have given me such a title because they acknowledge my hard work. And for that, I'm eternally grateful," she said.
"Sadly, though, I can't forever remain as your Teen Queen. Like everything else in this world, change is inevitable. And I, too, need to grow," she added.
Kathryn said if there is anything she learned while working in this industry all these years, it is the constant need to evolve.
"I've seen stars rise and fall, and more often than not, the greatest tragedy is when they choose to live in a box. I don't know if you've noticed, but I became an actress at an early age and yet I took my time before deciding to take on more mature roles—my first kissing scene, in fact, was in 2016, for the movie 'Barcelona: A Love Untold'," she said.
"I didn't want to rush things. I didn't want to do anything I wasn't prepared for. I took things gradually because I felt it was the right thing to do. But as I grew older, I felt it was about time to finally break out of that shell. While I don't regret taking my time to grow, I also don't intend to get left behind," she added.
Kathryn also shared her and boyfriend Daniel Padilla's mutual decision not to accept projects together this 2019 to pursue individual growth.
"We both know it's going to be tough for both of us and maybe even tougher for our fans, but we really gave it some thought, and while there's nothing we want more than to make you happy, we'd appreciate if you can give us this year to pursue our individual growth this time around. It's a risk, and I'd be lying if I told you that the idea doesn't scare me, but at the same time, I'm excited to discover what kind of opportunities await us both in this journey," Kathryn said.
"Needless to say, DJ and I will still be here; I will always have his back in the same way that I know he always has mine. It's just that, in the meantime, we want to support each other off-cam," she added.
For Kathryn, "Maturity takes courage, and courage takes maturity. Because I know myself better now, I've learned that it's okay to take a leap of faith sometimes and trust in the process."
"Because, I'll let you in on a secret: It's impossible to make everyone love you. No matter how good you are, no matter how talented, it will never be enough. Ultimately, people will love who they choose to love and hate who they choose to hate. So given that, we can all use a little kindness and compassion in this world," she said.
To conclude her letter, Kathryn thanked her fans and said: "I hope it's because you see yourself in me. I hope you know that we're just the same—the only difference is I happen to be an actress."
"I'm not perfect at all. Sometimes I cry, sometimes I laugh, sometimes I get hurt. I hope I don't disappoint you with my flaws, because at the end of the day, I'm just a human being like everyone else," she added.
She also thanked her family, especially her mom. She said she is glad that her mom stood by her side and guided her the best way she can.
"Thank you for giving me so much of your time, to light my way and to ensure that I become a responsible person who isn't blinded by the spotlight. And now that I'm old enough to stand on my own two feet, my wish is for you to finally be able to give time for yourself. I'll be okay now, I promise, because you've made me stronger all these years."