CONVERSATIONS
-
Ricky Lo
(The Philippine Star) - March 10, 2019 - 12:00am
An easy, breezy Conversation with Lovi Poe over an early dinner at her favorite Italian restaurant in West Hollywood. To paraphrase a popular song, she says it best when she says nothing at all.
WEST HOLLYOOD, California — Tuesday morning, Feb. 26. My Viber beeped. Somebody named Virginia was sending a message, "Hi, Tito Ricky!" I wondered, who is Virginia? Second message, "Are you in LA?" Couldn't figure out who Virginia was. Third message, "This is Lovi!" Oh, so it's her! Blame jetlag, I have forgotten that Lovi's full name is Lourdes Virginia Moran Poe.
Rewinding my memory, I recalled asking Jun Lalin to ask Leo Dominguez (Lovi's manager who is, according to Lovi, "like a second mom to me") if it was possible to meet up with Lovi during my four-day working visit to La La Land (used as a nickname for Los Angeles). Lovi could have just ignored my request but, thank goodness, she didn't.
"Free for brunch tomorrow (Feb. 27)?" she Vibered back after I thanked her for texting thrice.
"I'm going back to Manila tomorrow," I replied. "What about early dinner tonight?"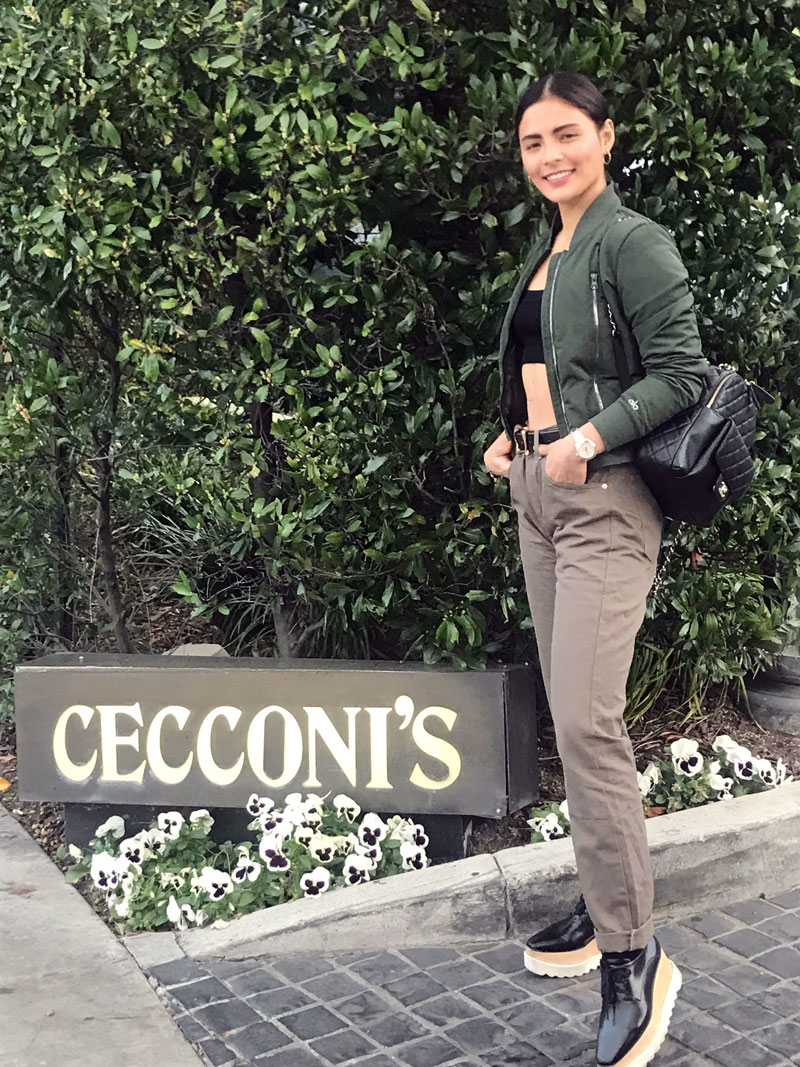 …in front of Cecconi's, her favorite Italian restaurant in West Hollywood…
"Okay," she said. "Let's meet later at Cecconi's in West Hollywood at 5 o'clock. See you."
I told my friend, immigration lawyer Jemela Nettles (who always willingly and gladly drives us around when we are in town) that instead of going back to Barnes & Noble to browse, we were going to have dinner with a popular Filipino actress who is on an extended visit in La La Land (defined by Webster as "a euphoric dreamlike mental state detached from the harsher realities of life").
That must have been Lovi's state of mind when she showed up at the high-end Italian restaurant a few minutes after we did, disgorged by an Uber. Her outfit bared portions of her flat tummy (check out photos) but Lovi hardly shivered in the tail-end of winter.
We told the pretty receptionist that we had an appointment with "Miss Lovi Poe." (When she heard the name Lovi Poe, Jemela's eyes lit up; she couldn't hide her excitement of meeting a popular Filipino actress in the flesh.) She checked the reservations and she confirmed, "Oh, it's in Monty's name." Question in our mind: who's Monty?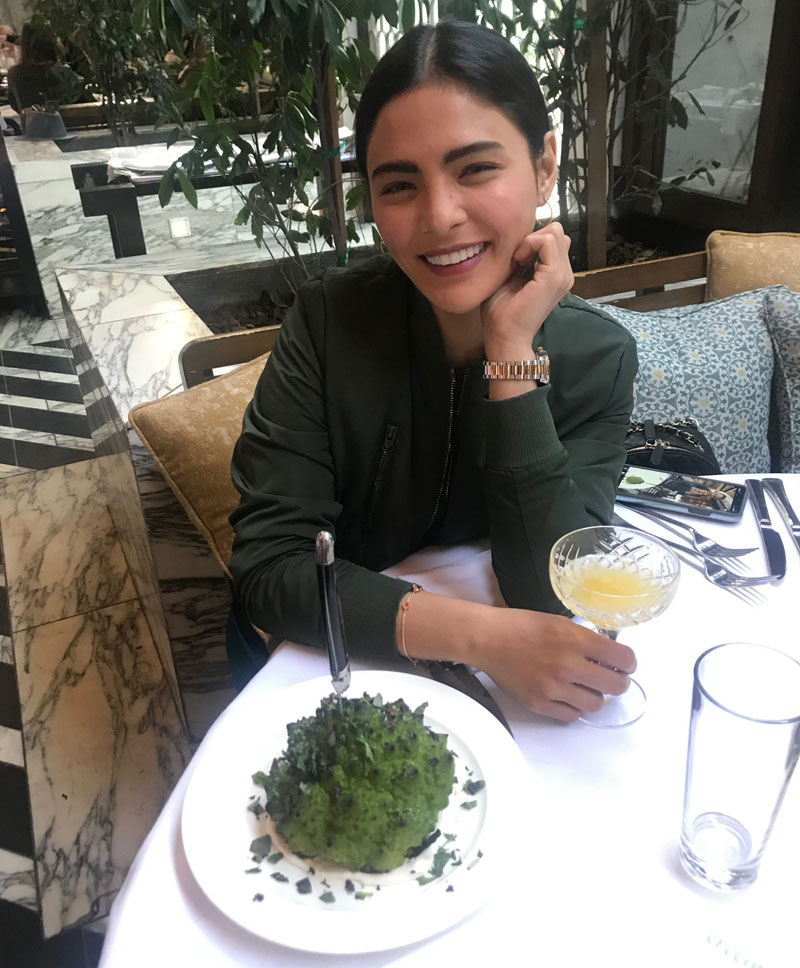 …ready to eat her Whole Cauliflower…
As soon as she arrived, Lovi ordered a plant-based Whole Cauliflower salmoriglio, almond aioli. Jemela and I picked Beyond "Sausage" pizza, tomato, mushroom.
"I love this place," Lovi said, "and I always order the Whole Cauliflower. Been here five times." Must be near where she lived but we didn't ask where. Privacy, please!
Caution: From hereon, carefully read Lovi's lips, read between the lines. The chit-chat was easy and breezy, but revealed nothing substantial…at all? To paraphrase a popular song, Lovi said it best when she said nothing at all.
With the permission of GMA with which she has an exclusive contract until next year, Lovi has been enjoying her La La Land holiday for more than a month now.
"I deserve it," she said, "after all, I've been working since I was 15. But I'm here not just to take it easy; I'm also trying to learn more about acting and new things. In the Philippines, everything I do is great but I feel that it has become so routine. When I go back home, I want to do something new naman. I've been doing drama at balde-balde na ang nai-luha ko. Dapat ma-iba naman." And, I may add, bold in film (The Escort, with Derek Ramsay, etc.) and on billboard (the Belo Clinic's) that stops traffic around the metropolis. "I'm actually very shy but when it comes to work, I can be daring, hahaha!!!"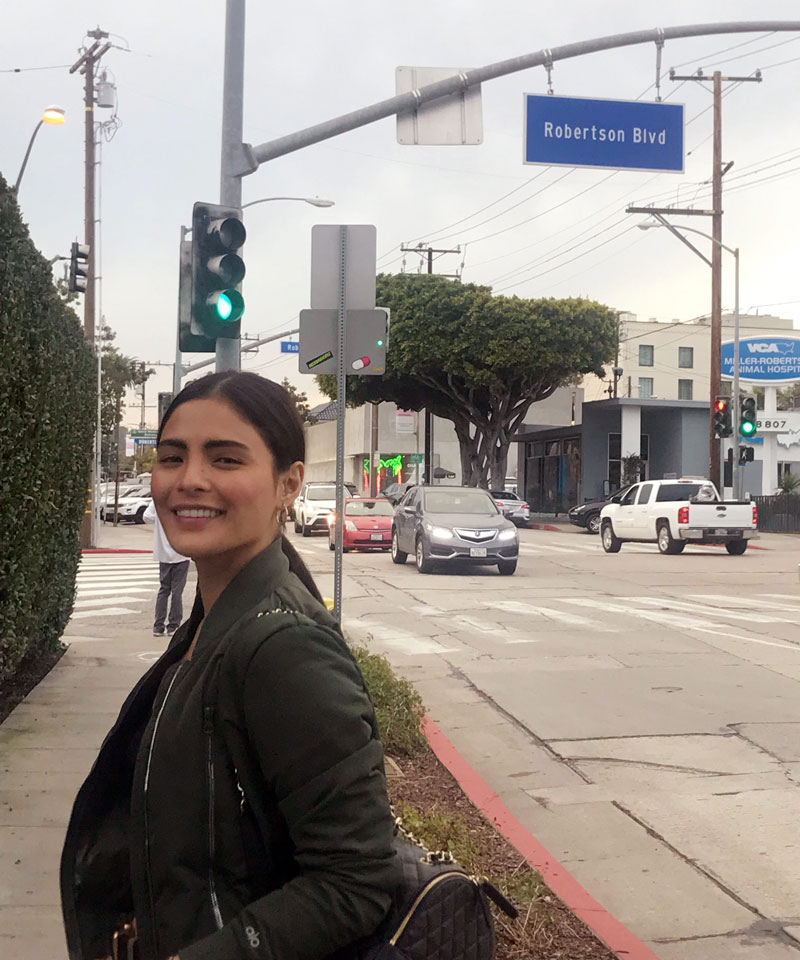 When we asked who Monty was, Lovi stopped chewing her cauliflower.
"He's my friend here…Hmmm, he's kind of, ah, English…doing films in LA, behind the scenes. He's a writer-producer. His full name is Montgomery Blencowe."
Just a friend?
Lovi resumed eating her cauliflower. Then she gasped.
"Oh my God, am I so transparent? Hahaha! He's great. I'm happy that he's here and I'm here. He's a nice person to be around with."
We pursued the topic and asked who were the two other gorgeous-looking guys (aside from Monty) with her in the picture she has posted on her IG. Her suitors, perhaps, now that she has broken up with her what's-his-name French boyfriend?
She first met them last year when she took an acting class — Gavin Leatherwood and Garrett Myers.
"It's nice to be hanging around with them again. We have a lot to talk about. Gavin is a fantastic actor who was part of Sabrina (a TV series). He's very, very nice."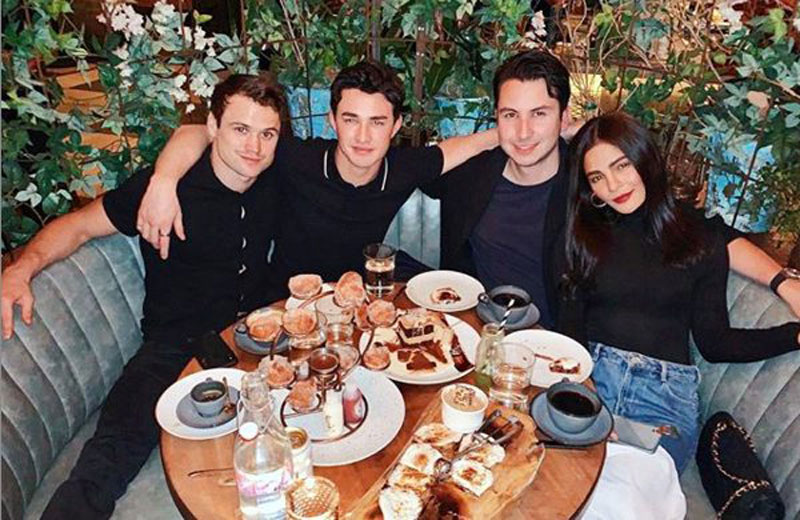 …and with friends (from left) Garrett Myers, Gavin Leatherwood and Montgomery 'Monty' Blencowe (in a photo Lovi posted on her IG).
Just a friend; nothing romantic?
"Hahahaha!!!"
She repeated, "I'm fancy-free...single. I'm just enjoying myself."
In Manila, if she has an early-morning shoot, she would wake up at 3 a.m., run for one hour and, by 4 o'clock, rush to the set. It has become a routine. In LA, she has time at her disposal. "I wake up anytime I want to. No pressure. My time is flexible. I hang out with friends. Since I eat a lot...sarap kasi kumain dito!...I make sure that I exercise. These past several days, it has been raining and it's only now that the sun has come out."
She has even time to travel. In December last year, she flew to New York and celebrated the New Year with Rhian Ramos, who is there purportedly to take acting lessons.
"I love my BFF Rhian. She's also independent like me. Like me talaga, o! Hahaha!!! I also went to Las Vegas to cheer for Manny Pacquiao during his bout with (Adrien) Broner."
To celebrate her birthday last Feb. 11, Lovi went to Malibu with friends (photo posted on her IG) but on Valentine's Day she was home alone watching Netflix (American Crime Story: The Assassination of Gianni Versace for which Fil-Am actor Darren Criss won Best Actor and the Lily Tomlin-Jane Fonda starrer Grace & Frankie).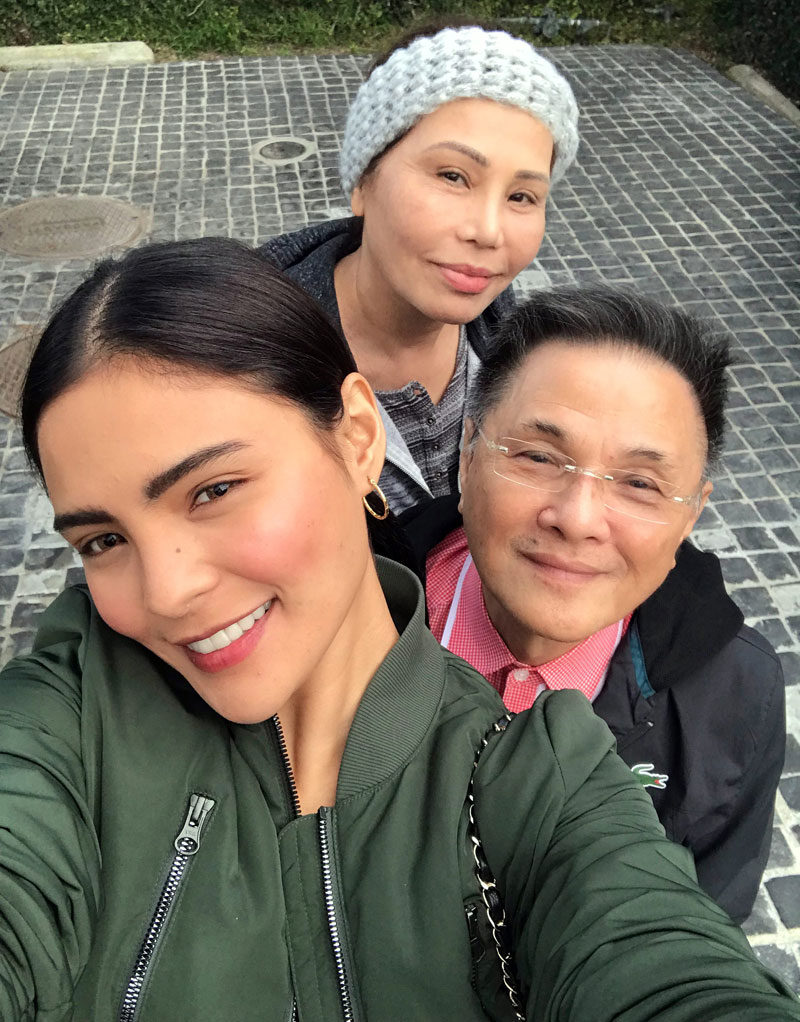 Lovi in a groufie with Your Conversationalist and immigration lawyer Jemela Nettles
But it hasn't been all play and no work for Lovi.
"Aside from taking lessons in acting, I'm also tapping more of my artistic side. I'm thinking of writing a screenplay and a book. You see, I have a wild imagination like Coleen Hoover, my favorite writer. I've read a lot of her books. I love her."
It's a pity that her scheduled meeting with Hoover (that Lovi told us about) has been postponed.
"I'm so flattered and honored that she would find time for a fan like me."
Asked how soon she was going home, Lovi said, "I'm not sure yet." Hopefully, maybe before the May elections so she could join her Ate (Sen.) Grace (Poe who is running for re-election) during the last stretch of the campaign? The sisters were featured in a joint interview (their first ever and, so far, the last) with The STAR a few years back.
"We got a lot closer after that. Up There, I'm sure our dad was smiling at how things have turned out. I'm so blessed that they have accepted me."
Quarter to 7. After we took some pictures and swapped goodbye (till next time) kisses, Lovi hailed an Uber for her next appointment for the day.
There was a little twinkle in her eyes when she waved back before the Uber turned around the bend.
Lovi thanks Vicki Belo for her glowing skin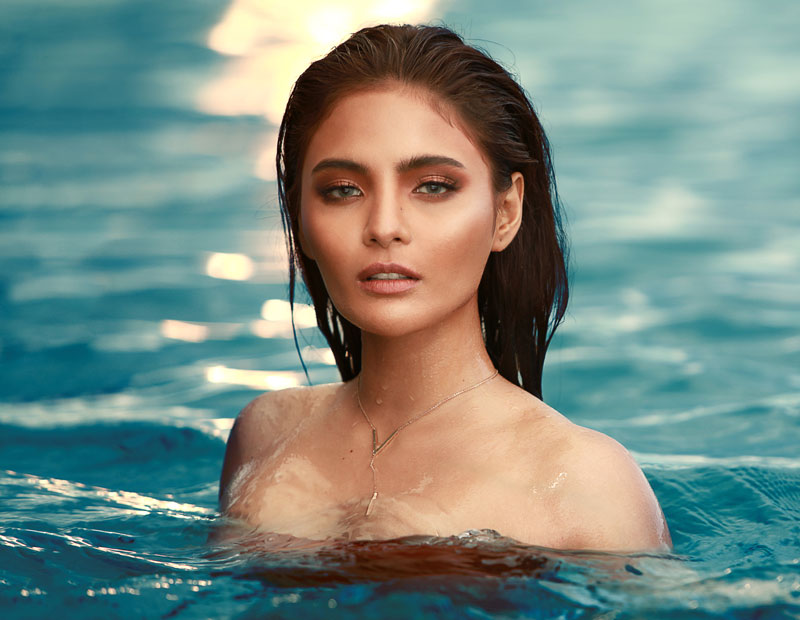 One of the most beautiful faces in showbiz, Lovi Poe (pictured in a Belo poster) thanks The Belo Medical Clinic for taking care of her glowing morena skin.
Said Dr. Vicki Belo, "She made it clear that she didn't want to be fair. Instead, she even wanted to have colored, smooth and soft skin."
The clinic's Hydrafacial works well on Lovi.
The Hydrafacial as described in Belo's website is suited for all skin types, it is a great way to boost overall skin health, especially when done regularly. The multi-step treatment lifts away dead skin cells and extracts impurities by using a patented, disposable vacuum-based skin abrasion tip. It also bathes healthy, underlying skin with active serums that cleanse, hydrate and provide residual antioxidant protection.
Added Vicki, "It also targets uneven skin tone and texture, signs of aging and hyper-pigmentation, oily and acne-prone skin. We have the machine both for the body and the face."
Lovi confirmed, "It's important that you take care of yourself, from inside out. Not just what you put on your face, what you put on your skin, but what you put in your body as well. So I always believe in eating the right food or just having a balanced diet and working out."
Any tips for morena women who want to have a glamorous glow like hers?
"There's always this thing about being a morena. I'm a proud morena girl. And even if I was told that I should do something about it, I really fought for my rights as a woman that maganda and masaya maging isang morena.
"And so I think it's very important. It really depends on the person if you want to have whiter complexion, ako kasi it has always been my choice to stay the same. Yeah, glow is very important. It doesn't matter what skin color you have as long as you're glowing I think that's what's good."
Vicki was the first to ever use the Hydrafacial Technology in the Philippines in 2008. Last year, The Belo Medical Group received an award as the No. 1 user of Hydrafacial in the ASEAN Region.
(E-mail reactions at rickylophilstar@gmail.com. For more updates, photos and videos, visit www.philstar.com/funfare or follow me on Instagram @therealrickylo.)