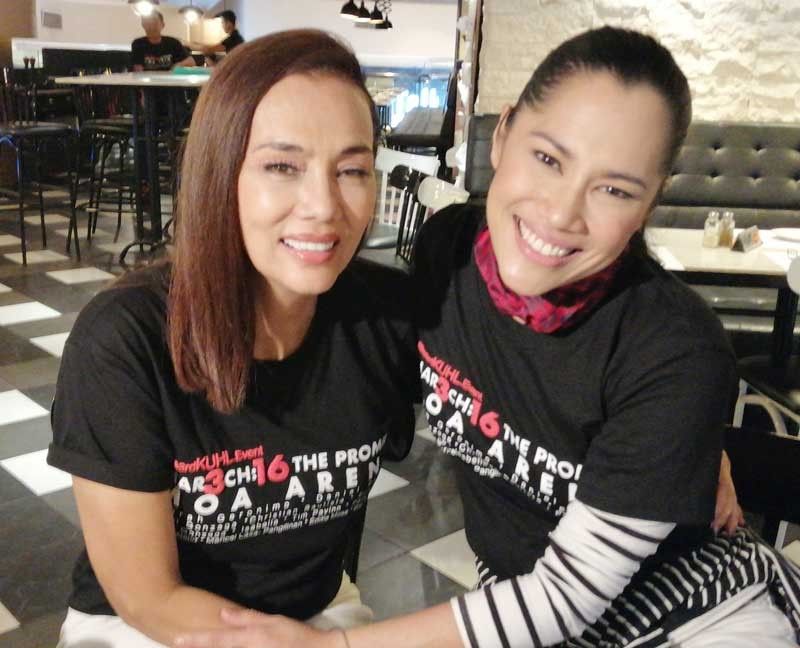 Kuh Ledesma with daughter Isabella Gonzales.
Photo by Honey Orio-Escullar
Kuh Ledesma celebrates birthday 'for a cause'
MANILA, Philippines — Nothing beats celebrating a birthday when doing it for a cause. That's why Kuh Ledesma is looking forward to mounting a benefit show on her 64th birthday, just like in the past two years, on March 16 at 7:30 p.m. when she will have a fund-raising concert for the Holy Bible Giver Foundation, Inc. The non-government organization provides copies of the Bible, especially in the depressed areas and public schools, and holds healing conferences in different cities in the country.
Titled Mar3ch:16 The Promise MOA Arena, the said to be inspirational pop and gospel concert promises to be meaningful and entertaining like the typical Kuh birthday show which "not only entertains but more importantly draws people closer to God. 'Yun bang they will go home saying, 'Wow ang dami nating napulot 'dun na maganda.' We want to be positive influencers," said Kuh, a devout Born-Again Christian.
The two-and-a-half-hour concert brings together "popular artists who will showcase their God-given talents in a spectacular musical extravaganza and to share personal message on being a Christian," said Kuh, whose guests are Sarah Geronimo, Daniel Padilla, Toni Gonzaga, Erik Santos, Christian Bautista, Alex Gonzaga, Gina Alajar, Maricel Laxa-Pangilinan, Timmy Pavino, Eddie Mesa, Ray-An Fuentes, Perkins Twins and Kuh's daughter Isabella Gonzales. By the way, the mom and daughter will co-direct the show.
Asked what's her wish for her mom, Isabella told The STAR, "I pray that she gets a vacation where she's able to really just be so rested and just recharged 'coz she's just been working non-stop almost. We have little vacations but I just want her to have more rest. She deserves it. You know, she loves to work and that's great. I just wanna go to the beach with her or something."
The concert's repertoire includes inspirational, popular Gospel and pop songs. "Sarah and I will be doing Paano Kita Mapasasalamatan… and with others, surprise na lang. Sa dami ng guests, we will keep it compressed. The audience will enjoy the show kasi marami silang mapapanood," Kuh said, adding that she wishes her concert will bring hope and inspiration to those who are facing life's challenges and help them have a relationship with God.
"I am so burdened with the many news of increased depression and suicide, families breaking up and children turning to drugs to find relief from emotional trauma. There is a better solution… turn to the one and only Saviour Jesus Christ. I tell my friends, 'Don't wait till you're down and out and your face on the ground. Seek Him now so that when challenges and trials come, you've got your foot on a strong foundation — Jesus Christ the Rock.'"
She continued, "It's such an opportunity to speak to people now. Kailangan ng bayan natin to, e. Kaya namin ginagawa itong mga 'to. It is our hope to bring (a) positive message… a positive influence to the students. Actually, our students and teachers are free as long as they bring their IDs."
When asked about her secret to staying fit and fab at 63 aside from adopting a healthy diet, Kuh replied, "Wow, kung wala si Lord sa buhay ko, kung wala si Hesus, maybe until now bitter pa rin ako. I would have continued not to forgive my husband. Ibang klase yung pain na naramdaman ko but it was this pain, this desperate pain that drew me closer to God."
(Tickets to the #The3rdKUHLevent are priced at P3,500, P2,500, P1,000, P500 and P300. For details, log on to www.smtickets.com or call 0920-2868895, 0917-8139065 and 0939-9127103.)