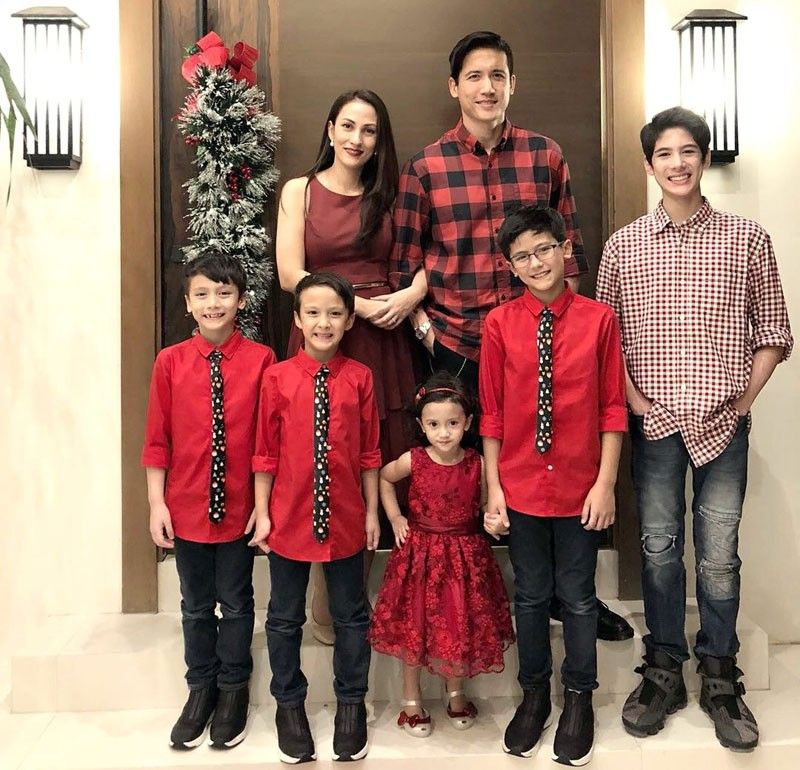 Quezon City Councilor Gian Carlo Jose 'Gian' Gamboa Sotto in a PDA (Public Display of Affection) with wife Joy Woolbright-Sotto, and their children (from left) Sancho, Rosanno, Amari, Edrigo and Hugo...
CONVERSATIONS
-
Ricky Lo
(The Philippine Star) - February 24, 2019 - 12:00am
There are two Joys in the world of third-termer Quezon City (3rd District) Councilor Gian Carlo Jose "Gian" Gamboa Sotto, only boy among the four children of Senate President Tito Sotto and Helen Gamboa. One is Q.C. Vice Mayor Joy Belmonte who's running for mayor with Gian as running mate and the other is Joy Woolbright-Sotto, Gian's wife who is an influencer and with whom he has been with for 15 years, two as steadies and 13 as a married couple. They have five children: Vicente IV nicknamed Hugo, 14; Edrigo, 11; Sancho, 7; Rosanno, 6; and Amari, 2.
This Conversation was done at Conti's (a stone's throw from the couple's house in Blue Ridge, Quezon City) one week before Valentine's so the kick-off question was how they have been celebrating Valentine's all these years.
"Usually, Gian would spring a surprise, different every year," related Joy, one of nine siblings whose parents are an American Peace Corps (deceased) from Oklahoma, USA, and a Cebuana. "This year, I plan to surprise him by taking him on a trip away from Metro Manila, just the two of us but we have to postpone it because Gian is busy with the campaign."
In that case, Your Conversationalist suggested, would they please give each other an advance Valentine kiss (yes, PDA as in Public Display of Affection) for the benefit of STAR readers and Q.C. voters?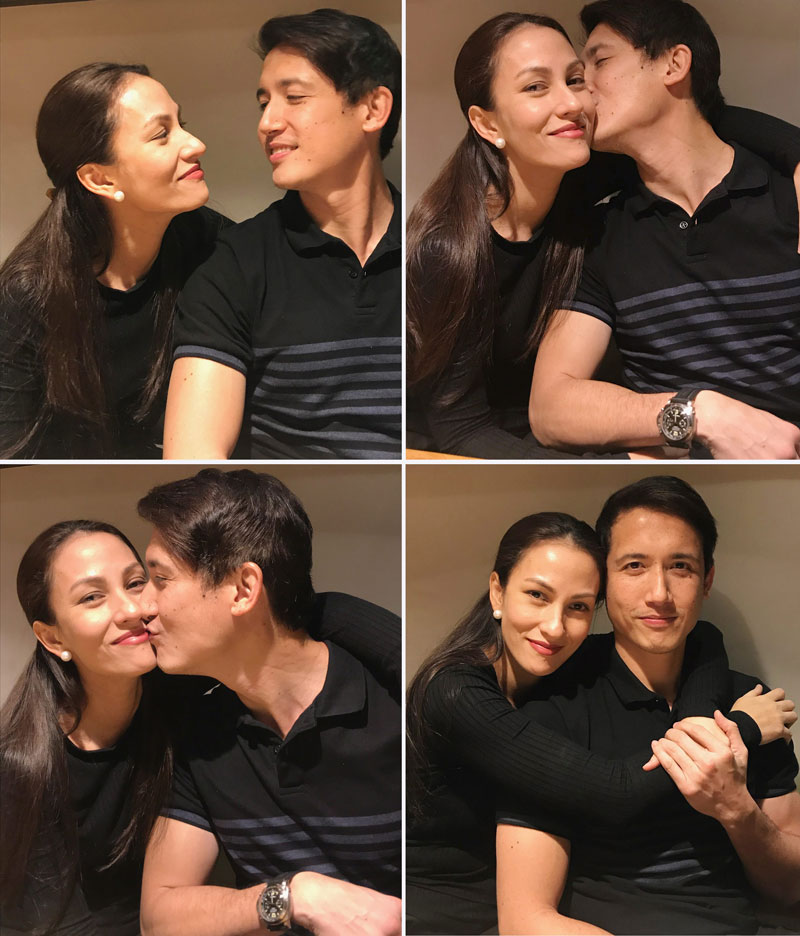 "It took time before I got used to doing that," admitted Joy. "But Gian would always do that and I would tease him, 'Ano ka ba, masyado kang PDA!' Hehehe!!!"
"I got it from my mom and dad who say 'I love you!' to each other every day," shared Gian. "My dad even says it on national TV."
"Now," added Joy, "sanay na ako hearing him say 'I love you!' to me every minute, saying it before he leaves home and as soon as he comes home. Sometimes, I would tell him, jokingly of course, ''Don't say it too much and too often.' You see, I grew up in a family that is not physically affectionate although we do love one another so much but we were not used to hugging. We would say 'I love you!' in some other ways but never verbally."
Gian, 40 (on March 18), and Joy, 38, recalled their courtship days while holding hands and casting sticky sweet glances at each other, their eyes speaking volumes. They were both students at University of Asia & Pacific taking up Entrepreneurial Management, with Gian two years ahead of Joy.
"He wasn't really my type but he was persistent," Joy said laughing. "He was some kind of a stalker. He got my number from a mutual friend and he never stopped texting me. Initially. I didn't like him because I learned that he was a playboy, guapo kasi eh, kaya babaero daw."
"That was fake news," countered Gian. "Mayroong ibang may gusto sa kanya at sinisiraan ako."
To make a long and winding story shorter, before graduating, Gian paid Joy a surprise visit in Cebu where she was spending summer vacation.
"For graduation gift," related Gian, "I asked my dad for a round-trip ticket to Cebu. I told him, 'I am courting a beautiful Cebuana,' and he said, 'Are you sure of yourself?' I said, 'Yes!' and he gave me the ticket."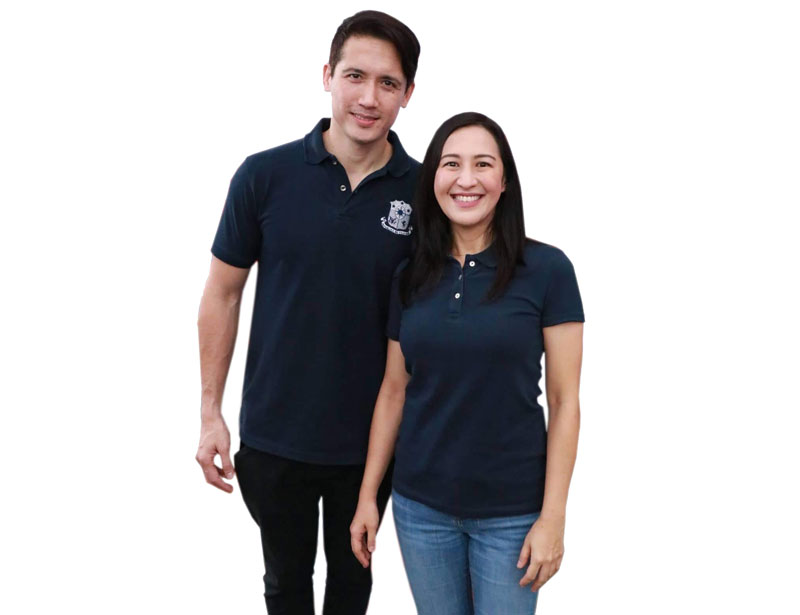 …and with Q.C. Vice Mayor Joy Belmonte who's running for mayor with Gian as running mate.
"I was impressed!," said Joy. "I was convinced that he really loved me for him to go that far. My mom, who had met Gian briefly when he visited me in Manila, was also impressed especially when she learned that Gian shared a birthday (March 18) with my dad."
But prior to that Cebu visit, Joy recalled that during their date in Glorietta a beggar approached them. Very discreetly, Gian took money from his pocket and gave it to the little boy.
"Dapat nagpa-impress siya because he was just courting me but he did not. Binigyan niya ng pera 'yung kid at akala niya hindi ko napansin. During our dates, when it was getting late he would get a call and he would say, 'Tumatawag na ang Nanay ko; let's go home na.' I was impressed by his love and respect for his mom, and for women in general."
"My dad always reminds me to respect women...in fact, sa lahat ng tao. When it came to girlfriends, he would tell me, 'Hindi bale ikaw ang hiwalayan huwag lang ikaw ang hihiwalay.' I always bear that in mind."
After graduation, Gian joined a band called Escalera as lead guitarist, moonlighting as an occasional actor mostly in shows and movies starring Tito, Vic and Joey. He grew up the third among siblings, after Apple and Lala (a Q.C. councilor) and before Ciara. "I was dominated by girls but I was never spoiled. Our parents didn't play favorites. Lahat kami favorite nila."
Since they got married at a relatively young age ("The honeymoon happened ahead so we already had two kids when we got married," according to Gian), Joy said that they went through roller-coaster years, tossed by fate like lost sailors at sea, but they survived it all when they put God at the center of their family.
They credit Gian's cousin Oyo Boy for that.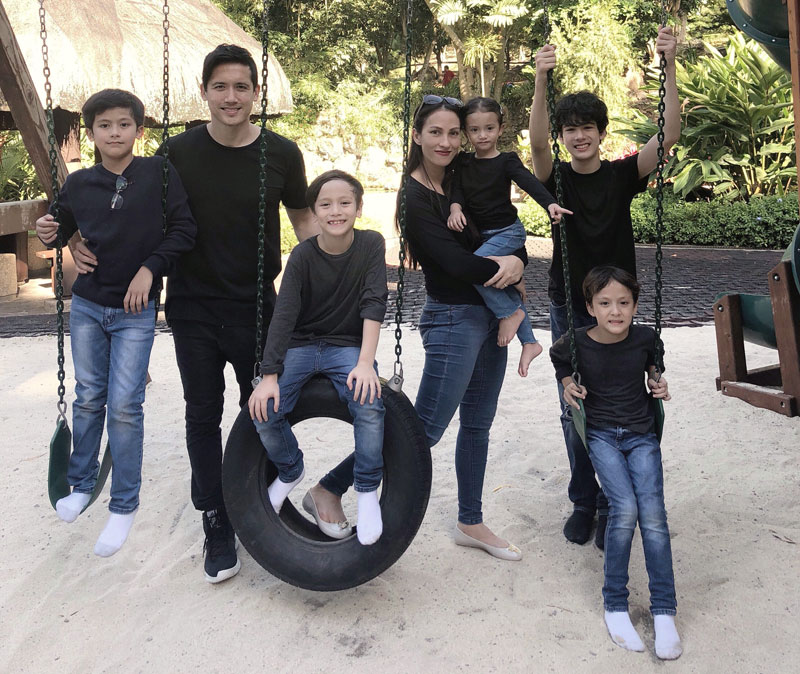 'We went through ups and downs. It was only when we put God at the center of our marriage did everything start to go well,' says Gian. 'It was my cousin Oyo Boy who led us to God.'
"I was feeling low after a misunderstanding with Joy that almost led to our breakup. Oyo is a Christian and every time I saw him, he kept saying, 'Grabe si God; galing ni God.' I ran to Oyo crying. Tinatawanan niya ako while telling me, 'Relax ka lang.' I told him, 'Gusto ko rin makilala si God.' It was Oyo who planted the seed. Joy and I are now with Victory Christian Fellowship (VCF) like Oyo."
Said Joy, "That was when we realized what was missing in our marriage. God. We would go to church, all right, pero ganoon lang. When we put God at the center of our marriage, everything started to go well. We still have arguments over petty things but we are able to sort them out at once. We never go to bed with unresolved issues no matter how petty they seem to be."
They attend seminars on family regularly.
"It's true what they say that it takes a village to raise a child. We learn a lot from our mentors. Gian and I are both disciplinarian. Do we spare the rod? No. We use it very mildly. We never spank the kids with our hands because the hands are for loving."
To end this Conversation, we asked the couple to kiss again and they obliged. Joy was game. Obviously, she has gotten used to Gian's propensity for PDA.
(E-mail reactions at rickylophilstar@gmail.com. For more updates, photos and videos, visit www.philstar.com/funfare or follow me on Instagram @therealrickylo.)