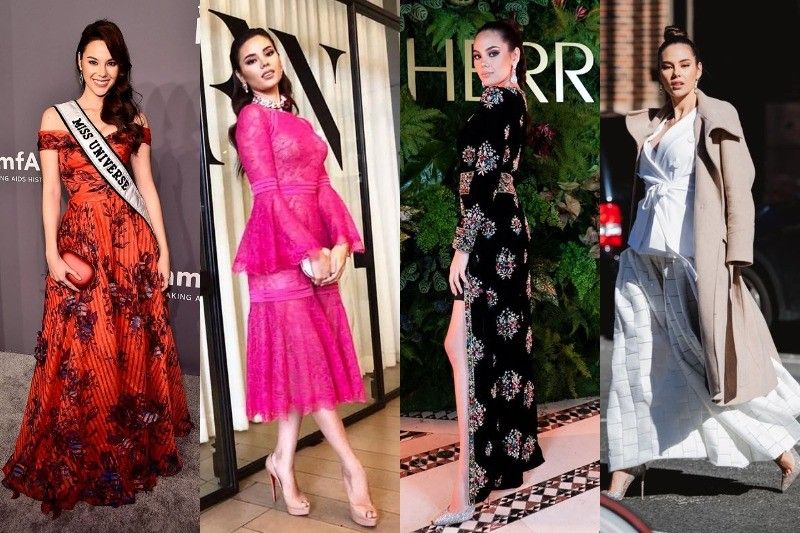 Composite photos showed some of the looks of Miss Universe 2018 Catriona Gray at the New York Fashion Week 2019.
Catriona Gray/Instagram
In Photos: Catriona Gray's looks at New York Fashion Week
MANILA, Philippines (Updated Feb. 12; 3:03 p.m.) — Filipina-Australian beauty queen Catriona Gray is back at New York Fashion Week this year, this time as Miss Universe.
Gray also returned to the show of designer Sherri Hill where she walked as one of the models last year.
"Feels so special to be at a @sherrihill NYFW show, not walking as a Ms Philippines but attending as a @missuniverse," Gray said in a post on Instagram.
The Miss Universe beauty posted photos of her looks while gracing the anticipated fashion event.
READ: Catriona Gray 'excited' to attend New York Fashion Week 2019
She wore a pink flowy lace gown by Tadashi Shoji on the first day of NYFW. She was also styled by Marquis Bias and wore Christian Louboutin shoes.
The Filipina had a photo with Miss Oklahoma USA 2019 Triana Brown-Hearell. Gray's roommates Miss USA Sarah Rose Summers and Miss Teen USA Hailey Colborn also attended the event.
Gray also attended the amfAR Gala, which is considered as the "most successful and high-profile AIDS benefits event," known to kick-off the NYFW.
She bumped into Filipina-American model Kelsey Merritt during the gala night.
READ: 'Mini-reunion': Catriona Gray, Kelsey Merritt attend Cure Aids gala night in New York
The 25-year-old beauty is set to return to the Philippines this month for her grand homecoming.
Here are the looks of Gray while attending the NYFW so far: