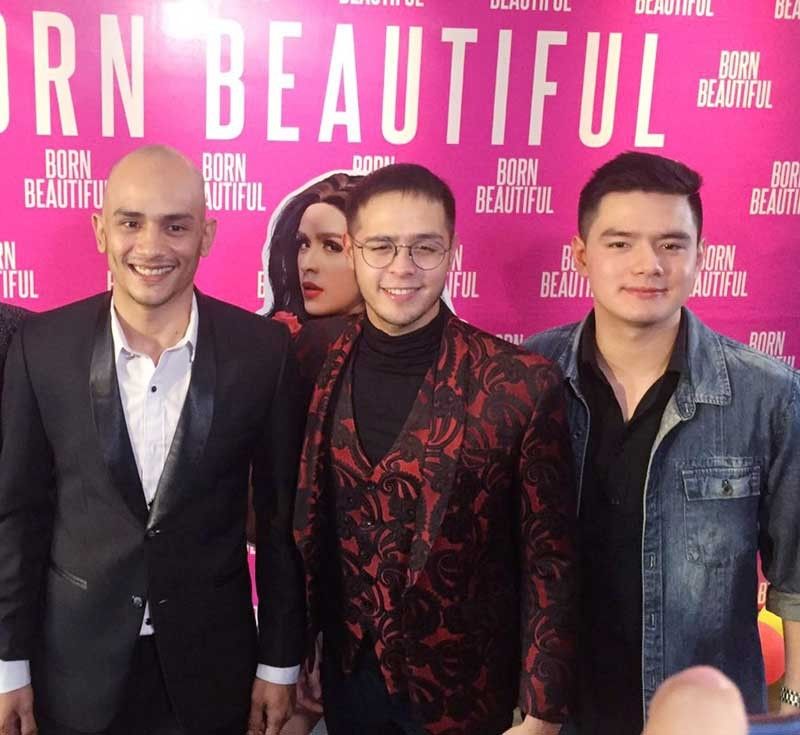 The Born Beautiful triumvirate (from left): Kiko Matos, Martin del Rosario and Akihiro Blanco during the film's screening at the UP Cine Adarna
Jerry Donato
(The Philippine Star) - January 23, 2019 - 12:00am
MANILA, Philippines — Transwoman Barbs Cordero, played by Martin del Rosario, is a beauty with a huge heart in the Perci Intalan film titled Born Beautiful. Hers can accommodate as much love one can ever imagine. Making it their playground, so to speak, are Greg and Michaelangelo, respectively portrayed by Kiko Matos and Akihiro Blanco. They are the men in Barbs' life; they are born to love her.
"Well, Greg is like a child," said Kiko of his character that the audience may think typifies the macho man. "He doesn't know what love is. But there's (something) inside of him, (which tells) him not to let go of it." This is also seen after his emotional scene with Barbs and Greg has realized "na mali ang ginawa niya because he's finding out somehow what love means," added Kiko. "If he loses it, he knows he will lose it forever... He's changing and he is more sure of himself. He knows what he wants."
Also at the verge of going to fight tooth and nail for his love is Michaelangelo that completes the love triangle.
"For me, his love for Barbs is already a given. He represents (someone) na hindi madamot sa pagmamahal. Even my character has loved Trisha before, pwede ka pang magmahal ng iba pa (he could still love another)."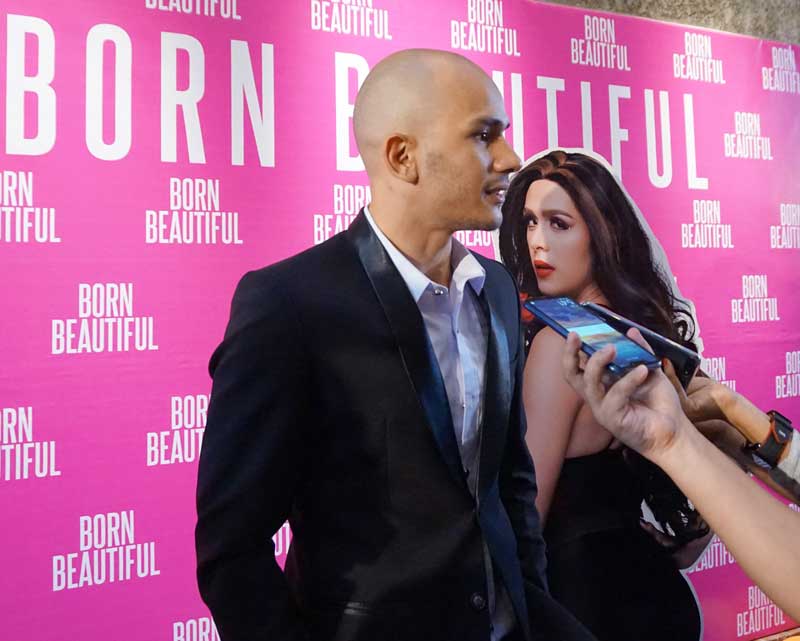 Kiko as Greg: (My character) is like a child…he's finding out somehow what love means.
Like Greg, Michaelangelo has a partner but has had affairs with gays and trans like Trisha, portrayed by Paolo Ballesteros in Die Beautiful, who makes a special appearance in what they call a spin-off film. "Michaelangelo has gone through a lot in life. Yung pagmamahal niya, hindi niya niloloko ang isang tao, he is serious when it comes to love." The kind of love that is not restricted by gender duality and never grounded on financial motivations.
"I've heard of stories like that," said Akihiro of why some men enter into such a relationship. His character veers away from that mold. "'Hindi ko kailangan ang pera mo, seryoso ako sa'yo,'" Akihiro quoted a dialogue of his character Michaelangelo, in a scene with Barbs. "That's what my character will challenge (babasagin)." As what some may say, love knows no color and gender. "We are all human beings. We have to respect each other. It's all about making choices. 'Pag dating sa love, walang mali (there are no mistakes in love)," he added.
As for Greg's true intentions for Barbs, Kiko had this to say: "He doesn't care about other people's opinion, he doesn't care (about) what they say. He doesn't care (about) what his friends are telling him na mamakla ka. He represents the counter(parts) to the homophobes. Greg is a typical tambay, he's a tricycle driver who would catcall women and tease gay people, pero binasag niya yung homophobe. He goes in at wala siyang pakialam, nagmamahal siya ng totoo."
Is it really possible for straight men to fall for gays or trans?
"I think it's possible for straight men to love anybody, maybe trans, maybe another man," replied Kiko. "'Pag dating sa love, walang pinipili yun," said Akihiro, adding and reminding everyone that one should not speak with finality, especially whom one can love.
Both young actors with the potential to become leading men have gone through the matinee idol stage. It seems that they are brave enough to essay meaty roles in their careers.
"I came from the boy-next-door type," recalled Kiko. "It so happened that I shaved my head, na nalinya na ako sa bad boy (roles). I don't think I will forever get stuck in this bad boy (image)." Like all budding actors out there, he wants diverse projects. "Right now, I'm just enjoying it. There's gonna be something new out there like Born Beautiful which goes against the typecast (stereotypes). I'm not worried about it," said Kiko.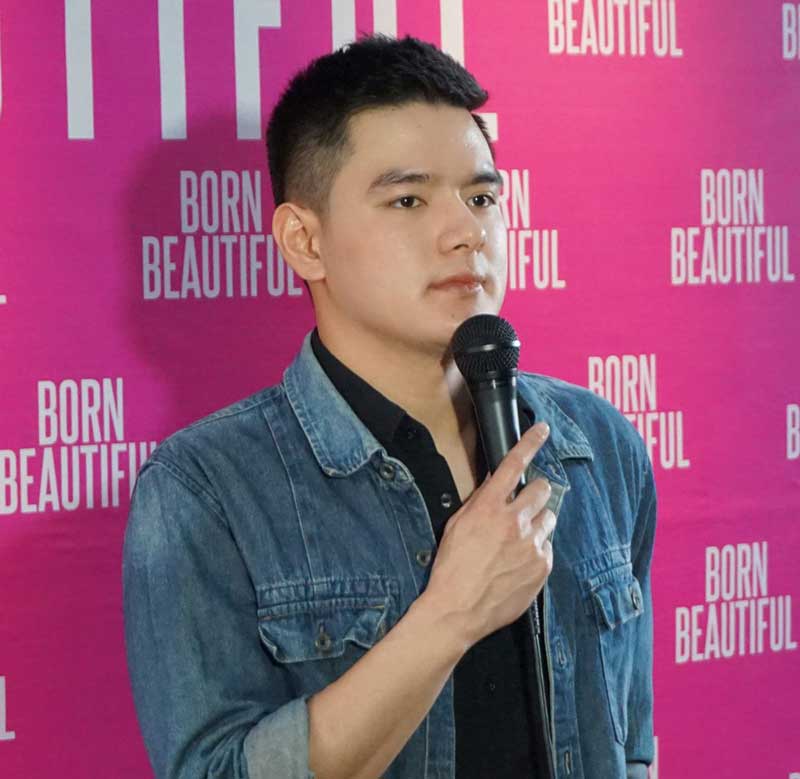 Akihiro on Michaelangelo: He is serious when it comes to love.
"I did the usual (route of) loveteams being paired with female stars," shared Akihiro. "I (worked) with very good co-actors (in the film). So work was easy. Direk Perci, direk Jun (Robles Lana) would always be there to help us."
So who has the bigger heart between Greg and Michaelangelo? Well, only Barbs can answer.
"My greatest realization about love is love has no limits," said the character. "Hindi napupuno ang puso. Hindi nakakulong ang pag-ibig. It expands the more you love. At hindi mauubos ito... the more you give love, the more na dadami ito. I am Barbs Cordero na nagsasabi na magmahal ka hindi lang sa abot ng iyong makakaya, kundi magmahal ka sa dami ng iyong makakaya."
From the big screen, this love story will crossover to the small screen.
(Born Beautiful is now showing in theaters nationwide. It is produced by Cignal Entertainment, Octobertrain Films and The IdeaFirst Company and written by Jun Robles Lana and Rody Vera with Elmer Gatchalian, Ivan Andrew Payawal and Fatrick Tabada. It also stars Lou Veloso, Chai Fonacier, Elora Españo, Joey Paras, Jojit Lorenzo, Gio Gahol and VJ Mendoza.)