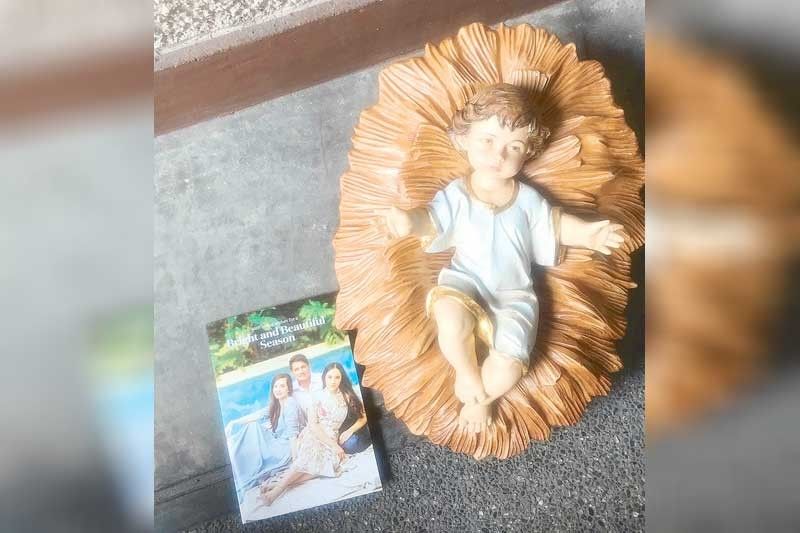 Ormoc Mayor Richard Gomez and wife, Ormoc Rep. Lucy Torres, with daughter Juliana on the family's 2018 Christmas Card, accompanied by an image of Baby Jesus in a manger
Mga Halu-Halong Hula-Hula 2019
FUNFARE
-
Ricky Lo
(The Philippine Star) - January 2, 2019 - 12:00am
Time to dust off the Crystal Ball and (fore)see what's in store for the make-believe denizens in the Year of the Pig. Oink, oink, oink!!! A blushing revelation: this annual (random) fortune-telling dates back to the imposition of the unlamented Martial Law and, believe it or not, the batting credibility/accuracy average is way, way above the median. The manghuhula deserves three good pats on the back!
First, the "Wide Awake" Items:
1. Ormoc Mayor Richard Gomez and wife, Ormoc Rep. Lucy Torres, will score twin victory toward the middle of the year. For what…in what? The Crystal Ball only flashes a winking smile.
2. The "secretive" (daw!) Anne Curtis will announce that she's expecting her and husband Erwan Heussaff's first baby.
3. Zsa Zsa Padilla and Conrad Onglao will (finally, finally!!!) push through with their long-delayed wedding?abroad?
4. Despite their public pronouncement of an undated marriage plan, Tom Rodriguez and Carla Abellana will have to navigate "troubled waters" before they can expect to live happily ever after.
5. After undergoing quadruple bypass, Gary Valenciano and Mike Enriquez are well advised to slow down a bit and avoid overworking (as they are wont to do) or over-stressing themselves.
6. Derek Ramsay will officially be a Kapuso when he signs an exclusive contract to the tune of…? A "millions" thanks to whoever negotiated the deal.
7. Luis Manzano will keep on teasing the public imagination with "feelers" that he's ready to marry girlfriend Jessy Mendiola (and make his mom, Batangas Rep. Vilma Santos, happy. She has been wishing for a grandson from Luis) but that's as far as Luis will go — lip service.
8. John Lloyd Cruz will have enough of being a "private citizen" and might think of returning to showbiz, reinvigorated with a new outlook as a father of his child (with his beloved Ellen Adarna).
9. Sarah Geronimo and boyfriend Matteo Guidicelli will make a joint important announcement. It may not be about what you think but, as the showbiz expression goes, "you can never can tell; hehehe!!!"
10. Pops Fernandez will shine on the international (TV) scene — that is, if the stars align in her favor. This has been hinted at by a "scoop" in this corner.
And now, the "Blind Items"
1. The two major networks will continue to play the musical-chairs game with a Kapamilya "hot property" jumping ober da bakod to the rival network, while Kapuso "hot property" will do the same. Quid pro quo.
2. A celebrity couple will confirm that they are living apart even as they pretend to project an "ok image."
3. A wealthy politician is proposing to buy ABS-CBN. Hmmm, why, is the Bohol Avenue network up for sale?
4. Beauty queen and her sisters are poised to file a case against their two siblings for some, ehem, "money matters." Shouldn't they amicably settle the issue out of court?
5. A certain actress will announce that she's pregnant and her actor boyfriend will stand by her with a promise to make their union legal.
6. A TV show will fold up untimely since, contrary to "projection," it just can't dent the rating "wall" of the rival show.
7. Some of the showbiz guys who filed their COCs for this year's mid-term elections will quit due to lack of funds.
8. Be forewarned: More celebrities will suffer from depression due to cyber bullying and authorities should deal with bullies, on social media or elsewhere, with an iron hand (read: severe punishment).
9. Sadly, more showbiz stars will fall into the drug net, even as some of their colleagues are locked in jail while others are out on bail (or set free without facing further charges).
10. A movie company will close shop due to financial constraints…unless somebody comes to its rescue.
(E-mail reactions at rickylophilstar@gmail.com. For more updates, photos and videos, visit www.philstar.com/funfare or follow me on Instagram @therealrickylo.)