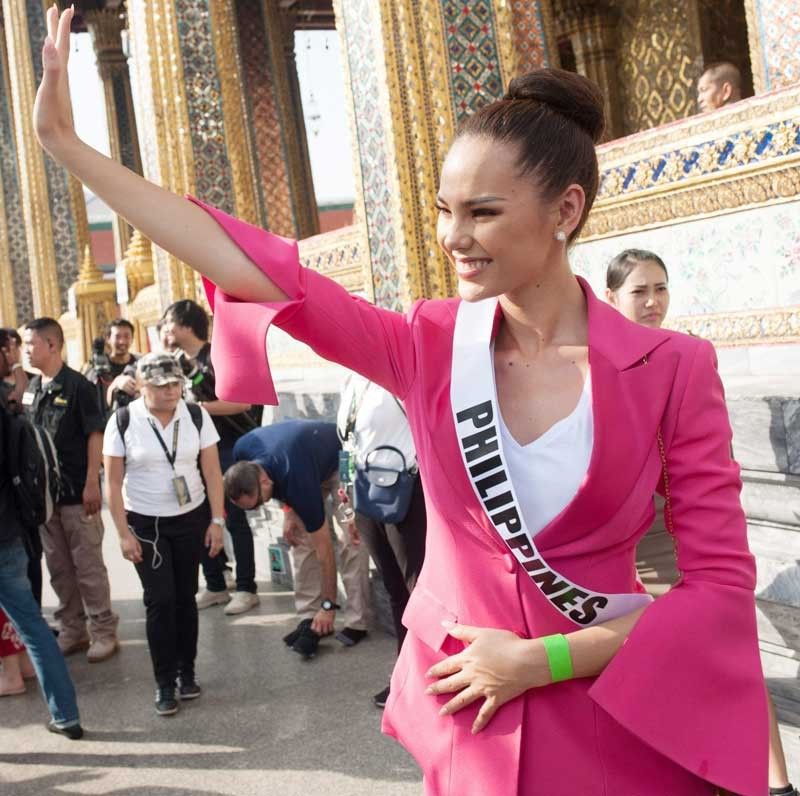 2018 Miss Universe Philippines Catriona Gray at the Grand Palace in Bangkok. If she scores as the Philippines' fourth Miss Universe in the pageant held on Monday, Dec. 17, in Thailand (aired live by ABS-CBN starting at 8 a.m.), she will raise the country's ranking in the countries with the most number of Miss U winners.
Photo courtesy of Miss Universe Organization (MUO)
What are Catriona's winning points?
FUNFARE
-
Ricky Lo
(The Philippine Star) - December 14, 2018 - 12:00am
Three days from now, we will find out if Catriona Gray will beat 93 other aspirants for the Miss Universe crown and raise the Philippines' ranking in the roster of countries with the most number of Misses U to a secured fourth place behind the USA, Venezuela and Puerto Rico (check out the list as you read on). Currently, the Philippines ties with Sweden on the fourth spot (with Sweden moved to fifth place, if and when).
Until the grand finals on Monday, Dec. 17, when the 67th Miss U pageant unfolds in Pattaya, Thailand (aired live on ABS-CBN starting at 8 a.m.), "beauty experts" can only make their usual predictions, hoping against hope that Catriona will be "it" and create a record as the country's fourth Miss U (after Gloria Diaz, 1969; Margie Moran, 1973; and Pia Wurtzbach, 2015).
So what are Catriona's winning points?
• Her friendliness and natural charm, marked by a sweet smile that never leaves her face…and that makes her stand out in a wide field of beauties;
• Her heart for poor children. Unlike some beauty queens who reveal their advocacies only after winning a title, Catriona (through her advocacy called Paraiso) has been helping raise funds for the renovation of a three-storey building in Tondo, Manila, and turning it into a pre-school (should be hopefully done by this time because Catriona talked about it in 2016 when she won Miss World Philippines in the first pageant she ever joined); and
• Her independent-mindedness. She told The STAR in 2016, "I've had a very beautiful childhood. My parents taught me independence early on. They let me explore; they let me travel by myself to America when I was nine years old to visit our relatives…"(Catriona is an only child. Her mom is from Oas, Albay, and her Australian dad used to own a mining corporation in the Philippines where he met Catriona's mom. )
According to Funfare's "other beauty expert" Celso de Guzman Caparas, "Catriona is reported to be one of the front runners among the 94 beauties by international beauty queens, pageant websites and even betting companies. As of Monday, Dec. 10, Catriona is No. 1 in Australia's Sportsbet and USA's Odds Shark (tie with Puerto Rico). She's in the second spot in UK's Nicer Odds and Oddschecker (tie with Thailand)."
For the record, Catriona is competing with her 2016 Miss World batchmates Helena Heuser of Denmark and Emma Strandberg Winkel of Sweden.
Here's the roster of the countries with their number of Miss U winners (compiled by Celso):
• USA — Miriam Stevenson (1954), Carol Morris (1956), Linda Bement (1960), Sylvia Hitchcock (1967), Shawn Weatherly (1980), Chelsi Smith (1995), Brook Lee (1997) and Olivia Culpo (2012);
• Venezuela — Maritza Sayalero (1979), Irene Saez (1981), Barbara Palacios (1986), Alicia Machado (1996), Dayana Mendoza (2008), Stefania Fernandez (2009) and Gabriela Isler (2013);
• Puerto Rico — Marisol Malaret (1970), Deborah Carthy-Deu (1985), Dayanara Torres (1993), Denise Quiñones (2001) and Zuleyka Rivera (2006);
• Sweden — Hillevi Rombin (1955), Margareta Arvidsson (1966) and Yvonne Ryding (1984);
• Philippines — Gloria Diaz (1969), Margarita Moran (1973, also Miss Photogenic) and Pia Wurtzbach (2015);
• Finland — Armi Kuusela (1952) and Anne Marie Pohtamo (1975);
• France — Christiane Martel (1953) and Iris Mittenaere (2016);
• Colombia — Luz Zuluaga (1958) and Paulina Vega (2014);
• Japan — Akiko Kojima (1959) and Riyo Mori (2007);
• Brazil — Ieda Vargas (1963) and Martha Vasconcellos (1968);
• Thailand — Apasra Hongsakula (1965) and Pornthip Nakhirunkanok;
• Australia — Kerry Anne Wells (1972) and Jennifer Hawkins (2004);
• Trinidad & Tobago — Janelle Commissiong (1977) and Wendy Fitzwilliam (1998);
• South Africa — Margaret Gardiner (1978) and Demi-Leigh Nel-Peters (2017)'
• Canada — Karen Baldwin (1982) and Natalie Glebova (2005);
• Mexico — Lupita Jones (1991) and Ximena Navarrete (2010);
• India — Sushmita Sen (1994) and Lara Dutta (2000); and one winner each from
• Peru, Gladys Zender (1957); Germany, Marlene Schmidt (1961); Argentina, Norma Nolan (1962); Greece, Corinna Tsopei (1964); Lebanon, Georgina Rizk (1971); Spain, Amparo Muñoz (1974); Israel, Rina Messinger (1976); New Zealand, Lorraine Downes (1983); Chile, Cecilia Bolocco (1987); Holland, Angela Visser (1989); Norway, Mona Grudt (1990); Namibia, Michelle McLean (1992); Botswana, Mpule Kwelagobe (1999); Panama, Justine Pasek (2002); Dominican Republic, Amelia Vega (2003); and Angola, Leila Lopes (2011).
The voice behind the hit Christmas song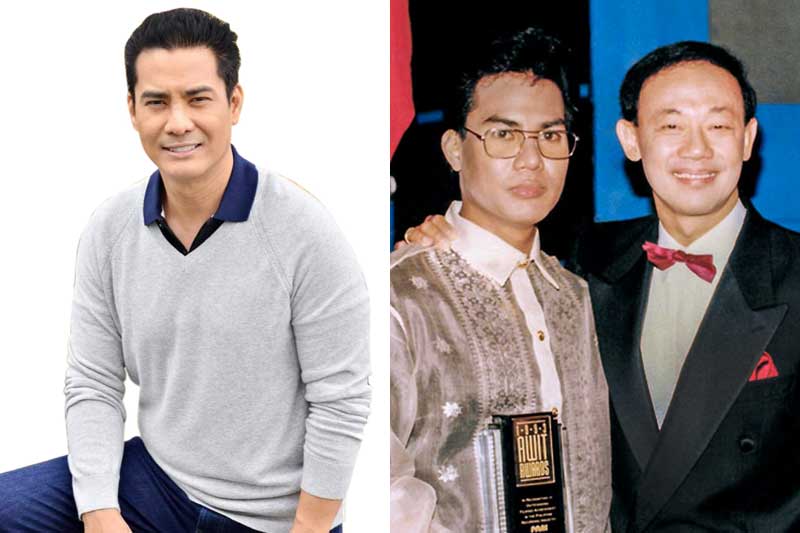 John Melo today and (right) in 1993 (with Jose Mari Chan) when he won Awit Best New Male Recording Artist.
If the name John Melo rings a bell, even if he has been out of circulation for more than 20-plus year, it's because he recorded memorable songs back then, Hanap-Hanap Kita, the carrier single of his 1992 album Ikaw Pala Ang Minamahal (composed by Vehnee Saturno), released by Ivory Records; followed by Basta't Mahal Kita (also by Saturno), carrier single of his 1994 album Magtiwala Ka.
"It was Hanap-Hanap Kita that won me Best New Male Recording Artist in the 1993 Awit Awards,"noted John. "It was a Gold Record."
Based in San Ramon, California, with his wife Dr. Precilyn Silvestre, John (himself a dentist like Precilyn) is home for vacation purposely to celebrate his birthday (Dec. 19) and his 25th anniversary as a singer with his friends and relatives in Bacolod. He's also promoting his Christmas song, Malapit Na Ang Pasko which has earned more than three million views on social media.
"The song is by Jimmy Borja who also composed Sana Ngayong Pasko which was popularized by Ariel Rivera," said John who recorded it in a small studio he purposely put up for it in a spare room at home. "Our OFWs love the song because it reminds them of home and family."
Back in California, John will again set aside his music and attend to being manager of the family clinic.
"It's my wife who is a practicing dentist," added John (a CEU graduate).
Driven to serve the public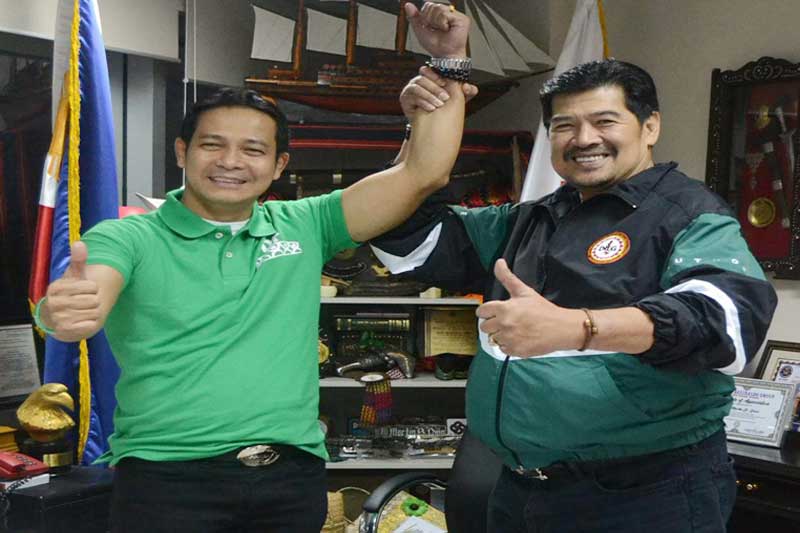 Bulacan Vice Gov. Daniel Fernando being endorsed in his 2019 gubernatorial bid by DILG Usec. Martin Diño.
Now on his third and final term as Bulacan Vice Governor, Daniel Fernando (real name: Cesar Fernando Ramirez) didn't hesitate to answer the call of public service even if it cost him his chance to be a big actor (credits include Peque Gallaga's Scorpio Nights and Lino Brocka's Macho Dancer).
"Public service got the better of me and I have no regrets," said Daniel who appears in GMA and ABS-CBN TV shows every now and then. "I started as the province's board member in 1998."
In the 2019 midterms, Daniel is running for governor, endorsed by DILG Usec. Martin Diño.
(E-mail reactions at rickylophilstar@gmail.com. For more updates, photos and videos, visit www.philstar.com/funfare or follow me on Instagram @therealrickylo.)