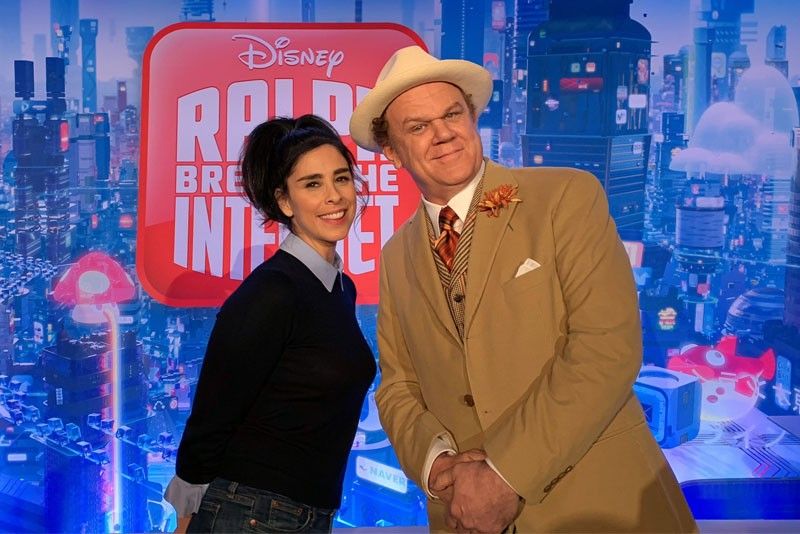 In Ralph Breaks the Internet, video-game bad guy Ralph (voice of John C. Reilly) and best friend Vanellope (voice of Sarah Silverman) leave the comforts of Litwak's arcade in an attempt to save her game, Sugar Rush.
'The thrill of a lifetime'
MANILA, Philippines — The beloved Disney characters Wreck It Ralph and Vanellope von Schweetz are back in the fun-filled sequel to the 2012 animated hit Wreck It Ralph.
In Ralph Breaks the Internet, video-game bad guy Ralph (voice of John C. Reilly) and best friend Vanellope (voice of Sarah Silverman) leave the comforts of Litwak's arcade in an attempt to save her game, Sugar Rush. The duo travels to the Internet where they discover a world so vast and so advanced that their limited and "boring" experience inside the arcade proved to be perfect compared to the chaos and challenges of living in a big, foreign world.
The Internet as depicted in the movie is an eye-popping world that's full of colors, different kinds of people and a social structure unlike the real world that we know of. It's also a "perfect place for a character who is insecure about himself," Rich Moore added. Moore co-directed the film with Phil Johnston.
At the end of the first movie, Ralph, after going friendless for the whole movie, finally made a friend in Vanellope. In one of the poignant scenes in that film, Ralph mused, "If that little kid likes me, how bad can I be?" This sentiment, though sweet and wonderful, inspired the filmmakers to explore the apparent irony in Ralph's assessment of himself.
"That's really, really dysfunctional. That this guy is defining himself by what his best friend thinks — and it's a great best friend — but what if she were not to like him someday? What would that lead to?"
This question leads to Ralph and Vanellope venturing into the Internet and in the process they discover themselves, test their friendship and appreciate the kind of persons they are.
Two weeks ago, Moore and the rest of the voice cast met with the press to talk about the movie.
Pamela Ribon, who voices one of the Disney princesses who come to the rescue of Ralph and Vanellope, expressed her excitement at welcoming a new Disney princess in Vanellope.
"What a dream come true to have Vanellope von Schweetz now officially part of the Canon," she exclaimed. "The hoodie princess reigns supreme!"
Comedian Jack McBrayer returns as Fix It Felix, who is now married to Calhoun. Together, they discover that having 15 pre-teen racers, displaced when Sugar Rush was unplugged, under their care was more fun as an idea.
"Now they're thrust into these new circumstances that really force them to not only evaluate how they feel about each other but what their preconception of what parenthood could be," Jack said in describing his character's arc in the story.
Award-winning actress Taraji Henson is the new addition to the cast. She voices Yesss, the vibrant character that Ralph and Vanellope befriend when they enter the Internet.
"First of all, voicing a character in a Disney animated film. Check!" Taraji remarked when asked what excited her the most about being cast in a Disney film.
Taraji described Yesss as incredible! "When Rich and Phil brought her to me and explained her, I was like, this is a no brainer. She's no nonsense. She has heart. My favorite scene is when Ralph finds himself in the comment room. She comes in and she tells him 'It's not you. It's them. They're mean. They're hurt, so they're hurting you.' It grounded the film for me and it grounded the character for me."
Wreck It Ralph was originally conceived as a fish-out-of-water story with Ralph leaving his own game to explore the other games in the arcade. In the sequel, Ralph, together with Vanellope, is thrust into the infinite landscape that is the Internet.
"There are a lot of really fun metaphors that we're also playing with in the film," John said. "This idea that the arcade is like the childhood kind of arena of their friendship and the Internet represents the sort of larger world beyond as they grow and mature.
"I hope kids are entertained and feel like this story relates to them and that they recognize some of their own friendships in these characters," John added.
In the sequel, Vanellope starts to grow and mature and realizes that the new world offers more potential and opportunities for her than life at Litwak's arcade. This causes Ralph to become insecure about his friendship with her, which strains their relationship.
Sarah Silverman, in reflecting on the theme of childhood insecurity tackled in the movie, shared her own insecurities during the junket. "It moves around, like grappling with being the age I am," she said. "I've never been this age. And it's the oldest I've ever been. But then I'll go, 'It's the youngest I'll ever be.' That's what I tell myself, too. And then, I'll go see the cellulite on my thighs. I go, 'Ugh!' And then I go, 'I'm strong and my body works. And I love these thighs. These thighs help me stand and walk and move.'"
Sarah added that in her apartment building, there's a mirror by the elevators that, whenever she passes by, she makes sure to go and see her reflection and reassure herself. "It helps!"
And as Vanellope, she's able to cross one of her greatest dreams.
"It was a dream come true. I couldn't believe it!" she exclaimed when asked how she feels that she finally gets to sing in a Disney movie — and as a bona fide princess, that is. She was able to meet the legendary Alan Menken who wrote some of the contemporary Disney classics from A Little Mermaid to Tangled.
"It was really the thrill of a lifetime!" she added.
This sequel is a rare thing. Disney does not normally revisit its characters in sequels but are the producers considering more adventures for the duo?
"Good idea. Like the first one, we're at that point where we feel like, it's buttoned up nice and clean," Moore responded when asked about the possibility of more sequels. "It feels as if they're great companion pieces, it kind of ends here."
Ralph Breaks the Internet is in theaters now.