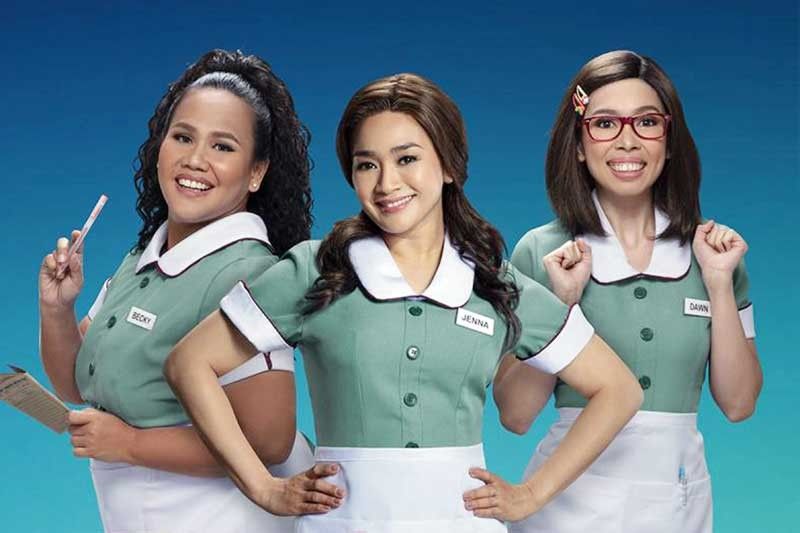 The Atlantis Theatrical production stars (from left) Bituin Escalante, Joanna Ampil and Maronne Cruz
Waitress a sweet, heartfelt treat
MANILA, Philippines — Waitress opened on Broadway in 2016 as the first production to have an all-female creative team at the helm, featuring music and lyrics by six-time Grammy nominee Sara Bareilles and a book by Jessie Nelson. The musical was adapted from Adrienne Shelly's 2007 film of the same name, which tells the story of Jenna, a waitress and talented pie maker who finds herself with an unwanted pregnancy in her unhappy marriage.
The material is not unfamiliar to me. I saw the film a few years ago, and had the loveliest privilege of weeping my way through the Broadway musical in 2016 during Jessie Mueller's run as Jenna in the New York production. Last week, queueing to watch another incarnation of Waitress, this time for Atlantis Theatrical's local staging directed by Bobby Garcia, I was not without my fair share of expectations. But just like Jenna's delightful pie concoctions, the final product delivered deliciously.
I think the beauty of the production, which stays true to its source material, is how it navigates the messy lives of Shelly's flawed characters with such warmth and affection. Waitress supplies hearty laughs in its lighter moments, but dives back into its heavier themes without either quite overpowering the other.
Nino Alejandro's hilariously quirky Ogie provides much of the light-hearted entertainment, with memorable renditions of the playful, albeit slightly creepy Never Ever Getting Rid of Me and a unique proclamation of love in I Love You Like a Table that seals his endearing romance with the eccentric Dawn, whom the lovely Maronne Cruz portrays oh-so naturally.
Bibo Reyes also shines as Dr. Pomatter, Jenna's gynecologist with whom she has an affair. He brings to the table equal parts dorkiness and charm, making the audience crack up, gush and even swoon at just the right times. The scenes where Dr. Pomatter and Jenna share tender moments are when one almost forgets the weight of Jenna's situation. That is, until Jenna's life comes crumbling down after Earl (played by George Schulze) discovers the hidden stash of money she is saving for the day she finally runs away from her abusive marriage.
Bareilles' ballad is already in itself a masterpiece, and Joanna Ampil does justice as she laments Jenna's loss of her sense of self in She Used to Be Mine. In this tear-jerking number, Joanna perfectly captures the complexities of Jenna's state: Furious but with restraint, defeated but defiant.
Another showstopper and arguably the standout of the show was Bituin Escalante as Becky, Jenna's feisty best friend. It wasn't just her unforgettable performance of I Didn't Plan It, which received well-deserved roars of applause and some standing ovations; Bituin nails Becky's unapologetic personality — from the accent to the wisecracks to the tension with her boss and lover Cal (Dean Rosen).
One of the musical's most touching moments is when curmudgeonly diner owner Joe, portrayed by Steven Conde, sings to Jenna as they dance at Ogie and Dawn's wedding reception. "And though I don't believe in silver linings / I believe that there's something in you / Something good is tryin' to break through."
This idea is recurring all throughout the story, that the days only go on without a change. It's just something inside a person that shifts. And maybe that's it. The people who gather at Joe's Pie Diner may live bland — even bleak — lives, but Waitress shows that it takes a whole lot of heart and grit to live an ordinary life. An odd mix, but hey, it takes more than just sugar, butter and flour to make the perfect pie.
Waitress runs every Friday, Saturday and Sunday at the Carlos P. Romulo Auditorium in RCBC Plaza, Makati until Dec. 2. For tickets, contact TicketWorld at (632) 891-9999 or visit www.ticketworld.com.ph.