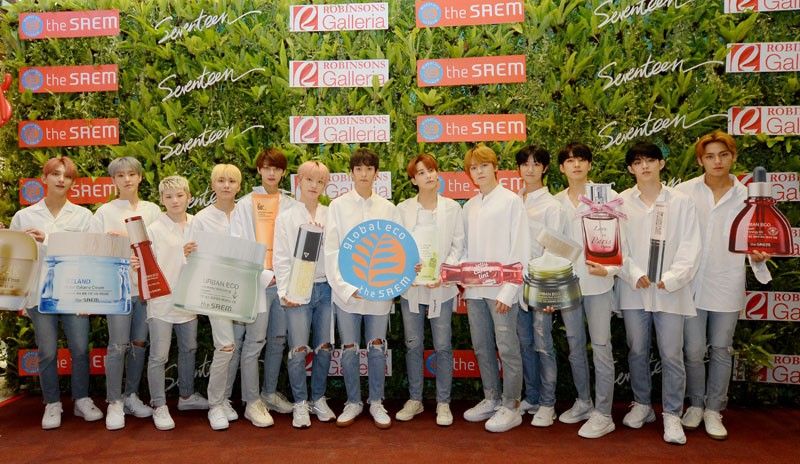 The band is composed of S.Coups, Wonwoo, Mingyu, Vernon, Woozi, Jeonghan, Joshua, DK, Seungkwan, Hoshi, Jun, The8 and Mingyu.
Seventeen's K-beauty regimen
MANILA, Philippines — Aside from their catchy songs, slick videos and synchronized dance moves, K-pop groups are also known for their dewy, clear skins.?Some K-pop bands swear by the Korean skin care products they use. In fact, some of them promote and endorse these brands. One of them is the K-pop group Seventeen, whose 13 members credit their smooth skin to top Korean skin care and beauty company The Saem.
The Saem proudly produces over 49 different series of skincare, spanning over 750 products, including its famous Dr. Beauty line, which carries medically recommended items that are tested and authenticated by doctors. Last year, The Saem got Seventeen as its brand ambassador. Recently, The Saem organized a meet-and-greet with Seventeen at Robinsons Galleria to talk about the benefits of using the skin care brand. Seventeen was formed by Pledis Entertainment in 2015 and is better known for its songs Don't Wanna Cry, Thanks, Clap and Highlight. The group held a one-night only concert at the MOA, prior to the fan meeting.? The band's members, namely S.Coups, Wonwoo, Mingyu, Vernon, Woozi, Jeonghan, Joshua, DK, Seungkwan, Hoshi, Jun, The8 and Mingyu, were all smiles and danced the cute Harakeke jingle of The Saem during the event.
All of them swear by The Saem's efficacy, stressing that the products are part of their skin care ritual. Seventeen models the whole range of skin care and recently released a hand cream set and a perfume line.
Asked how they keep their skin supple and soft, the boys said they remove every trace of their make-up before they sleep using The Saem's cleanser. Joshua and Vernon, who both speak fluent English, recommended the moisturizers, saying they keep their skin glowing.
Hoshi, Sengkwan and Jun also swore by the perfume line of The Saem. Vernon said he is obsessed with The Saem perfumes and sprays it as often as he can.
One of the most popular beauty skin care products these days is the face mask from Korea. Seventeen members said they use The Saem's face masks a lot, saying it does a lot of wonders to their skin, particularly, in hydrating and priming their skin for the rest of skin care products.
"Actually, we use the masks the night before our performance or concerts because we noticed that our make-up looks good during the performance. Our make-up is easily absorbed if we use the face masks the night before our concert," said Mingyu and Joshua.
Asked what their fans can expect from Seventeen in the future, the boys said they want to continue promoting K-pop all over the world.? Seungkwan, for his part, said he wants to be loved by people all over the globe. He added they will continue to give their hundred percent in every performance. "We'll keep trying to be our best in K-pop both musically and performance-wise," he said.
Seventeen was recognized as the Rookie Artist of the Year in 2016 at Golden Disk Awards and Best New Artist of 2016 at Seoul Music Awards. In 2017, it has also been awarded by Mnet Asian Music Award for Worldwide Performer and more recently, Seventeen has received Bonsang awards from Seoul Music Awards for two consecutive years in 2017 and 2018. Its latest EP Director's Cut made it to iTunes Top Album Charts in a total of 29 regions worldwide. The group was also featured in TIME Magazine as part of the six Best K-pop boy groups. Billboard magazine has also included Seventeen in its "21 under 21" list, saying it is the most innovative K-pop group.