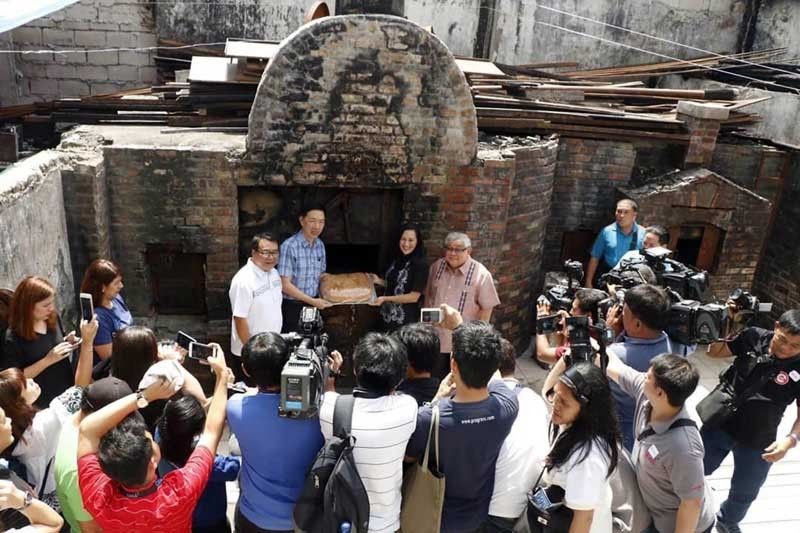 With the iconic pugon brick oven in the background, Kamuning Bakery owner-manager Wilson Lee Flores (second from left) displays a giant pandesal with a little help from Quezon City Vice Mayor Joy Belmonte who was among the special guests at the 4th World Pandesal Day last Tuesday along with Rep. Neri Colmenares (left) and GMA big boss lawyer Felipe Gozon.
Au revoir, Kamuning Bakery; till you rise again!
FUNFARE
-
Ricky Lo
(The Philippine Star) - October 18, 2018 - 12:00am
I miss the eggpie which also happens to be the favorite of Susan Roces. I miss the pan de suelo (described by customers as "malutong sa labas, siksik sa loob") and the smaller pan de sal and the ensaymada and the fleshy donuts and all the other items that Kamuning Bakery had to offer during its 79 glorious years until last February when a fire at dawn (that originated from the business establishment next door) gutted the iconic bakery.
Since then, that corner of K-1st and Judge Jimenez Streets in Quezon City has never been the same again. But the Narra Tree in front of it survived the fire, a mute witness to the loyal clientele who trooped to the bakery every day, including celebrities whose breakfast seemed to have been incomplete without the legendary pan de suelo, said to be the favorite of Pres. Cory Aquino.
Oh yes, there's the pan de regla, so named because it is topped by a red-blood portion.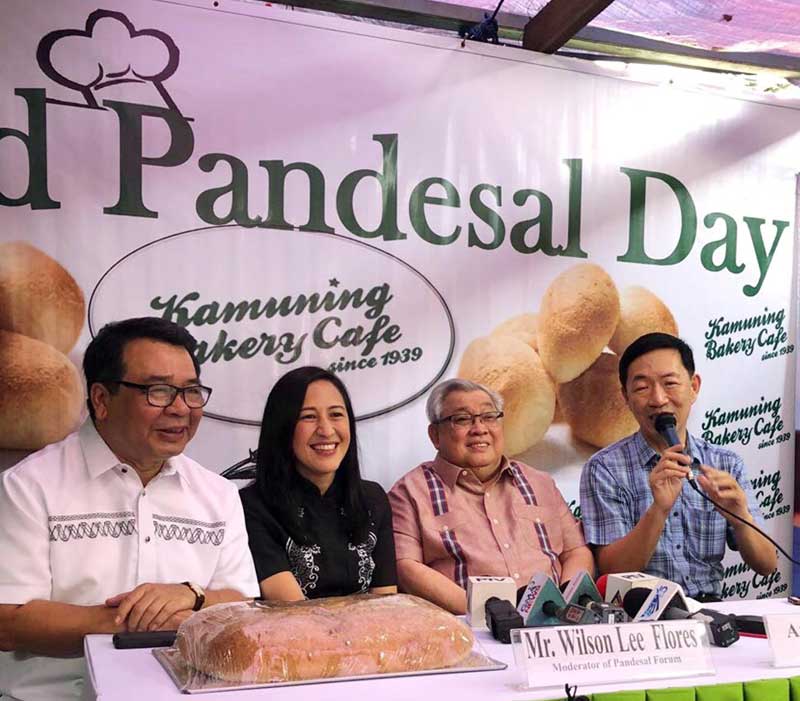 Wilson presides over the presscon with (from left) Colmenares, Belmonte and Gozon.
"The bread is known by different names," said the bakery's owner-manager Wilson Lee Flores who acquired the less-than-1,000-square-meter property from the Javier Family (the bakery was founded by lawyer Leticia Bonifacio Javier). "Marian Rivera told me that it's really called pan de regla in Cavite. Vice Pres. Leni Robredo said that it's called maligaya in Naga City. It's one of our fast-selling items."
Wilson was on a flight to Hong Kong when he got the tragic news, phoned to him by an employee choking with emotion.
"Make sure to save the Narra Tree," was all Wilson could say. "Don't forget to water it every day."
I choked a bit when I saw the Narra Tree the other day when Wilson hosted the 4th World Pandesal Day, assisted by guests Quezon City Vice Mayor Joy Belmonte, GMA big boss lawyer Felipe Gozon and Rep. Neri Colmenares (the uncle of Angel Locsin). With hashtag #WorldPandesalDay, it is "a unique socio-civic and cultural endeavor to highlight the importance of the Philippines' humble yet popular pandesal to underscore the importance of all people helping solve the age-old problem of hunger."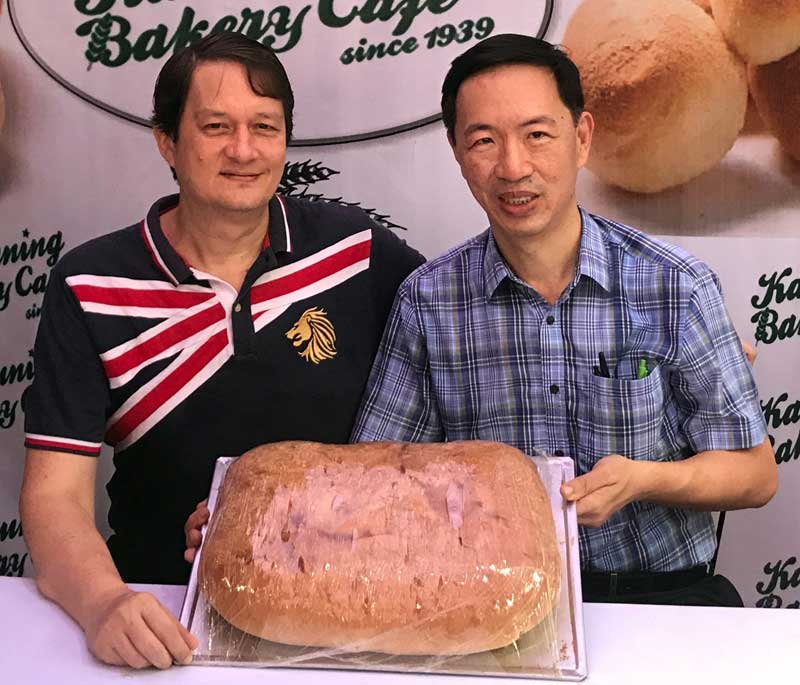 Wilson Lee Flores with STAR sports columnist Bill Velasco
"I look forward to the day when Kamuning Bakery will rise again," said Joy.
"I attended the first Pandesal Day four years ago," recalled Gozon, "and I made sure that I would be here for this event."
As a gesture of gratitude to the bakery's clients (and other people besides), Wilson gave away 70,000 pandesal and canned goods (sardines, noodles, cheese, etc.).
On Oct. 28 (Sunday), Wilson is inviting the public to a free medical/dental/optical mission in the same place in cooperation with the Chinese General Hospital led by CEO Dr. James Dy.
"After that," said Wilson with a lump in his throat, "the remains of the bakery will be totally demolished, except for the two surviving pugon brick ovens which will be retained for heritage preservation during the reconstruction of the place."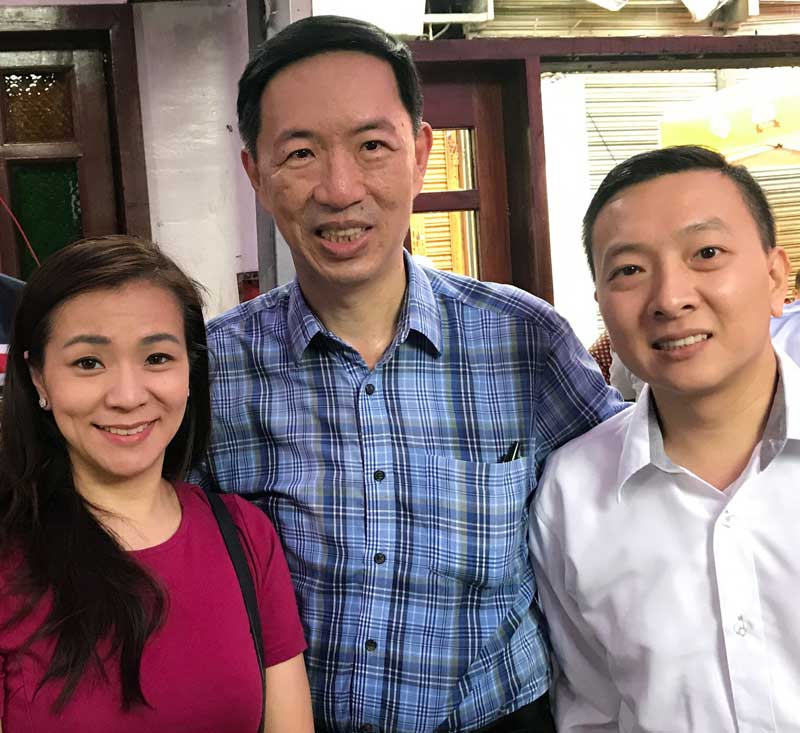 Wilson Lee Flores with Mega Sardines boss Jansen Chan and his wife Michelle Tiu-Lim (right).
With some guests (including STAR's sports columnist Bill Velasco and Mega Sardines owners Jansen Chan and his wife Michelle Tiu-Lim), Funfare took a lingering look at the ovens, opposite of which stood the blackened stairway that now leads to nowhere.
Bill Velasco was nostalgic.
"I always loved the feeling of being at home," he mused. "I grew up next door to a panaderia. Being at Kamuning Bakery brought back so many childhood memories, particularly the smell of the pandesal coming out of the pugon. Wilson came up with a chocolate sans rival, and that became my favorite, aside from the pandesal itself."
"The new building will be built around the pugon, the façade and the old design," explained Wilson (who, during Quezon City's 79th anniversary celebration on Oct. 12, was given a Manuel L. Quezon Gawad Parangal Award as one of the city's outstanding citizens). "The planning will take a few months and the construction will take six months to one year."
Until then, the regular Pandesal forums hosted by Wilson will have to be held somewhere else.
"Pres. DU30 was among the politicians who have presided over the forum," Wilson proudly noted.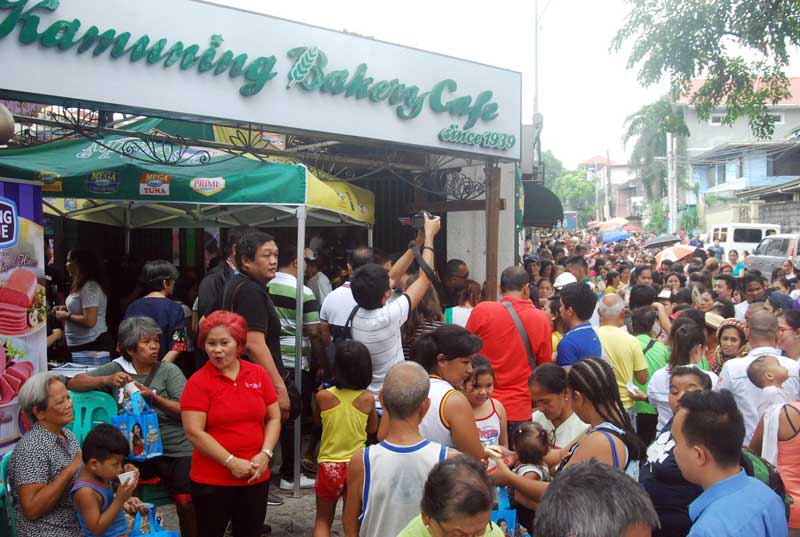 Around 70,000 pieces of pandesal were given away that day as 'send-off' before the burned bakery is totally demolished after a medical-dental mission on Oct. 28
To retain his almost 20 employees (bakers and helpers), Wilson had a temporary awning constructed in front of the burned bakery and continue to sell bread of all kinds, and also at another outlet beside Wilson's townhouse on nearby Scout Delgado St.
Just for the record (furnished this corner by Wilson himself), aside from Pres. Cory, Vice Pres. Leni, Dr. James Dy and Susan Roces, there's a long list of celebrity clientele since 1939 led by pre-war newspaper tycoon Alejandro Roces Sr. and his media tycoon son Joaquin "Chino" Roces.
Others included the late food critic Dr. Doreen Fernandez; National Artists Nick Joaquin and Levi Celerio; Dean Armando Malay; Danny Dalena; former Chief Justice Maria Lourdes Sereno; sculptor Jerry Araos; newly-appointed Foreign Affairs Secretary Teddy Boy Locsin; Gloria Romero; Bibeth Orteza; Pete Lacaba (who was introduced to Kamuning Bakery by Nida Blanca); Amalia Fuentes; Ryan Cayabyab; Zeneida Angara Amador (who introduced her cousin, the late Sen. Edgardo Angara, to Kamuning Bakery); Pepe Smith; Mike Hanopol; Charo Santos-Concio; Regal Matriarch Lily Monteverde; Celeste Legaspi; Coney Reyes; Armando Goyena, Rudy Fernandez, and Nonoy Zuñiga (who remained loyal to Kamuning Bakery during the four times he moved houses in the Kamuning Area).
(For more updates, photos and videos, visit www.philstar.com/funfare or follow me on Instagram @therealrickylo.)