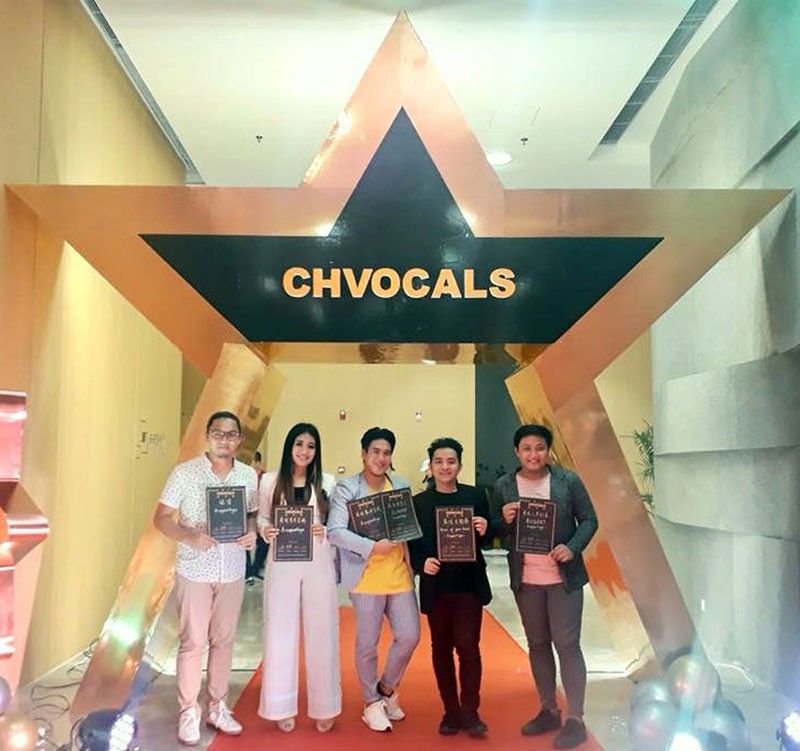 The a cappella group won several prizes from the prestigious Chvocals A Cappella singing competition at the Xinqiao Art Center Grand Theatre in Shenzhen, Guangdong last Aug. 18
Acapellago wins Chvocals competition
I say that Acapellago can now certainly lay claim to the title of the winningest-ever performing act in Philippine pop music history. The a cappella group got back from China a week ago proudly toting several prizes that they won from the prestigious Chvocals A Cappella singing competition. These guys really did their country proud besting finalist entries from Taipei, Singapore, Shenzhen, Shao Zing and China at the Xinqiao Art Center Grand Theatre in Shenzhen, Guangdong last Aug. 18.
Take a look at this list of what Acapellago brought home and feel proud: Best Original Theme Song Award, Music Of Your Heart a composition by JC Jose, Almond Bolante, Joshua Cadelina and Riva Ferrer-Jose; Best Performance Award; Best Music Presentation Award; Best Male Artist Award (Overall Performance), Almond Bolante; Best Vocal Percussionist Award (Overall Performance), Bogart Laderas; and the biggest plum of them all, they were named this year's big winner of the entire competition. Acapellago is the champion of the 2018 Chvocals Golden A Cappella.
It was only a year ago when Acapellago celebrated winning at the VoKal Total 2017, International A Cappella Competition held in Graz, Austria. The group was also proclaimed overall champions and also won the greatly covered Audience Award and the Gold Award for Pop Singing. These wins were over entries from Italy, Germany, Austria, Netherlands, Taiwan, Georgia, Romania, USA, France and Singapore. Before this, Acapellago was also the Gold Award grand champion winners all over Asia at the A Cappella Championship 2015 held at the ITE College Central in Singapore.
Looks like Acapellago is truly living up to its goal of popularizing a cappella singing in the Philippines. As they often say, they want "to create and perform new music and inspire young artists in contemporary a cappella singing and to contribute to the Philippine music and performing arts heritage." Big dreams, big words. But they might soon come true from a group of extraordinary singers that originated in Bulacan only five years ago.
Truth to tell, aside from winning all those contests, Acapellago has already accomplished what many believed was impossible. That is, put a Filipino a cappella tune in the pop charts with its phenomenally successful recording of the nursery rhyme, Ang Tatlong Bibe.
Acapellago is made up of the 24-year-old soprano Michelle Corpoz Pascual, who is a student at the University of the Philippines College of Music; Chvocals Best Male Singer Almond Bolante is the group's counter tenor; former child actor and Kokey star Joshua Cadelinia, only 21 years old, is the tenor, who just recently graduated from UP as a voice major; Acapellago founder and arranger Happy Lemon Laderas is the bass singer; and Happy Lemon's younger brother Bogart Laderas, the Best Percussionist winner is Acapellago's impressive beatbox.
I wonder how they feel about receiving all those accolades abroad and then coming home to a country where they are best known as the singers behind Tatlong Bibe. But it is also nice to know that Acapellago is paving the way for other great singers in the future.
Those who want to be part of this a cappella wave had better take note of this week's deadline for the acceptance of entries to the Akapela Open International Competition that will be held locally at the Cultural Center of the Philippines this coming October.
Spearheaded by arranger, composer and long-time a cappella proponent Ryan Cayabyab, The Akapela Open Singing Competition made a cappella singing interesting to groups around the country. In fact, this was where Acapellago was discovered when they won as grand champion of the first Akapela Open in 2014. The group returned to compete again the following year and again emerged as grand champion. Acapellago were later followed by the Baguio-born group Pinopela, the winner of 2016, who would later also bring home prizes from the International A Capella Championship held in Singapore.
So all you a cappella singers out there, take note. Joining Akapela Open is so simple. All that you have to do is visit akapelaopen.com as soon as possible for the contest rules and the instructions on how to send your audition pieces. Good luck to all.
And to Acapellago, congratulations and wishing you more prizes and more hit songs to come.