Sarah Geronimo topbills Viva Films' comedy-drama Miss Granny, which opens in theaters on Aug. 22
Photos from Sarah's Facebook page
Sarah G: Refreshing to act without leading man
MANILA, Philippines — Fresh from a month-long vacation, Sarah Geromino looked happy and recharged when she recently met the press to talk about her newest film, Miss Granny.
Directed by Joyce Bernal and produced by Viva Films, Miss Granny is the Philippine adaptation of the 2014 South Korean blockbuster of the same title, which has also spawned other — and equally successful — versions in China, Japan, Taiwan, Vietnam, Thailand, Indonesia, India and Germany. The film rolls into theaters nationwide on Wednesday, Aug. 22.
In Miss Granny, 70-year-old pensioner Fely (Nova Villa) is about to be sent by her family to a home for the elderly. Feeling terrible and disappointed, she wanders aimlessly and finds herself in a mysterious photo booth. She gets her photo taken and then, magically transforms into her 20-year-old self, happily renaming herself as Audrey, played by Sarah Geronimo. Other cast members are James Reid as Fely's grandson who recruits Audrey into his heavy metal band; Nonie Buencamino as Fely's son with whom she has had a complicated relationship; and Xian Lim as the music producer who will give Fely as Audrey her "second chance."
"This is not a love story between a man and a woman. This is a love story of a woman with her life — what happened in the past, and what's happening in the present," direk Joyce told The STAR.
Sarah has had a string of successful but mainly rom-com type of films opposite some of the industry's top leading men. But here, she gets to enjoy several firsts: first time to act without a leading man and first time to play mother and grandmother roles.
Asked how she prepared Sarah for a role that she has never done before or anything like it, direk Joyce related, "We went to homes for the elderly as well as an area where senior citizens exercise and have activities in the Makati. Aside from Tita Nova, we really looked for the peg for her. When we went to a home in Marikina, we saw someone and I told Sarah to observe how she talked and acted. She's 82, a widow, anak nya nasa abroad, but she's happy and it takes control of herself, she can go out of the (home) anytime she wants."
It's also the first time for direk Joyce, who by the way made headlines recently as the director for the President's State of the Nation Address (SONA), to direct the 30-year-old pop star. She said of Sarah: "She's very masunurin. Whatever you ask of her, she will give it. Hindi siya nakikpag-away. Gusto ko kasi nakikipag-away, nakikipag-discuss when it comes (to scenes)… pero siya masunurin talaga. When it comes to singing, that's her turf, so even yung acting na gusto ko mangyari, she has her own approach to it." Read on excerpts from The STAR's five-minute Q&A with Sarah:
On how she can relate to her character:
"My role is… I'm a mother, a dreamer and a lola (grandmother) and basically, she was given a second chance to relive her life. She is starting again, in her 20s. How can I relate? Of course, the character is passionate about music and her family.
"Yung character kasi ni Audrey, she's a mother. She's selfless and fearless, she sacrificed her own happiness for her family, for her child, for her grandchild. I guess it's automatic in the family. Similar to my values in life? Yeah… hopefully. Hopefully! Yes, family first."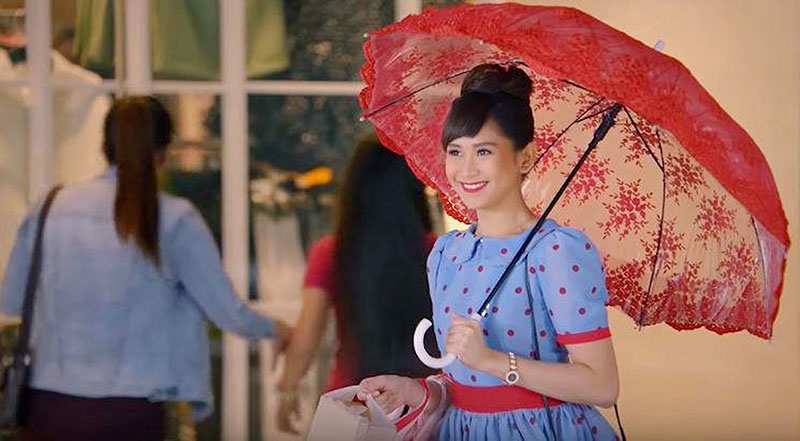 On what makes her newest project different from her previous movies:
"This is my first time to be a mom, to be a grandmother, well, being a singer is a given. But it's very challenging for me to imagine that I'm already old, especially during scenes with Tito Nonie (Buencamino). He plays my son in the film. With James (Reid), it's OK but with Tito Nonie, sobrang nakaka-intimidate! We have a confrontation scene here, sobrang kabog yung dibdib ko. Of course, this was Tito Nonie Buencamino! And because I play his mom, my performance here, the delivery of the lines, have to be sincere."
On her inspirations for the character:
"It's really Tita Nova. I studied her nuances, her actions, how she dances, how she talks although I couldn't copy them all and direk (Joyce) also wanted to see 'Sarah' in the character. I also went to an elderly home (to observe). Nakakalungkot. Kahit sinasabi nila, 'OK naman kami dito, maayos naman kalagayan namin dito, may mga ganito kami, activities, kumakain kami sa ganitong oras, but you can see the sadness in their eyes, in all of them. We also filmed there. We had an immersion."
"Nakikita ko rin sa Mama ko hehehe, like her actions. Sorry ha pero mga Nanay makulit, di ba? Makulit kaming mga anak, pero ang mga nanay, makulit in the sense na hindi napapagod magpaalala sa anak. They're very selfless. Yes, I can imagine myself as a mom. I have a feeling na mas makulit pa ako sa Nanay ko kung maging Nanay ako, hahaha!"
On starring in a film without a leading man:
"It's very refreshing! Ang sarap nga ng feeling na iba naman yung ginagawa ko, more centered on the family, more family oriented. I can relate more although I could also relate to what I've done in the past, and naging madali din sa akin kasi may mga leading men ako. I was part of an effective cast. But (this one) sobrang close sa puso ko. Ibang tama 'pag pamilya. And it's automatic, you don't have to internalize for so long."
On her recent overseas trip to celebrate her 30th birthday:
"I feel recharged and more inspired to work because we're getting older and we need to save and save. My birthday wish? Wisdom, peace and love… for me and for my loved ones."