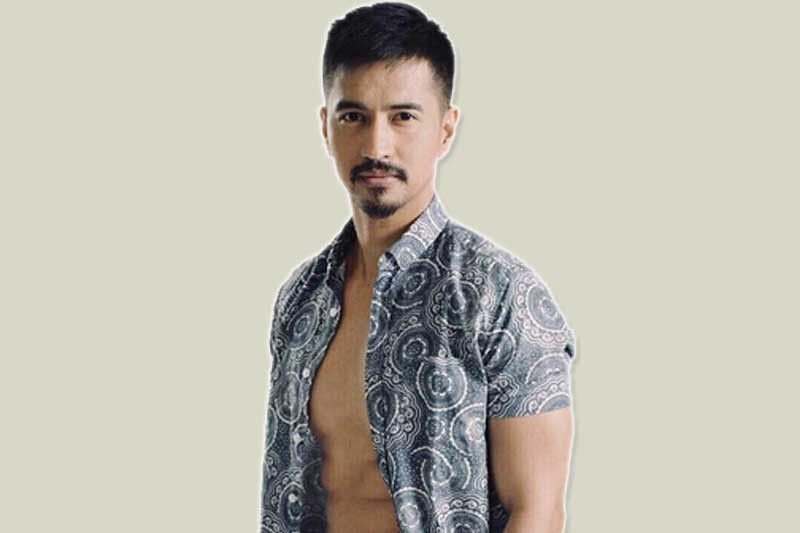 Thankfully, RK was able to cope with his situation when he began to open up to his family. He knew he needed help from loved ones who truly care. Raymond was also there to listen and help.
RK Bagatsing not 'using' Kuya Raymond
RK Bagatsing was on the hot seat of Tonight With Boy Abunda several nights back with his Team RK happily settled in the audience area supporting him with applause and occasional oohs and aahs in reaction to our conversation which interestingly delved into the witty, intelligent, sexy and serious aspects of his life and career.
It's not surprising though to hear members of Team RK expressing their heartfelt support to their idol. They have several reasons why they so admire the actor. They blurted out superlatives like, RK is excellent in acting, he is sexy, humble, mabait (kind), gwapo (handsome), and a lot more. For RK, his favorite remark is "mabait."
Do you realize that you are sexy? I asked.
"Well, they asked me to take off my shirt. There must be a reason," RK shot back, adding that he doesn't oblige most of the time whenever somebody asks him to do so. But no mistake about it, RK is comfortable with his body as evident in Wildflower, where his character Arnaldo was often seen half-naked from the waist up, showing a well-built physique that complemented his A1 acting performance. In fact, he was hailed as Best Actor in a Drama Series at the 16th Gawad Tanglaw Awards for TV.
Before he succeeded in entering into showbiz, RK worked in a BPO (business process outsourcing) company for four years. He was doing good then but at the same time he was feeling the void; that something was missing. There was also a strong urge in him to "explore" before he completely committed to his job.
"I started acting when I was 10 years old as part of a youth-oriented show in another channel and since I was still young, I didn't know yet what I really wanted to do," he shared. "Then eventually, I fell in love with basketball and so I became (part of) a varsity. I forgot about acting and went on to basketball until I had a knee injury that made me forget about basketball. Then I started to work."
Everyone knows that Raymond Bagatsing is his brother but RK chose not to "use" the former to get public recognition in a snap. He did numerous rounds of auditions for TV shows, movies and commercials, hoping to get a spot in the acting arena.
"Pumila ako and I was one of those thousands who auditioned for (a slot in) PBB, and of course, maraming indies, go-sees here at ABS."
He experienced rejection, not once but so many times to the point of feeling down and depressed.
"I gave myself a time frame. In two years, I was rejected many times that led me to become numb and then I started to question my abilities, my looks. I stayed in my room and I couldn't even talk to my family."
Thankfully, RK was able to cope with his situation when he began to open up to his family. He knew he needed help from loved ones who truly care. Raymond was also there to listen and help.
"A lot of times, I think I owe a lot to him the most kaya ako nandito kasi siya ang tumayong second daddy ko. He gave me a lot of perspectives and looking back, I'm so lucky because I was able to open up my mind sa ganoong tao. I'm just really thankful he was there in those times that's why I was able to move forward."
What one lesson his brother taught him as an actor and as a person?
"Believe in yourself."
How about when it comes to girls?
"Be a gentleman. I think that's the most sexiest thing you can offer to a girl."
As to the kind of boyfriend that he is, RK proudly told that he is sweet, caring and in his own words, "yung pupunuin kita ng love na tipong hindi mo makakalimutan 'pag sa gabing 'pag tulog, mapapanaginipan mo pa rin ako."
Asked what does he think matters more between love and career, RK said it depends on what stage of life he is now. At the moment, it is career over love for him. And no one can blame RK as televiewers of Precious Hearts Romances: Araw Gabi are beginning to notice his acting anew as the character David Garcia. In fact, the 30-year-old Kapamilya star cannot be thankful enough to televiewers for making the afternoon romantic drama series the most-watched show on iWantTV. RK also starred in the fourth anniversary special of Ipaglaban Mo with Kim Chiu as his leading lady for the first time. The said episode was shot in Korea.
Meanwhile, RK gamely revealed more about himself in 5 in 45. Read on.
• I'm scared of cockroaches, especially those that fly.
• My most favorite lately is Mediterranean food — Kebab with spicy sauce.
• Lately, I am also addicted to eating chicken tenders, especially with the hottest sauce.
• I don't know what's happening to me but lately I couldn't finish watching a series anymore because I often fall asleep.
• Sobrang starstruck ako kay Kim Chiu, halfway na nag-uusap kami, nag-fake ako na nakatulog ako nasa bus kami papunta sa location kunwari nakatulog ako. Alam mo na ngayon, Kim, hahaha.