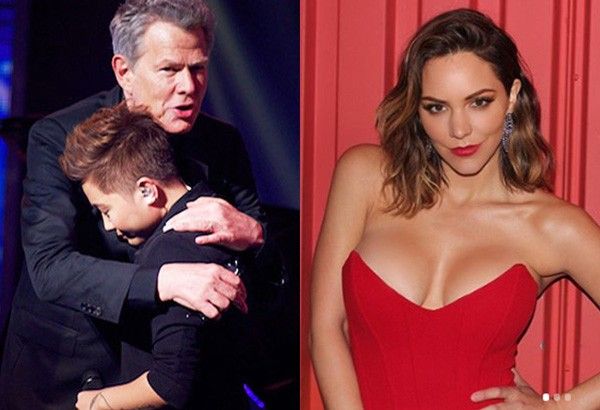 From left: David Foster with Jake Zyrus; Katharine McPhee
The STAR/File (left); screenshot from Instagram/Katharine McPhee
Katharine McPhee defends engagement to David Foster
HOLLYWOOD — American actress and singer Katharine McPhee confirmed her engagement with Canadian musician David Foster on her Twitter account using a GIF of Ariana Grande.
The second runner-up of the fifth season of "American Idol" just tweeted a diamond ring with Ariana's GIF showing the pop star standing in the 2016 Billboard Music Awards red carpet while saying, "And what about it?"
???? pic.twitter.com/4huIH80Wr7

— Kat McPhee (@katharinemcphee) July 3, 2018
RELATED: After few weeks of dating, Ariana Grande, Pete Davidson now engaged
On her Instagram account, Katharine shared some details of the engagement with a screenshot of a conversation with Jared Eng.
Katharine said the proposal happened at the top of a mountain in Anacapri, "totally dark and only stars can be seen." She even joked she is thankful David did not push her off the cliff.
Katharine, 34, and David, 68, are in the May-December love affair club, for which bashers told the actress to marry someone else. David has also been married four times and has four daughters and seven grandchildren.
But on her Twitter account, Katharine slammed bashers.
"y'all should be worrying more about registering to vote and midterm elections than who's marrying me. thank you for coming to my TED talk," the singer tweeted.
Apart from his greatest hits, David is known in the Philippines for his love for the country because of Filipinos' passion for music.
David and Charice Pempenco, now Jake Zyrus, performed in many stages. David also produced some of the tracks in her past albums.