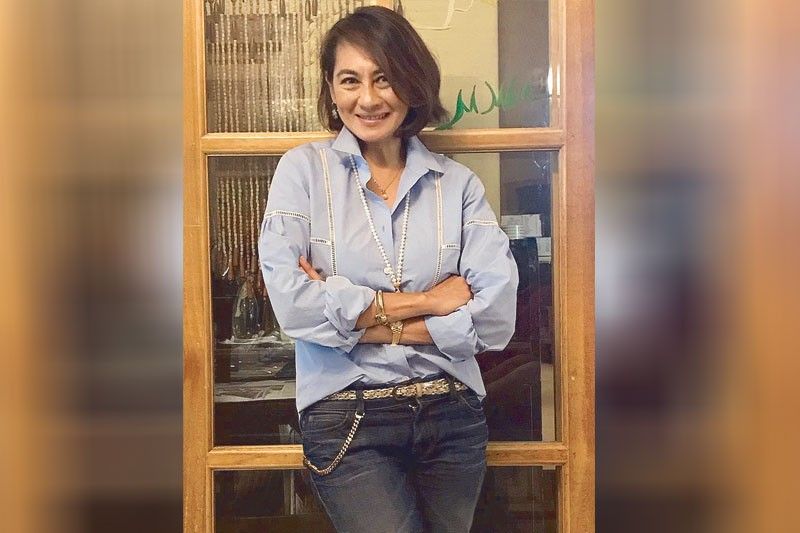 After more than two decades, Japan superstar Marlene dela Peña is back for a homecoming concert
Jazz in time with Marlene
FUNFARE
-
Ricky Lo
(The Philippine Star) - June 29, 2018 - 12:00am
As I've been saying, some celebrities are known in other countries but not in their own. Sandara Park (before she joined the defunct K-Pop band 2NE1) made a name in the Philippines after she topped Star Circle Quest while her kababayan Ryan Bang (a PBB graduate, now an It's Showtime side host) is unarguably more known here than in Korea. There are several others.
And there's Marlene dela Peña, a name that rings thousands of bells in Japan where she has been hailed as a superstar for 39 years now but is hardly (if ever) recognized in the Philippines. Known as Marene ("Japanese cannot pronounced the letter 'l'," she said) in Japan, Marlene is topbilled in Threesome, set for tomorrow, June 30, at the ballroom of Fairmont Hotel in Makati City, her homecoming dinner-concert after…believe it or not…more than 25 years!
Produced by Brightstage Productions, Threesome also stars accomplished guitarist Jiro Yoshida and Makoto Kuriya. Yoshida is Japan's 51st UN WAFUNIF goodwill ambassador for various humanitarian efforts who has performed with Cyndi Lauper, Barbra Streisand and Sting. A world-class pianist, Kuriya has performed with Donald Byrd, James Moody and Chuck Mangione. He was appointed by the Japanese government to produce a tour of Brazil in celebration of its 120 years of relationship.
Threesome is going to be an enchanted evening for jazz lovers, jazz being the choice genre of A-List music buffs.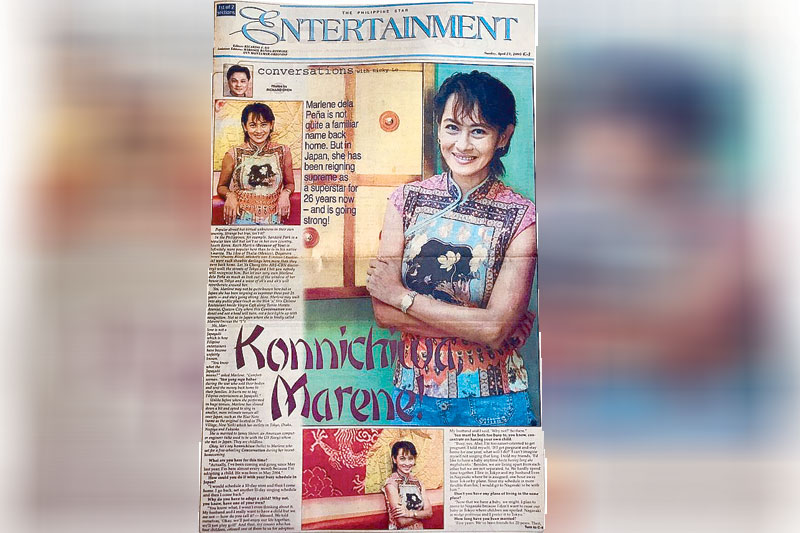 Marlene when she first appeared in The STAR in 2005...
"It's an honor to perform for kababayan," said Marlene who is hailed as an iconic jazz star in the Land of the Rising Sun. "My repertoire includes such classics as Summertime and Can't Help Falling in Love, plus jazzed-up pop songs."
Still a valued Sony artist up to now, Marlene has cut over 30 albums and has appeared in two Japanese films ­­— Nantonaku (2007) and Karanukan last year, shot in Okinawa in which she plays the coffee-shop-owner confidante of the lead actor, Gackt (full name: Gakuto Oshiro), a Japanese superstar.
"In the beginning," related Marlene, "they tried to market me as an idol but I was not comfortable with it. My forte is jazz."
After a brief career here (doing gigs at Hyatt Hotel's Calesa Bar, etc.), Marlene in December 1978 went to Japan where she stayed for good. She left the Philippines as a survivor of a tragic incident when she was barely 15 in which she was stabbed 36 times by a crazed fan who harbored a secret love for her. The suspect later died in prison.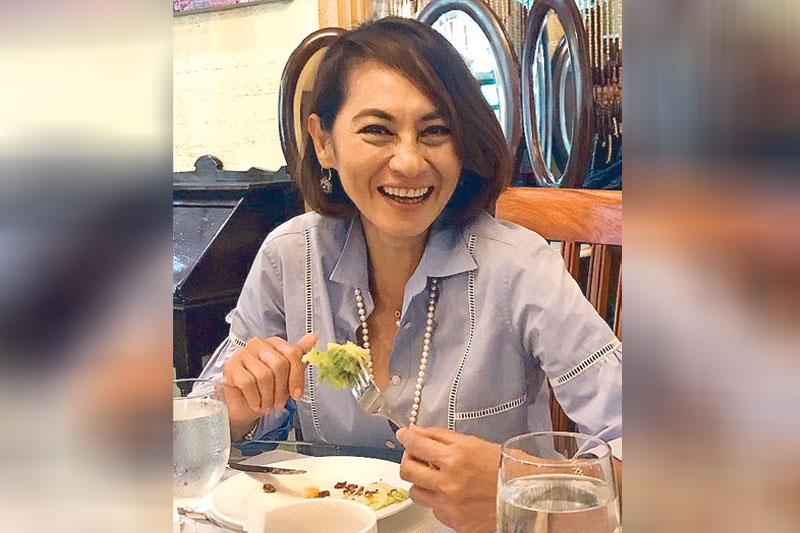 ...and today: Still a Sony artist, the reigning jazz queen in Japan.
"During my first few years in Japan," Marlene recalled in an earlier interview with The STAR, "a music critic told me that I would never make it there. I asked him why and he said, 'Because you sing good and good singers don't have a market here in Japan.' In those days kasi, most of the singers there were 'yung mga pa-cute lang…you know, idol-idol lang. If you are good daw, you intimidate people.
"Hindi ako pa-cute-cute. Instead of adapting my style to the market, I stuck to my own style. Did I learn Japanese songs? No, I did not. In fact, my repertoire up to now doesn't include any Japanese song…all English songs lang. They told me that I'm the only foreigner in Japan who made it big without singing in Japanese." (But in Threesome, she might sing a Japanese song.)
Separated from her American husband, Marlene is now a single mom to their two children, one aged 12 and the other 14. She comes home for breaks, not specifically for show but to connect with relatives (she's from Naga city).
In Japan, Marlene doesn't do gigs she usually did in Manila.
"I am based in Tokyo but I go all over the country for shows," shared Marlene who has stayed unchallenged in her "throne" as a jazz queen. "It was Sony who made me a jazz singer."
Asked what made her love life in Japan, Marlene smiled.
"I am respected and appreciated there… after all these years."
(E-mail reactions at rickylophilstar@gmail.com. For more updates, photos and videos, visit www.philstar.com/funfare or follow me on Instagram @therealrickylo.)