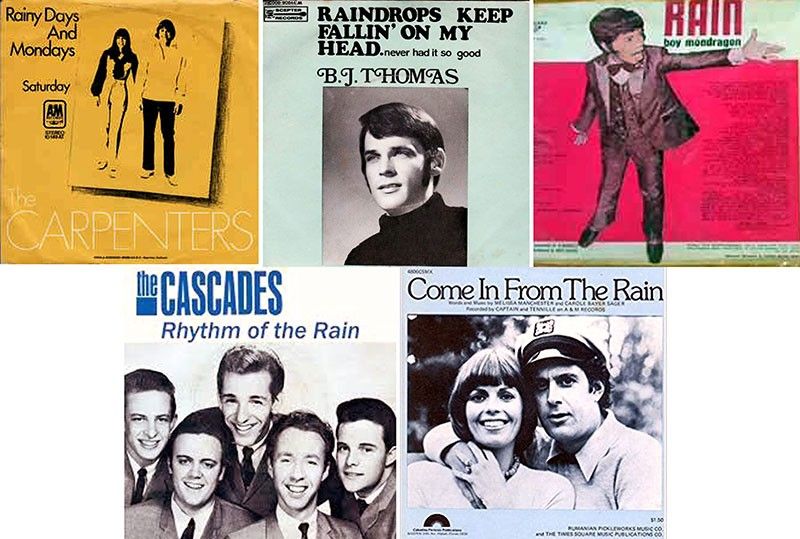 Sentimental souls react to the pouring rain with words and music
In all probability whoever wrote the old nursery rhyme, "Rain, rain go away," had no idea that he was planting the seed of a juggernaut that would last for all time. And so, here we are centuries later, sentimental souls reacting to the pouring rain with words and music.
"Raindrops keep falling on my head, but that doesn't mean my eyes will soon be turning red, crying's not for me, I'll never stop the rain by complaining, because I'm free, nothing's worrying me," goes the No. 1 selling and Academy Award winning Hal David and Burt Bacharah tune sung by B.J. Thomas. Or maybe you would prefer to go into Aegis mode like this. "Heto ako, basang-basa sa ulan, walang masisilungan, walang malalapitan, sana'y may luha pa akong mailuluha at ng mabawasan ang aking kalungkutan."
"Talking to myself and feeling old, sometimes I'd like to quit, nothing ever seems to fit, hanging around, nothing to do but frown rainy days and Monday's always get me down," by The Carpenters. "Rain gently falls whenever we say goodnight, falling like when you're out of sight, rain follows me even in my bed and rain is the tear that I shed," sang Boy Mondragon in George Canseco's Rain. "I only wanted to see you laughing in the purple rain," from Prince. "I'm singing in the rain, just singing in the rain, what a glorious feeling, I'm happy again," crooned a dancing Gene Kelly.
"Buhos na ulan, aking mundo'y lunuring tuluyan, tulad ng pag-agos mo'y di mapipigil ang puso kong nagliliyab, pag-ibig ko'y umaapaw, damdamin ko'y humihiyaw sa tuwa, tuwing umuulan at kapiling ka" says the Ryan Cayabyab composition sung by Basil Valdez and later Regine Velasquez. "I'm gonna love you like nobody's loved you come rain or come shine," sang Frank Sinatra. "I've seen fire, I've seen rain," from James Taylor. "I made it through the rain and found myself respected," by Barry Manilow. "Don't know why there's no sun up in the sky, stormy weather," Lena Horne. "The sun is out, the sky is blue, there's not a cloud to spoil the view but it's raining, raining in my heart," from Buddy Holly. "It's raining men, hallelujah, it's raining men," by The Weather Girls.
"Here comes the rain again falling on my head like a memory, falling on my head like a new emotion," by the Eurythmics. "Pumapatak na naman ang ulan sa bubong ng bahay" sang the Apo Hiking Society. "Good men through the ages trying to find the sun and I wonder, still I wonder who'll stop the rain," by the Creedence Clearwater Revival. "I can show you that when it starts to rain, everything's the same, I can show you," from Rain by The Beatles. "The leaves of brown came tumbling down remember that September in the rain," by Sinatra.
"Listen to the rhythm of the falling rain, telling me just what a fool I've been, I wish that it would go and let me cry in vain and let me be alone again," was a big hit for the Cascades. "I always get caught in the rain, it seems my heart stays in pain," by Dionne Warwick. "Oh, I hear laughter in the rain, walking hand in hand with the one I love, oh, how I love the rainy days and the happy way I feel inside," by Neil Sedaka. And what about Melissa Manchester's Come In From The Rain, "Cause I think of use like an old cliché, but it doesn't matter cause I love you anyway, come in from the rain, come in from the rain…"
I am like the Beach Boys, I prefer, fun, fun, fun in the sun. But if the rain is unavoidable you can always find shelter under Rihanna and Jay-Z's Grammy-winning ode to friendship. "When the sun shines, we'll shine together, told you I'll be here forever, said I'll always be a friend, took an oath, I'm a stick it out till the end, now that it's raining more than ever, know that we'll still have each other, you can stand under my umbrella, ella ella ella."
Besides no matter how much it rains, you can be sure there is a land where troubles melt like lemon drops way above the chimney tops over the rainbow. You can be sure that someday you will find it, the rainbow connection, for lovers and dreamers like you and me.