Sonny on Dad Ed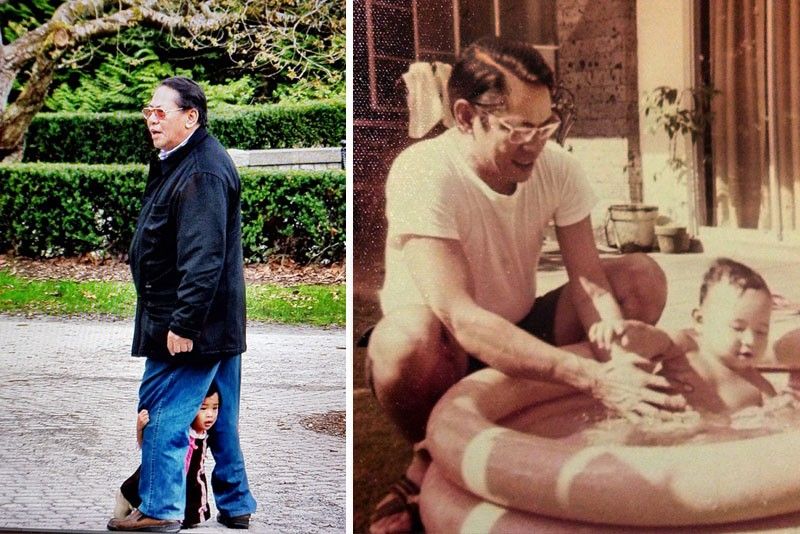 'Hi, Dad! This will be the first Father's Day we will celebrate without you. To say that I miss you would be an understatement because you were everything to me…I love you, Papa! You will always be in my heart.'
On May 13, 2018, the nation was saddened by the untimely passing of former Senate President Ed Angara, a known educator, public servant, lawmaker, a patriot and a great statesman. He was 83. As Father's Day (June 17) approaches, Sen. Sonny Angara recalls his fond memories about his dad in an exclusive interview with Funfare.
What are your best memories with your dad?
"My best time with my Dad was when we traveled whether in the Philippines or overseas, away from the distractions that came with our work. So it's just us spending time together, just being ourselves as father and son and as family. We loved going to the beach or our farm in Baler and Batangas. Overseas, he was more relaxed. He got to do what other fathers do --- he cooked, did grocery shopping, and went to the bookstore which he really loved."
How was he as a dad?
"My dad was a little conservative. When we were kids, roller-coaster was a no-no, and so were bicycles. But he was generous with books. Kahit ilang libro puede sa kanya hindi tulad ng toys na kung may occasion lang. One time nga, we went to Barnes & Noble; basta books sagot niya. The cashier wondered if we had a school because we bought so many books."
Was he strict as a father? Did you get a scolding from him?
"He became less strict when I became a teenager. One time, nabangga ko 'yung kotse niya so I thought he would get angry. He did but konti lang. When I graduated from UP College of Law I told him, 'I was Top 20.' But he said, Why not Top 10?' I said, 'I was on the editorial team of the school paper.' But he said, 'Why not editor-in-chief?'" (Laughs)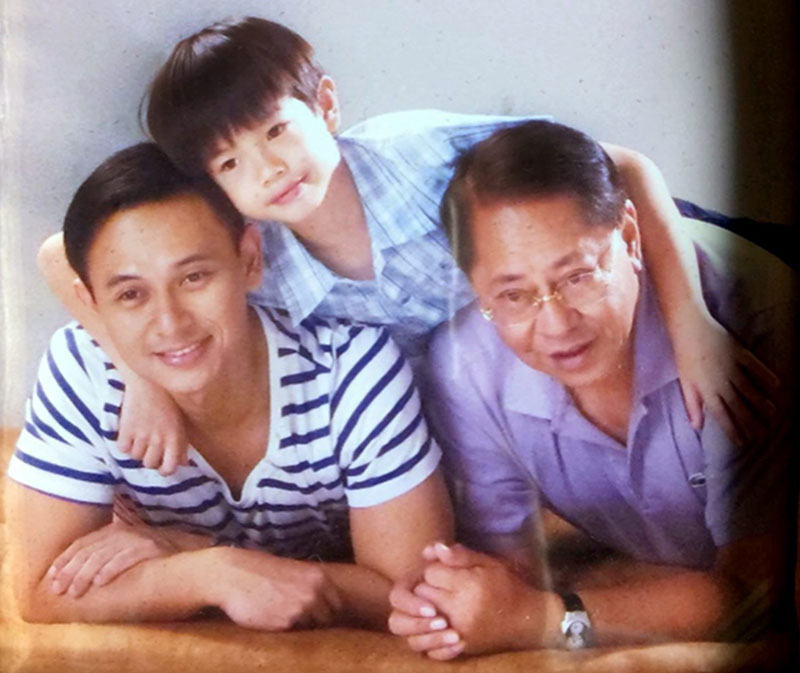 Lolo Edong with Sonny and grandson Manolo…
Did you go to the movies together? What TV program that you feel really connected you and your dad?
"TV was always on BBC or CNN. He loved watching boxing matches, especially those of Muhammad Ali, Sugar Ray Leonard and Manny Pacquiao. Doon talaga kami may super bonding."
What are the best lessons that you learned from your dad?
"Oh, many things. But what really stood out were, 1) helping others by giving them opportunities and giving opportunities to as many people as possible; 2) putting premium on education because around him was always a learning experience; and 3) working hard which I saw in him every day as I was growing up. His day was always full because he wanted to accomplish so much."
What are the strengths of your dad that you admire most?
"He was hardworking, mentally tough and highly disciplined. He remembered names and faces of people even when he met them for the first time. Mahusay mag-isip at visionary. He really cared about the next generation. Also, he was a very good multi-tasker --- daming mga projects na sinasabay-sabay at results oriented. Totoong may malasakit at genuinely liking and caring for people."
What do you miss most about your dad?
"His daily presence, caring for our kids and his other grandchildren. He would check on them every day. Many times nandun siya sa bahay pag-uwi namin --- eating saging na saba and calamansi juice for merienda. Now, we feel his 'not being there' even more. He would call me once in a while to say, 'Oh Sonny, kamusta na?' These days, people hardly call each other just to say, 'How are you?'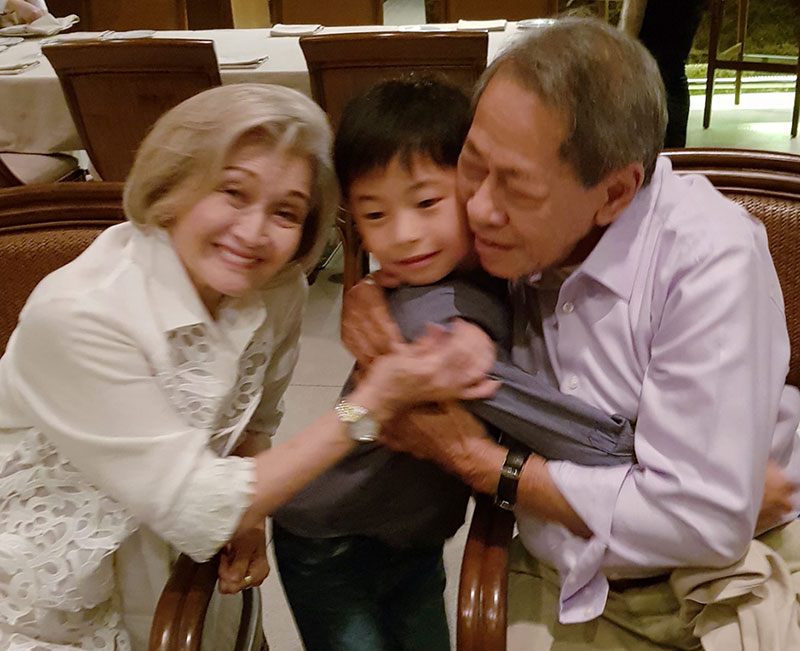 …with wife Gloria (Manalang) and Sonny's son Javier
"He was so thoughtful in many ways — handwritten notes, and funny random pasalubong from trips like vitamins, biscuits or knee pads. Two years ago, when he got sick, he had a slip disc and needed therapy. He stayed in our house for a few months and I would see him every day. And I miss how we would just sit together and talk. Before, we would always discuss bills or possible laws, national issues or politics, but the last few years we would actually talk about little things in life that father and son would talk about. Those moments were priceless."
How was your dad with his apos?
"I think that they learned a lot just by spending time with him. Nahuhubog nang husto 'yung personality and values nila for the better. Our youngest even started bringing home thick law books from ACCRA Law library even if he doesn't know yet how to read. I guess na-brainwash na. He really invested time with his apos. He was very affectionate and thoughtful.
"When he visited our first-born Manolo in the hospital nursery, he saw the name tag attached to his wrist, but then he wanted another tag around his legs, too, kasi baka raw mawala. He was very sweet, would call them every day to say, 'I love you.' Even when Manolo was only two-months old, he would call Manolo and talk to him, so we would just put the phone to Manolo's ear kahit hindi pa siya nakakaintindi.
"He was always laughing around them…they would tease him about his round tummy and he would laugh out loud…para silang mag-barkada. They would go to Paul or Pancake House for merienda once a week and go get haircuts together and even take afternoon catnaps together. He was so affectionate to them…always hugging and kissing them."
What do you admire most about your dad?
"All the strengths that I've mentioned. He is my idol and I try very hard to be more like him. I want to accomplish what he has accomplished to change and improve the lives of many Filipinos. Sana maabot ko yung mga accomplishment niya, lalo na in terms of public service."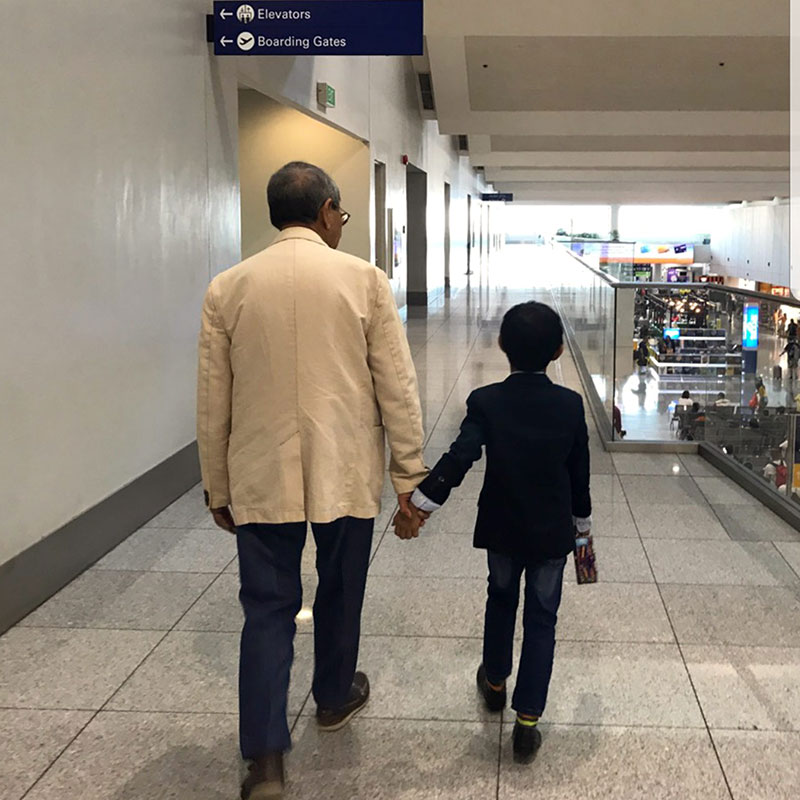 ...With grandson Javier about to board a plane during one of their travels abroad
If your dad were still around, what would you like to say to him? Do you still have things that you wished you have told him but you never had the chance to tell him?
"Hi, Dad! This will be the first Father's Day we will celebrate without you. And to say that I miss you would be an understatement because frankly, you were everything to me. You were my greatest supporter but also my biggest critic, holding me to the same high standards against which you held yourself… You may have been tough on me at times but it was never without reason, never without care.
"While you held the nation's hand through truly trying times, I will always remember how you held my hand when I was a child. Many people know you as a lawyer, university president, an agriculturist and farmer, banker, legislator and diplomat. But to me the best role you've ever played was to be my father. My only hope is to be as great a father to Manolo, Ines and Javier, as you were to me. I love you, Papa! You will always be in my heart."
(E-mail reactions at [email protected]. For more updates, photos and videos, visit www.philstar.com/funfare or follow me on Instagram @therealrickylo.)