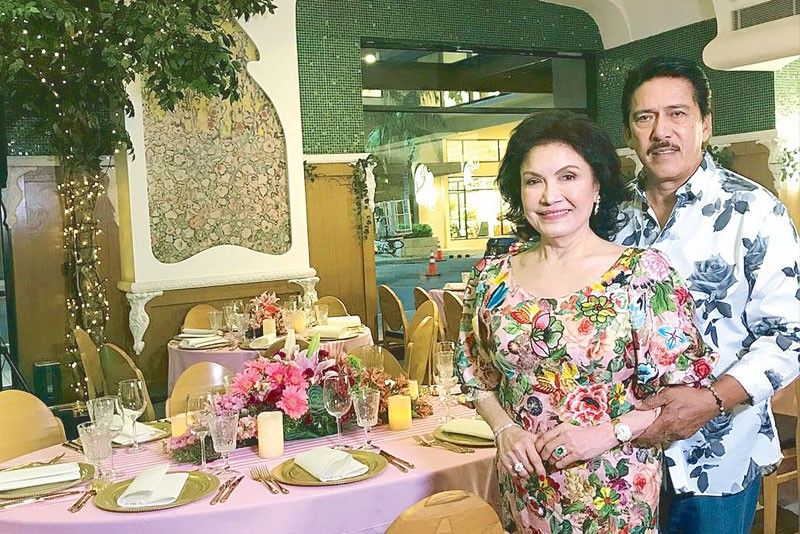 Birthday Lady Helen Gamboa-Sotto and husband Sen. Tito Sotto at Florabel restaurant (in Estancia Mall, Capitol Commons, Pasig City)
Photos by Ricky Lo
What's Tito's favorite B-day gift to Helen?
FUNFARE
-
Ricky Lo
(The Philippine Star) - May 17, 2018 - 12:00am
If you're feeling fancy free
Come wander through the world with me
And any place we chance to be
Will be our rendezvous
Two for the road
We'll travel down the years
Collecting precious memories
Selecting souvenirs and living
Life the way we please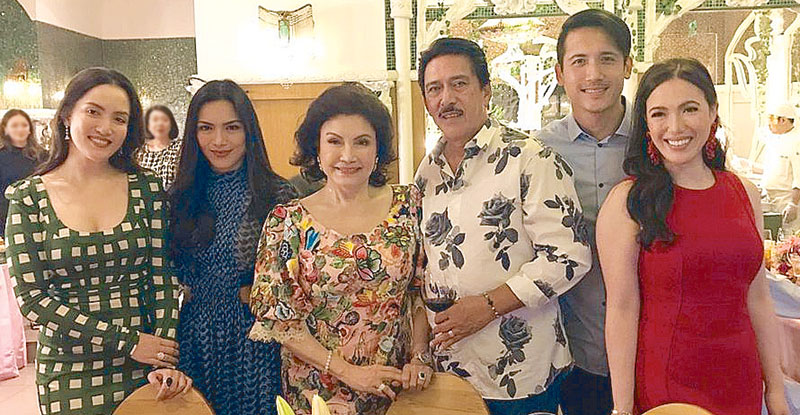 ...with children (from left) Apples, Ciara, Gian and Lala…
That song from the movie 1967 Two For The Road (starring Audrey Hepburn and Albert Finney) reverberated from the four corners of the Florabel restaurant at the Estancia Mall in Capitol Commons, Pasig City, that Monday night, May 7, which happened to be the nth birthday of Helen Gamboa-Sotto.
"It's our theme song," Sen. Tito Sotto (soon-to-be Senate President?) said, turning misty-eyed as those precious memories came flooding his mind. "It's the perfect song for Helen and me because we have been traveling down the years for 49 years."
The couple was married (yes, in church) twice, first on Sept. 22, 1969, after they eloped and then on Jan. 2, 1971.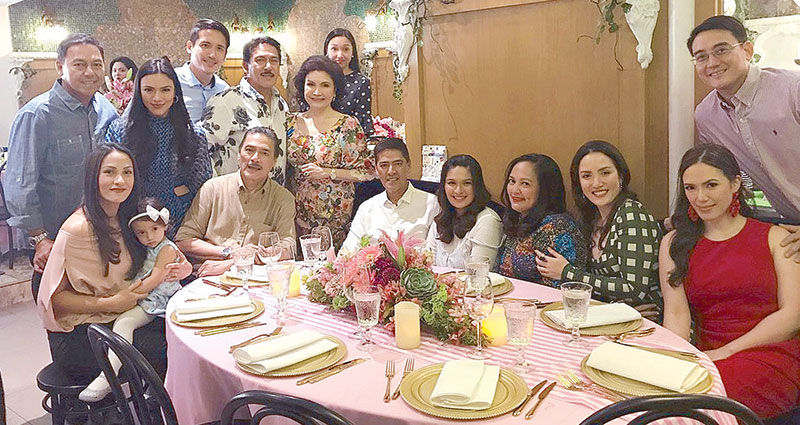 …with (back row, from left) Maru Sotto, Ciara, Gian and Maru's daughter Mara; and front row, also from left: Gian's wife Joy Woolbright with youngest daughter, Val Sotto, Vic Sotto and wife Pauleen Luna, Maru's wife Mabel, Apples, and Lala and husband Michael Antonio...
"The first time," recalled Tito, "I was ready with a marriage license I got in Sto. Tomas, Batangas. Next year, we will be celebrating our golden anniversary."
We talked to Tito before the start of the dinner while Helen was busy acknowledging well-wishers that included Susan Roces, Marichu "Manay Ichu" Maceda, Joey de Leon and wife Eileen Macapagal, Carlitos Siguion-Reyna and wife Bibeth Orteza, plus Helen's showbiz "barkada." It was a grand reunion for the Sotto clan (check out photos).
One of showbiz's few stable marriages (at the moment, I could think of only four such couples, namely Susan Roces and Fernando Poe Jr., Boots Anson-Roa and Pete Roa, Barbara Perez and Robert Arevalo, and Annabelle Rama and Eddie Gutierrez), Tito and Helen raised four children (Apples with two kids, Lala with two, Gian with five and Ciara with one), according to him, "the way our mom (Dr. Herminia Sotto) brought up my brothers Val, Maru, Vic and me…" that is, "Christ-centered because our mom was very religious."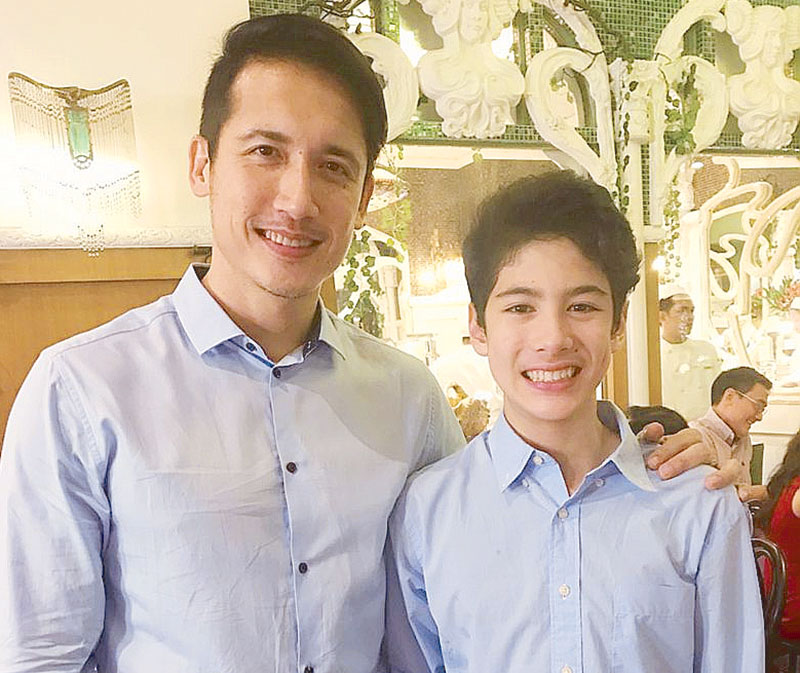 Gian and eldest son Hugo
Tito reminded us that their mom was a champion of women's rights. She was one of the founders of the Women's Rights Movement and the president emerita of Kababaihang Rizalista.
"She brought us up respecting women," said Tito, adding in retrospect as he dug deeper into his past, tracing his political background. "My two grandfathers were senators, Felimon Sotto and Vicente Sotto who authored Republic Act No. 53, passed in 1946, protecting the right of media guys not to divulge their sources. I expanded that law and filed what is called 'The Sotto III Law' that includes radio and TV, kasi the original law mentioned only the print media."
Among Tito and Helen's children, only one, Ciara, followed in their footsteps to showbiz; while two, Lala and Gian, are in politics (both are councilors in Quezon City).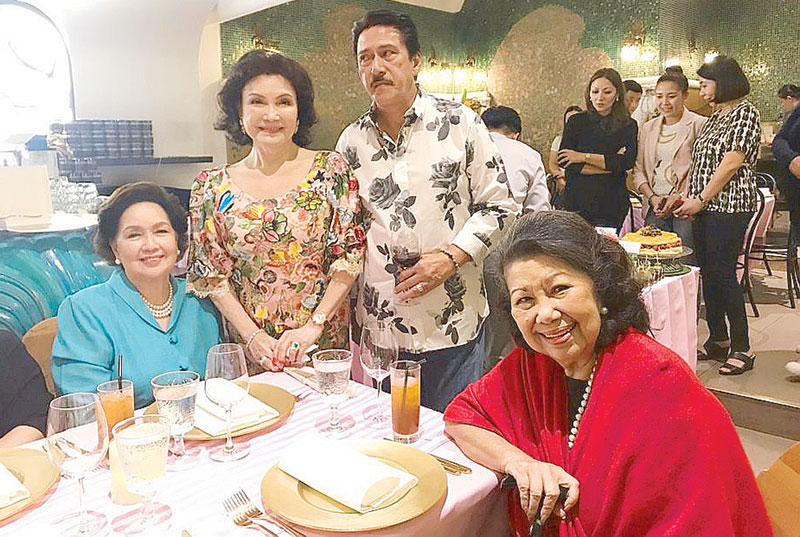 …with Susan Roces and Marichu 'Manay Ichu' Maceda…
On a lighter note, we asked Tito what his birthday wish for Helen was.
"For her to remain just the way she has been," said Tito, "just the way she is."
And what's his favorite birthday gift to Helen?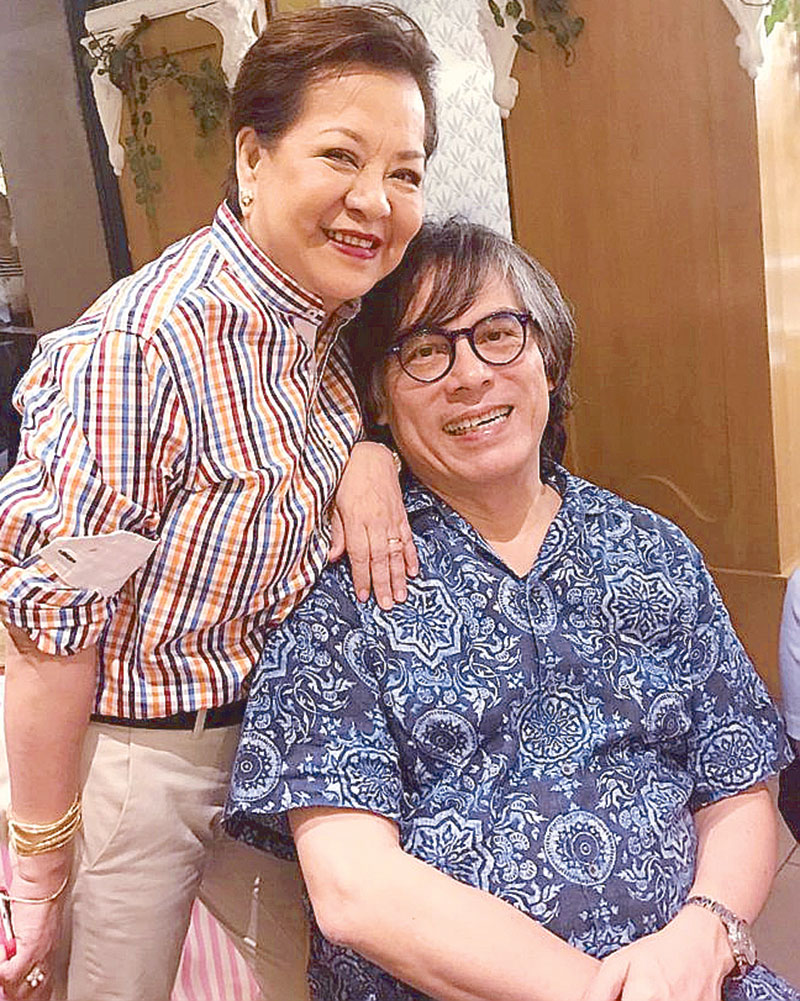 …Bibeth Orteza and Carlitos Siguion-Reyna…
Tito admitted, blushing, "Sexy lingerie. It doesn't really have to be her birthday; maski walang special occasion. Every time I travel, I always come home with the same pasalubong for her, sexy lingerie. In the beginning, galit na galit siya. Pero ngayon hindi na." (In a previous interview with The STAR, Helen confessed laughing that Tito would make her fit the lingerie… in the privacy of their bedroom, of course!...all for fun.)
Because the birthday celebrator was once hailed as a Singing & Dancing Queen (remember her early '70s starrer Bang Shang A-Lang, etc. and her hit songs, some of which were recorded using her alter ego Bunny Chanel?), it was inevitable for the affair to turn musical.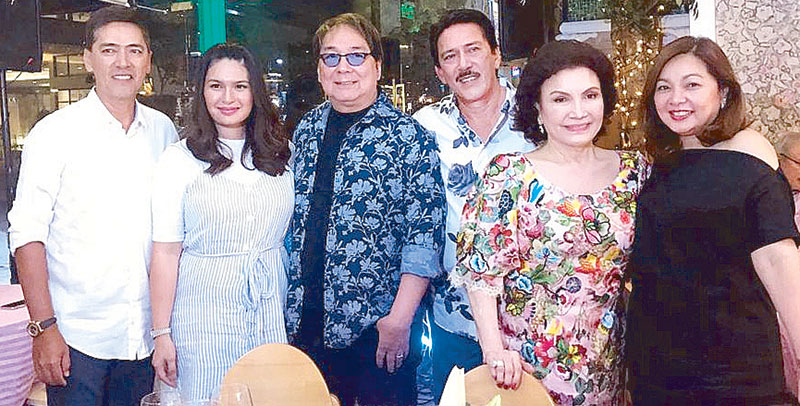 …with (from left) Vic and Pauleen, Joey de Leon and wife Eileen Macapagal…
First, Ciara dedicated the song Ikaw to her mom before doing the Bunny Chanel classic I Just Fall In Love Again, originally sung by Anne Murray; followed by Tito with a full-of-feeling rendition of Moon River and then by Vic with Awitin Mo, Isasayaw Ko (composed by his trio VST & Company with Tito and Joey), joined by Val, prompting some guests to sway this way and that way. Of course, the piece de resistance was delivered by Helen who sang La vie en rose (as requested by Ronald Constantino) in a voice so powerful that proved beyond doubt her enduring "title" as a Singing Queen.
Incidentally, what could be the "secret" of Tito and Helen's long and happy marriage?
"None," said Tito, "Just pure love."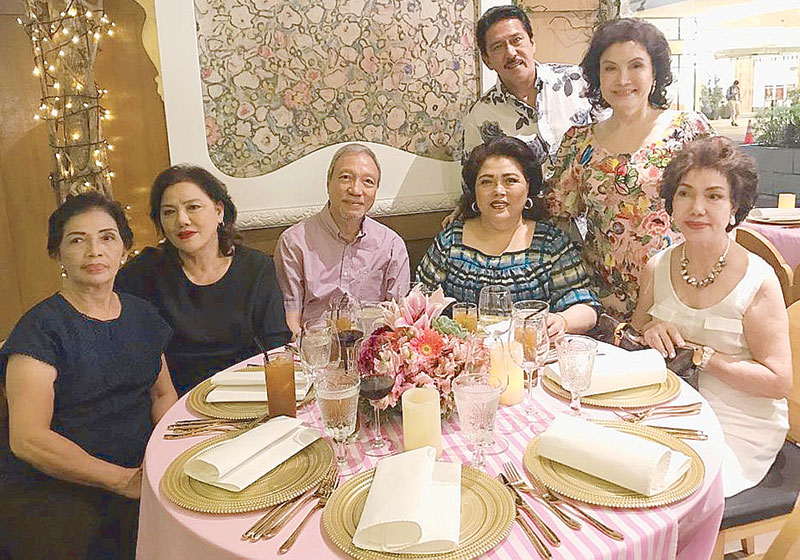 …with Helen's siblings Betchay, Evelyn, Vernon, Edna and Carmela.
(E-mail reactions at rickylophilstar@gmail.com. For more updates, photos and videos, visit www.philstar.com/funfare or follow me on Instagram @therealrickylo.)