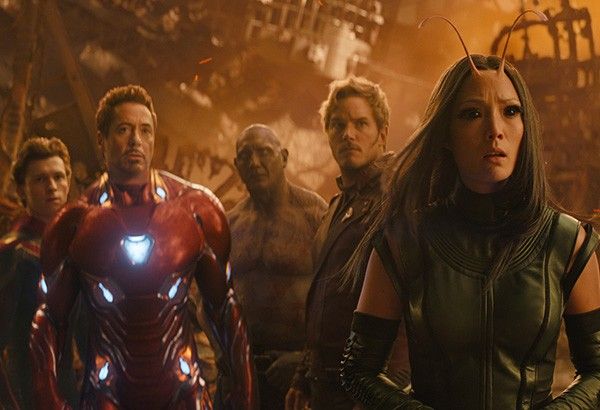 Scene from 'Avengers: Infinity War' featuring Filipino-born actor Dave Bautista (center) as Drax.
Marvel Studios/Released
8 things to know before watching 'Avengers: Infinity War'
(Philstar.com) - April 25, 2018 - 5:23pm
MANILA, Philippines — Not a Marvel nerd? No problem!
Before heading out to the cinemas to catch the showing of Marvel Studios' "Avengers: Infinity War," here are some basic things you might want to know to understand and have a better appreciation of the movie.
1. "Avengers: Infinity War" marks the Marvel Cinematic Universe's 10th anniversary.
The movie is part of the Marvel Cinematic Universe's year-long 10th anniversary celebration, which began with an iconic "class photo" of over 80 actors and filmmakers that played as Marvel superheroes through the years.
Besides Robert Downey Jr., Chris Evans, Chris Hemsworth, Mark Ruffalo, Scarlett Johansson, Paul Rudd, Benedict Cumberbatch, Chris Pratt, Chadwick Boseman, and Jeremy Renner, among those in the class picture are Zoe Saldana, Angela Bassett, Gwyneth Paltrow, Elizabeth Olsen, Paul Bettany, Michael Douglas, Michelle Pfeiffer, Hayley Atwell, Vin Diesel, and Filipino-born actor Dave Bautista.
Related video: Why 'Avengers' star Hayley Atwell cancelled trip to the Philippines
2. The movie is 10 years in the making and it spans the entire Marvel Cinematic Universe.
"It's sort of an unprecedented experiment because never before has someone taken very successful franchises [of this scale] and merged them all together," said director Anthony Russo.
3. Marvel Studios' unprecedented success over the last 10 years is reflected in its cumulative box-office receipts of over $13.5 billion worldwide.
4. The film has a complex and unique tone because it is made up of several franchises that have very different tones.
"We like to combine things that don't seem like they belong together and see what you get. We describe it as like a mad scientist process," said Anthony's brother and co-driector, Joe.
Iron Man, Captain America and the rest of the Avengers, the Guardians of the Galaxy, Doctor Strange, Spider-Man, Black Panther -- with so many big characters and personalities, with each one bringing something integral to the table -- how did the co-director brothers balance it all out?
"We always try to ground it in an emotional truth for the character," said Joe. "If something doesn't feel emotionally true or emotionally real for a character, then we can't follow that storyline. We have to always use that as our guidepost through the narrative, and that's how we hold everything together ultimately."
5. It brings to the screen the ultimate, deadliest showdown of all time in the Marvel Cinematic Universe.
The Avengers and their superhero allies must be willing to sacrifice all in an attempt to defeat the powerful Thanos before his blitz of devastation and ruin puts an end to the universe.
Anthony and Joe Russo direct the film, which is produced by Kevin Feige. Louis D'Esposito, Victoria Alonso, Michael Grillo, and Stan Lee are the executive producers. Christopher Markus and Stephen McFeely wrote the screenplay.
6. Before the movie's official opening, Marvel Studios released official artworks for IMAX and LEGO.
7. Here is the list of the Avengers and their allies:
The first Avenger, Robert Downey Jr. as Iron Man
Zoe Saldana as Gamora
Chris Evans as Steve Rogers/Captain America
Chris Hemsworth as Thor
Benedict Cumberbatch as Stephen Strange/Doctor Strange
Scarlett Johansson as Natasha Romanoff/Black Widow
Tom Holland as Peter Parker/Spider-Man
Chadwick Boseman as King T'Challa/Black Panther
Karen Gillan as Nebula
Chris Pratt as Peter Quill/Star-Lord
Elizabeth Olsen as Wanda Maximoff/Scarlet Witch
Sebastian Stan as Bucky Barnes/Winter Soldier
Mark Ruffalo as Bruce Banner/Hulk
Letitia Wright as Shuri
Bradley Cooper and Vin Diesel voicing Rocket and Groot
Paul Bettany as Vision
Danai Gurira as Okoye
Dave Bautista as Drax
Anthony Mackie as Sam Wilson/Falcon
Pom Klementieff as Mantis
Don Cheadle as James Rhodes/War Machine
Benedict Wong as Wong.
8. Donned in their mightiest Avengers-inspired outfits, Filipino fans got to greet Nebula (Karen Gillan), Doctor Strange (Benedict Cumberbatch) and director Joe Russo via live video conference straight from Singapore.
"All of you are fantastic, that reception, the noise, the energy in that room, we may be looking at a TV Screen which is a bit cold but it properly warms up when you guys are on it so thank you," Cumberbatch told Filipino fans.
"Marvel fans are the best fans in the world, thank you guys so much for such a warm welcome, get ready, get excited, if you've been invested in the Marvel Universe for the last 10 years, this is it, this is the big finish, and a big big excitement to watch because you'll get to see all your favorite characters together, so have fun with it," added Russo. — Video by Erwin Cagadas