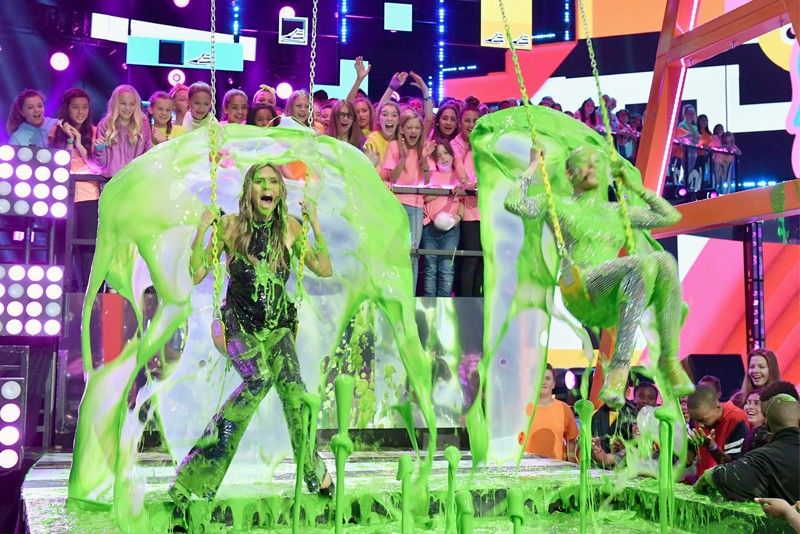 Heidi Klum (left) and Mel B get slimed as they present the Favorite Movie Actress award
Kids' Choice Awards all about kids taking charge
Raymond Lo
(The Philippine Star) - April 5, 2018 - 12:00am
MANILA, Philippines — The mood at this year's Kids' Choice Awards (KCAs) was both celebratory and earnest. On March 24, as the Nickelodeon kids and other invited stars marched through the orange carpet, another group of kids, the survivors of the deadly Florida school shooting, led others in a powerful display of activism calling for stricter gun laws in America. The demonstration dubbed as March for Our Lives took place in Washington D.C. and in major cities all over the world.
Inside the Forum, returning host John Cena addressed the historic occasion and gave a shout out to the kids who marched the streets. "Kids everywhere have already made it an amazing day," he said. "So, I just want to take a moment to celebrate what kids across the nation accomplished today. From Washington D.C., Florida, even here in Los Angeles, all over the country, all over the world, kids made their voice heard with the incredible March for Our Lives. And it all happened because you want to make the world a better place."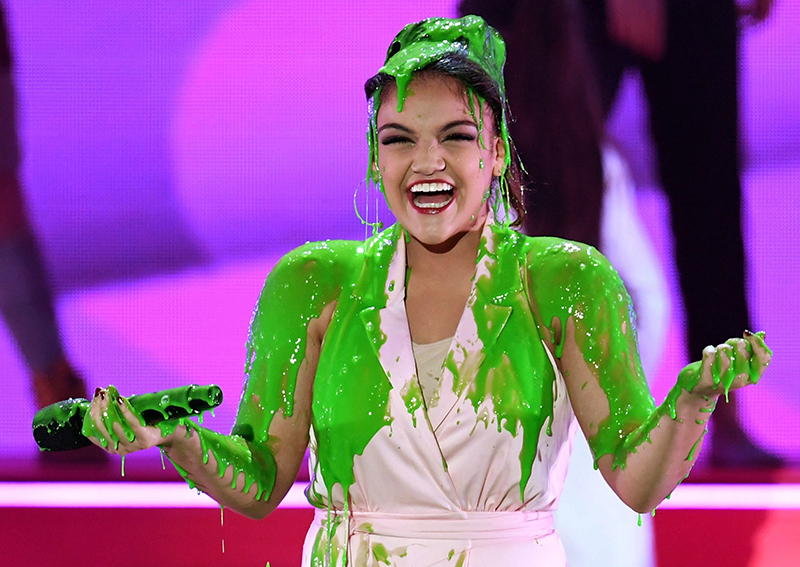 Olympic gymnast Laurie Hernandez gets slimed
His opening remarks also invited kids inside the arena to take charge. "Change is only possible when we all work together. And it's so inspiring to see kids taking charge! That is the true spirit of Nickelodeon and the Kids' Choice Awards."
On the orange carpet, the stars of Nickelodeon's hit show Game Shakers, Sheldon Bailey and Bubba Ganter (who was sporting a hat marked with March for Our Lives) shared with this writer their thoughts on the wonderful coincidence on this special Saturday when kids are literally taking charge. At the KCAs, they are taking over and celebrating the kind of entertainment they enjoy while on the streets, they are marching and demanding for changes they want for their future.
"We have to do something about gun control. I am not saying we have to get rid of them altogether but we have to figure out some way to get rid of the assault rifles," Bubba said. "We need more education for those who are ill. There's more to just banning the gun, there's more to it that needs to be done."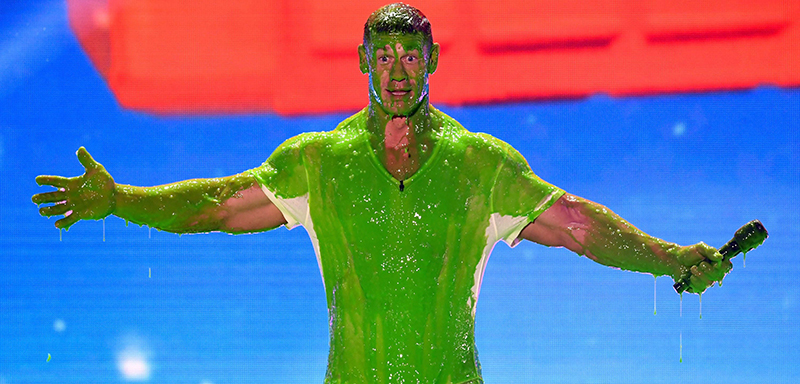 Host John Cena gets soaked in slime as he closes the show
"I have kind of lived that life," Sheldon added. "Now that I am in this position with Nickelodeon, I want to help inspire kids to be as great as they can be. So whenever I see kids taking the charge for social and political activism, it warms my heart and it makes me want to continue what I am doing."
It wasn't all serious talk on the orange carpet though. With kids around, we still have to let kids be kids! The very young cast of Star Falls did just that as they chatted with this writer on the orange carpet. They all shared their delight in walking the magical KCA carpet but expressed their fear of getting slimed.
They also told this writer of the Sausage Ball they play on the set. It's a food fight of sort like a game of football without the actual football. "It's when they throw a whole bunch of sausages and I accidentally kept catching them! I didn't mean to but they kept falling on me!" Hawaiian-Filipina Siena Agudong related as her cast mates laughed at the story.
Star Falls follows the story of Sophia (played by Siena) who persuades a Hollywood star and his family to live in her house while he shoots a movie in town, hoping that the actor would fall in love with her mom.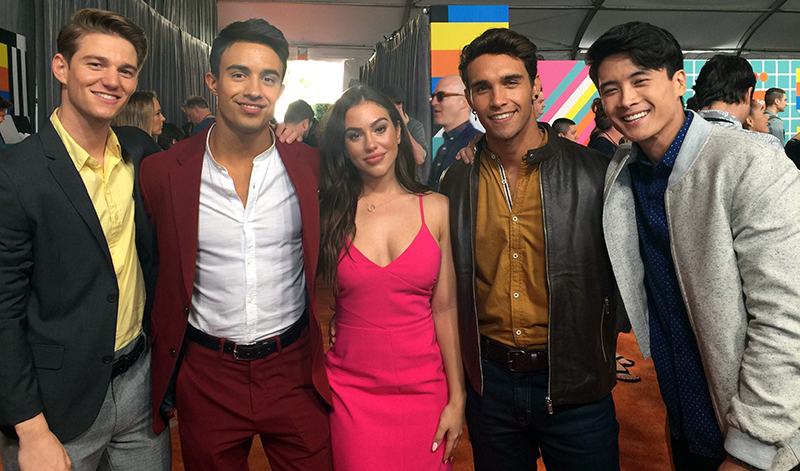 From left:
Nico

Greetham

, William

Shewfelt

,

Chrysti

Ane,

Jordi

Webber, Peter

Sudarso

of Power Rangers
The teen cast of Power Rangers Ninja Steel surprised this writer when one of them exclaimed "Mabuhay" to greet me. Jordi Webber, who plays the Gold Ranger in the series, explained that he has lots of Filipino friends who taught him standard Filipino greetings.
The rest of the cast include William Shewfelt (Red Ranger), Nico Greetham (Yellow Ranger), Peter Sudarso (Blue Ranger) and the lone female ranger, Chrysti Ane, who plays Pink Ranger.
They all consider being on this 25th season of Power Rangers an honor and a dream-come-true opportunity, and are thankful to their fans in the Philippines for the support they have been receiving on social media.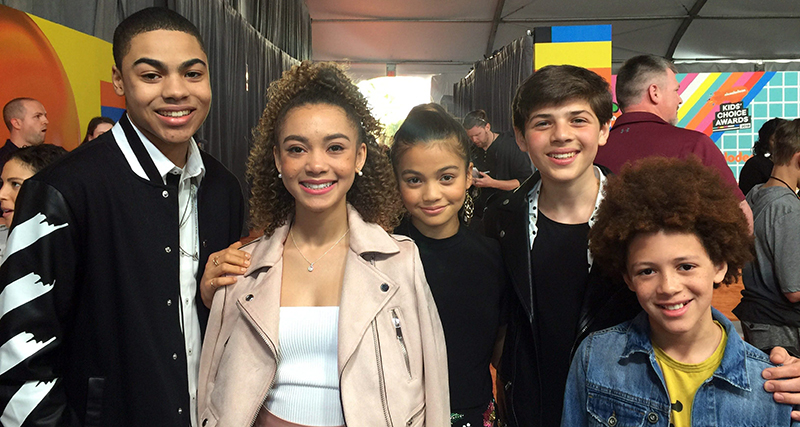 Hawaiian-Filipina

Siena

Agudong

(center) with her Star Falls cast mates (from left)

Jadiel

Dowlin

,

Kamaia

Fairburn

,

Tomaso

Sanelli

and Marcus

Cornwell
"They are very outspoken," Chrysti Ane said. "They tell you when they like something, they tell you when they don't. We love it. Thank you!"
And just like the Star Falls kids they, too, were scared of getting slimed during the show.
They all got lucky as they were spared of the green slime. The few unlucky ones got slimed are listed below.
Liza Koshy, Favorite Funny YouTube Creator winner, got slimed twice.
Heidi Klum and Mel B were showered with slime while on a swing set presenting the Favorite Movie Actress award to Zendaya.
Jojo Siwa, Favorite Musical YouTube Creator winner, got slimed after performing her YouTube hit song.
Olympic-winning gymnast Laurie Hernandez got slimed after presenting the segment empowering young girls.
Barbie got slimed.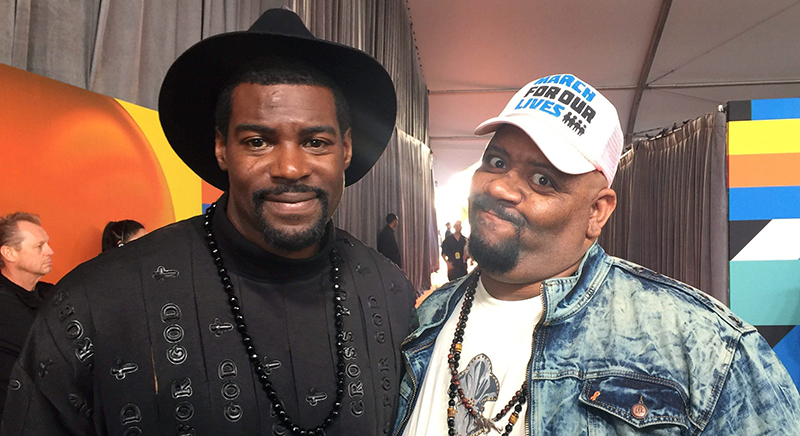 Game Shakers stars Sheldon Bailey and Bubba
Ganter

at the 2018 Nickelodeon Kids' Choice Awards
Singing sensation Shawn Mendez got slimed while being presented with his Favorite Male Artist blimp.
John did not escape getting slimed. He got soaked as he was closing the show.
Hollywood superstar Channing Tatum technically was spared of the green slime but had a load of snow dropped on him during his segment promoting his upcoming animated movie Small Foot — so he makes the dubious list as well.
The Kids' Choice Awards aired live on the Nickelodeon channel with replays to be aired throughout the week on the same channel.
For the list of winners and replay schedule, fans may check the Nickelodeon website.