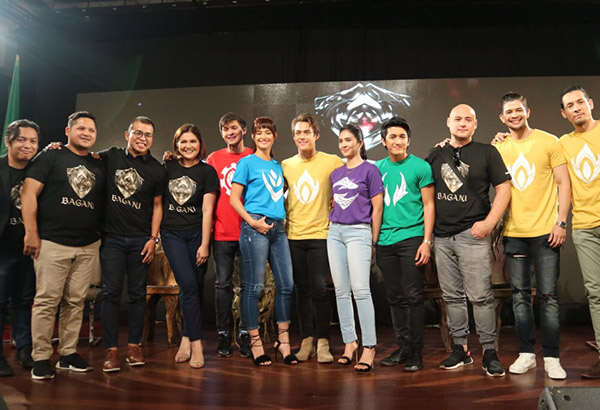 Cast and creatives behind "Bagani." ABS-CBN/Released
WATCH: How 'Bagani' got CHED, Indigenous Peoples' nod
MANILA, Philippines — The writers and directors of ABS-CBN's controversial new fantasy series, "Bagani," shared in a grand press conference on Thursday how they reached an agreement with the Commission on Higher Education (CHED) and Indigenous Peoples (IP), who initially protested the use of the IP term "bagani" as title for the show.
The series' head writer, Mark Agnos, and directors Lester Pimentel and Richard Arellano can be seen explaining on the following video on how the show, CHED, and IP groups arrived at a compromise so the show can retain its original title.
According to them, CHED and the IPs have agreed to use the show as an opportunity to educate the audience about IPs.
"The good thing about our meeting is that they understood where we're coming from. It turns out, nirerespect nila yung artistic freedom ng group," the writer and directors said.
CHED and the IPs did not ask for a role in the production of the show, the writer and directors stressed.
"Ang meron siguro kailangan kaming inaddress is to really recognize the term 'Bagani.' What we can do is to explore how the word came about from the Indigenous Peoples' point of view."
They reiterated that though rooted in Filipino prehistory, "Bagani," the series, is purely fictitious, with makeshift villages or regions built in different places in Ilocos Norte and Bulacan, designed by Filipino visual artist Leeroy New.
They also said that "Bagani" is not a low-budget project and the stars are given enough time to train and prepare for their roles, which they claimed are rare among soap operas in the Philippines.
According to the writer and the directors, if there is something they can be thankful for with the complaints, it is because these sparked debates on culture and identity. "Dati-rati kapag may teleserye, ang usapan kaninong anak sino? Ngayon, we really have intelligent discussions about culture, identity, etc."
They hinted that the current show might be just the first chapter of the story. They are hoping that the show would become a precedent for succeeding shows in promoting Filipino culture.
RELATED: ABS-CBN, CHED, Indigenous Peoples agree on use of 'Bagani'
CHED reacts to ABS-CBN's 'Bagani'
ABS-CBN answers CHED's complaint against 'Bagani'