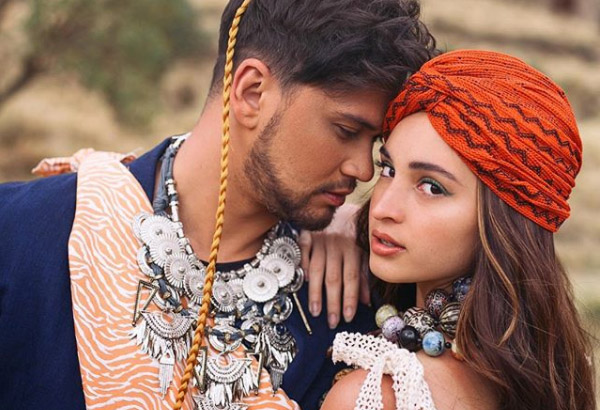 Billy Crawford, Coleen Garcia apologize for Ethiopia photos
MANILA, Philippines — Celebrity couple Billy Crawford and Coleen Garcia have released a joint statement last night as a reaction to netizens' comments that their recent fashion shoot in Ethiopia was "racist" and "offensive."
The engaged couple has been called "culturally insensitive" by some netizens for posing with tribal moms and kids in their shoot.
The pair has since deleted their photos with the moms and children. They explained that it was never their intention to be offensive.
"Completely, it might not even be about the photos per se, but more on how it comes across and what it could represent. Being public figures, dito kami nagkulang and we admit we could have done better," the statement said.
According to the couple, Ethiopian Airlines sponsored the fashion shoot and they are supposed to be alone in the photos, but the children insisted to be part of the pictures.
"We were invited and sponsored by Ethiopian Airlines to do our shoot there for their tourism and capture their natural environment because we were told that tourism helps their economy," Billy and Coleen claimed.
"'Yung shot with the kids, actually patapos na kaming mag-shoot noon na kaming dalawa lang and we just needed to get a few shots in, but naaliw 'yung kids and they really wanted to be a part of the photos, so they kept coming into the frame hanggang sa sinama na nina Oly," the couple elucidated.
"In fact, may dumating pa na local who was scolding them and shooing them away kasi abala daw sa shoot, but we felt differently and natuwa din naman kami sa mga bata kaya we told the man na it's okay, and we let them be a part of the photo despite it not being part of the plan, and we even showed the photos to them after."
Though they felt that the pictures were taken "out of context," the couple is still sorry for those they offended.
"It's sad that the tendency is to jump to conclusions, but we understand din kasi nga they were not there to witness everything," they maintained. "Kaya we do apologize for how it might have translated, and we're sorry again to those we have offended."
They also clarified that the photos shot in Ethiopia are not yet their prenuptial pictures as they intend to shoot the latter in the Philippines.
RELATED: Pre-wedding photos of Billy Crawford, Coleen Garcia in Ethiopia spark debate