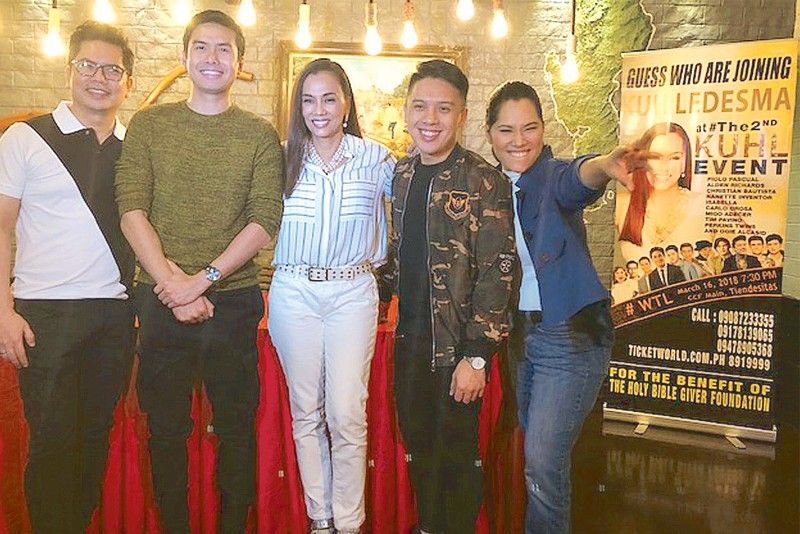 To mark her nth birthday on March 16, Kuh Ledesma is holding a fund-raising concert called The 2nd Kuhl Event for her The Holy Bible Giver Foundation. Photo shows her with four of her guest performers (from left): Carlo Orosa, Christian Bautista, Tim Pavino and Kuh's daughter Isabella.
Kuh: Aries? No, I'm Christian!
FUNFARE
-
Ricky Lo
(The Philippine Star) - February 22, 2018 - 12:00am
Curtain-raisers:
• The staff of an airline abroad recalled how amused they were when a (male) singer showed up to check in cuddling a queen-sized Minnie Mouse. What, Minnie Mouse, not Mickey Mouse? "Yes, Minnie Mouse talaga," said a staffer. "Para siyang yumayakap sa isang baby. Nakakatuwang tingnan. Cute sila!"
• By June, a controversial sexy actress is expected to admit what the public has been suspecting all along. That's when her contract with a consumer product is set to expire, so no more "restriction." A few days ago, the actress and her actor-sweetheart had her regular check-up with an OB-Gyne.
•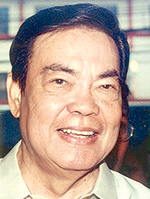 Rejoinder from Eddie IIarde (photo, who hosts Kahapon Lamang on dzBB early Saturday afternoons) on Funfare's story about Malu Maglutac-Chiongbian the other day: Malu Maglutac was a co-host of Student Canteen, my show with Leila (Benitez) and Bobby (Ledesma), and not Eat, Bulaga! (Mea culpa! –RFL) Also, on my list of "Firsts among Filipinos," I forgot to include Manoy Eddie as the first radio-TV personality to be elected councilor of Pasay City, congressman of the First District of Rizal, assemblyman and senator. Today, he's the longest living radio-TV host-producer born on Aug. 25, 1934 and who started in radio in 1953. (Mea culpa. — RFL)
***
Since she was born on March 16 (no mention about the year, please!), Kuh Ledesma is an Aries according to the western horoscope.
"No," Kuh protested. "I'm not an Aries. I'm a Christian."
That's when Bulletin's Cris Belen and I learned that Kuh doesn't believe in the horoscope.
"Well," she explained, "I used to but not any longer. Bawal sa aming mga Christian. When your horoscope says that today is your good day, you are guided by it and therefore you are giving it power. The horoscope is the work of the devil."
Oh well, Cris and I could agree with her.
"Your fate is in the hands of God," added Kuh. "It's God's words that you have to follow."
Kuh doesn't usually celebrate her birthday (and if she ever does, it's only with close friends) because like most women, she frowns on being asked how old she is every time her birthday comes around.
But on March 16, she's celebrating her nth birthday with a concert titled The 2nd Kuhl Event which also marks her second time to raise funds for the benefit of her The Holy Bible Giver Foundation. The venue is the 8,000-seater Mega Church CCF in Tiendesitas. (For tickets, call 0908-7233355, 0917-8139065 or 0947-8905368; or call Ticketworld.com.ph 891-9999.)
"I asked myself," said Kuh, "what can I do on my birthday to give back to the God who has given me another blessed year? So, I thought that since on March 16, 2018, I will be celebrating the day I was born, perhaps I should do exactly that — mount a meaningful and inspiring concert that will draw my audience to God. We will be doing songs that express the beauty of life, inspirational songs na kahit pop ay positive ang dating, pero no songs na trashy. We will include songs from the movie The Greatest Showman, a very beautiful movie (starring Hugh Jackman) that everybody should watch."
Aside from her daughter Isabella, Kuh's concert will also feature Christian Bautista, Carlo Orosa and Tim Pavino who were with mother and daughter during a lunch presscon the other day at Salu restaurant, plus Piolo Pascual, Alden Richards, Nanette Inventor, Migo Adecer, Perkins Twins and Ogie Alcasid.
• Carlo (who is turning 53 first week of March): I have known Kuh since 1988 when she got me as guest in her concert Feeling Again, which was so titled because she was moving on from the break-up of her marriage. We have been good friends since then. By the way, when you reach this age (50s), every day really counts.
• Tim (from Seattle, USA, also a March born who was in The Voice): I grew up watching Tita Kuh's concerts. She inspires me no end. She's not just a performer, she's also an artistic director who can do everything from scripting to designing, which is what I want to be. I like her song Help Me Forget, written by my Aunt Cecile Azarcon (now based in Vallejo, California), because it helped me recover from a broken heart after my puppy love left me for my best friend.
• Christian (who is marrying his girlfriend Kat Ramnani later this year at Hacienda Isabella in Tagaytay City, owned by Kuh): I have performed with Kuh in several concerts in the USA and Canada so I am her suki…her su-Kuh. I admire her for training new talents, including me. She has proven that you can be a singer, a producer, a manager, a sound engineer and a director all rolled into one.
A food for thought from lawyer Romy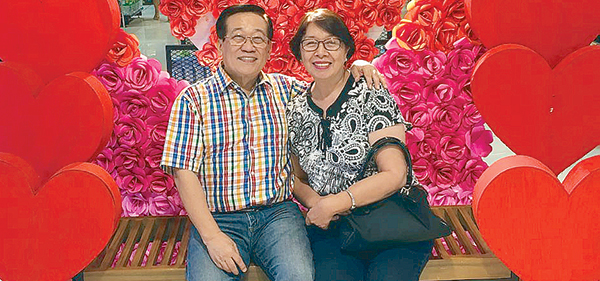 Election lawyer Romy Macalintal and his wife Mila had their photos in a Valentine booth inside a mall as a memento of the rare coincidence of Ash Wednesday falling on Valentine's Day last February 14.
Dear Ricky,
I cannot resist the prodding of my heart to release the religious and romantic fervor I felt last Feb. 14 when we had that rare coincidence of celebrating Ash Wednesday, the first day of the Lenten Season for us Catholics, and Valentine's Day, a festive occasion for all lovers.
But as I reflected on these two events, I had the feeling that God really wanted it that way. For God is love and therefore every day, including Valentine's Day, God's way of love should be our guiding standard in expressing our love to our fellowmen. For the greatest expression of God's love for us was revealed when He gave His only begotten Son, Jesus Christ, who also demonstrated his love for us when He died on the cross for our salvation.
On the occasion of Ash Wednesday, my wife Mila and I attended the Mass officiated by our parish priest, Monsignor Albert Venus of the Our Lady of Fatima Parish in Las Piñas City. He related the story of a young boy who asked if, "instead of a cross, the shape of a heart be placed on his forehead since Ash Wednesday was also Valentine's Day."
Monsignor Venus said that the "heart you want me to place on your forehead will eventually die but the heart of the man who died on that cross will live forever and will give you everlasting life." And with that, the boy agreed to have the ashes placed on his forehead with the sign of the cross.
Thus, perhaps it may be right to say that Ash Wednesday is a Holy Day of obligation for us Catholics while Valentine's Day is a secular and men's holiday.
After the Mass, Mila and I went to a nearby mall where we found a Valentine booth and had our photos for posterity's sake to remind us that this rare coincidence of Ash Wednesday and Valentine's Day is a continuing reminder that whatever is the occasion, LOVE remains the greatest virtue of them all.
Our prayers for the interrelated seasons of Lent, Holy Week and Easter.
Sincerely,
Romy Macalintal
(E-mail reactions at rickylophilstar@gmail.)