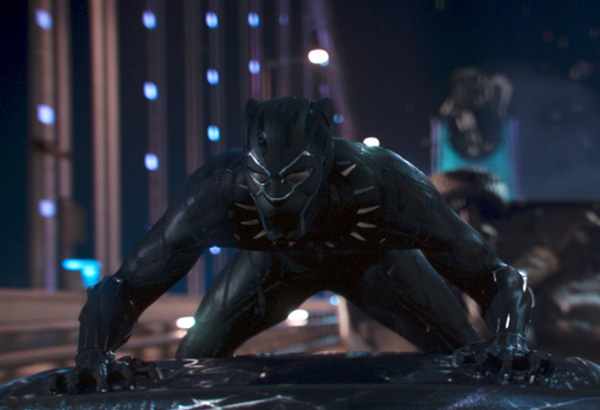 Scene from "Black Panther." Marvel Studios/Released
Review: 'Black Panther' declares 'Year of the Panther,' breaks superhero stereotypes
Seph Asong
(Philstar.com) - February 20, 2018 - 1:00pm
MANILA, Philippines —Year of the Dog? For now it is more like a strong "Year of the Panther," as Marvel Studios' "Black Panther" clawed its way to the top of the Philippine box office, posting a monumental opening weekend of Php 258.57 million (including sneaks) in five days (from February 14 to 18), claimed to be the most successful February launch in industry history as well as the year's biggest opening weekend to-date.
In comparison, the critically acclaimed super hero film about the young king of the fictional and technologically-advanced African country of Wakanda, surpassed the opening weekends of recent Marvel Studios titles led by "Guardians of The Galaxy," "Ant-Man," "Doctor Strange" "Captain America: The Winter Soldier" and "Thor: Ragnarok."
In the US, "Black Panther" opened to a $235 million debut over the four-day President's Day weekend. It is the highest three-day debut ever for a February film and the fifth highest of all time. "Black Panther" has also demolished the record for the largest President's Day weekend, blowing past "Deadpool's" 2016 mark of $152 million.
After a decade and so many comic book movies, the Marvel universe has finally produced a superhero movie with a radical approach that broke stereotypical storylines. In fact, fans were saying that watching "Black Panther" felt like it was ripped off from the pages of a comic book.
In retrospect, Marvel Studios has created a strong equity when it comes to live-action films that are engaging, with deep emotional hook, bringing dozens of characters to life in a perpetual motion. But most of, if not all, these movies focused on one thing — making a wild statement through special effects.
This is where "Black Panther" draws the line.
Unlike any other superhero movie, "Black Panther" has embraced diversity and representation. It is a film that evokes socio-political issues that feel consequential, and it was able to successfully communicate this aspect without stepping away from the superhero dynamics that make the larger franchise work. All thanks to writer-director Ryan Coogler, who puts his heart and soul in making this movie a huge success.
Coogler is known for his intimate character-driven style as well as creating multi-layered materials in filmmaking, which catapulted him to the forefront of the indie film world in 2013 with his riveting award-winning drama, "Fruitvale Station" that starred Michael B. Jordan. No surprise there why the actor was considered to play the villain in "Black Panther."
When it comes to "high-tech" presentation, Marvel has never been short in this department. We have been impressed with the highly advanced weaponries in "Iron Man," the ostentatiously lavish galactic world of Asgard, and now the futuristic nation of Wakanda, where levitating vehicles are the new normal. With the use of its cloaking technology, among many others, has allowed this nation to conceal its true identity from the rest of the world for fear of being taken advantage of by those who seek to exploit their massive supply of Vibranium.
But despite all the advances in technology, Wakanda remains unashamedly sub-Saharan African. This is where Coogler's creativity kicked in with him suggesting to infuse the movie with African culture like how the tribes showed their devotion to the spiritual realm, following centuries-old rituals when choosing a leader, and more.
Feminist movement in superhero movies
We have seen how DC's "Wonder Woman" reshaped the zeitgeist with its strong-willed Amazonian warriors of Themyscira who fought alongside the gods. Now, "Black Panther" has set the bars high with Wakanda's troop of elite, all-female royal guardians known as Dora Milaje, fictional characters appearing in comic books published by Marvel, but they are most prominent in the Black Panther Marvel Universe. These women are protectors of the throne, carefully selected from every tribe of Wakanda.
To void any political turmoil, each tribe is represented by a Dora Milaje, who in tradition, can be the next queen. This elite special force is led by the fierce General Okoye (Danai Gurira) who, in the movie, has shown remarkable fighting skills that could give Black Widow a run for her money. Seriously, her character was a topic in social media when a teaser video of her fighting a group of heavily armed men with every tool at her disposal including her "wig" was released.
What makes her such a hot subject for feminism compared to other female characters of Marvel is rooted on Danai Gurira's honest portrayal of Okoye's toughness of character and wit; a symbol of warm but uncompromising black female pride and power. Prior to this, Danai was already a force in her own right with the hit TV-series "The Walking Dead," where she played Michonne.
Meanwhile, Kenyan-Mexican actress and fashion purveyor Lupita Amondi Nyong'o made her acting debut back in 2008 with indie film "East River." But it was her role as Patsey in Steve McQueen's historical drama "12 Years a Slave" that earned her several awards and high regard in Hollywood. She is also the first Kenyan-Mexican actress to have won an Academy Award. She also appeared in the "Star Wars" sequel trilogy as Maz Kanata, and now a lead female role in "Black Panther" as T'Challa's love interest, Nakia.
In the movie, Nakia is a Wakandan spy trained to assassinate (if needed) and to gather global knowledge by infiltrating multiple international defense agencies in the event that Wakanda needs to interfere with world issues.
Nakia's consistent involvement in conflicts is driven by her compassion to help those in need. Even after the fall of T'Challa from the hands of the Killmonger, she never left the kingdom and decided to stay and protect the queen and T'Challa's sister.
Acting wise, Lupita nailed everything but her character is not too flavorful; lacking certain elements to make the character memorable. Either it was overpowered by Okoye or was solely decided by Coogler to hold back. The latter is more logical since in the comic book, Nakia became an ally to the Killmonger (yes, he will most likely return) and took the alias of Malice.
'Afrocentrism'
If you are a true fan of Marvel Universe, you would know that "Black Panther" dabbles heavily on the cultural and ideological views of black culture. The movie shows a significant amount of black anger against historic oppression and this was best shown by Michael B. Jordan's villainous character, the Killmonger. The movie reveals the true reason why the Killmonger wanted to penetrate Wakanda and overthrow the king. But more than his personal vendetta lies a larger aspiration to use Wakanda's Vibranium to fuel a worldwide black uprising.
What we surely know (as confirmed by Marvel Studios) is "Black Panther" will be showing up in "Avengers: Infinity War." But we are not entirely sure how big T'Challa's role in the next Marvel movie, or if any of the lead characters from "Black Panther" will reprise their roles.
Although in "Black Panther's" end credit, there is a hint that a sequel is in the works. There should be!