Rico J: Only God can stop me from singing
February 1, 2018 | 12:00am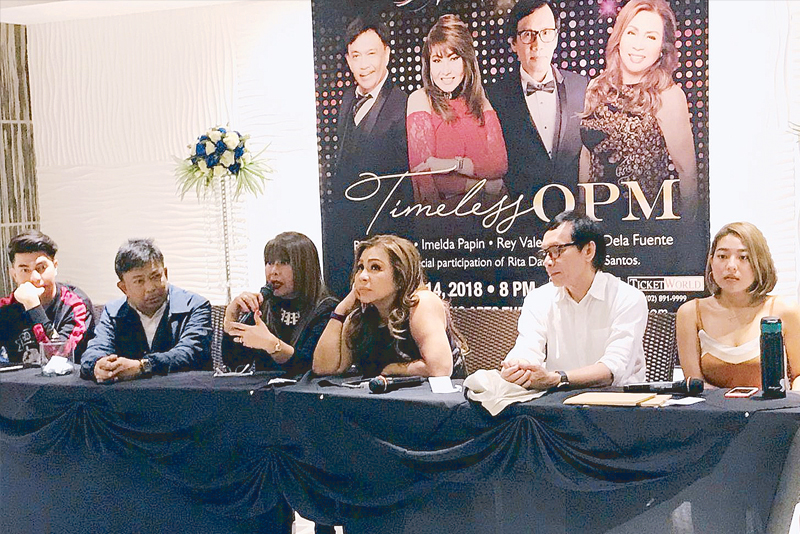 In April 2015, Rico J. Puno underwent a seven-hour open-heart surgery (triple bypass) after he experienced chest pains and difficulty in breathing on the set of the ABS-CBN sitcom Home Sweetie Home. It didn't take long before Rico bounced back, as good as new, cracking his usual green jokes. He's the best proof that old (oops! read that "veteran") singers, just like soldiers, don't disappear into the sunset easily.
"Only God can stop me from singing," Rico said at the presscon for Timeless OPM, a Valentine concert set for Feb. 14 (starting at 8 p.m.) at the Newport Performing Arts Theater of Resorts World Manila (RWM). "He gave me this 'gift' and only He can take it back."
This time minus such contemporary "hitmakers" as Hajji Alejandro, Marco Sison, Nonoy Zuñiga and Eva Eugenio, Timeless OPM brings Rico back together with Rey Valera, Imelda Papin and Claire dela Fuente who have amply proven how timeless they have been as they continue to draw the crowds in through the years, never mind if new breeds of singers have been cropping up on the scene (but only a few of them survive the rat-race).
They have seniors like them, and the lolos and the lolas, to thank for their staying power.
The show also features new singers LA Santos (born autistic who recovered with the help of music) and Rita Daniela who were not even a glint in the eyes of their parents when Rico and company were lording over the stage and airlanes (they still do, in a way), now as strong as ever as they celebrate four decades of making beautiful music.
"But I've been hearing about their songs from my mom and my grandparents," admitted LA who was nurtured on OPM (Original Pilipino Music) by his mom, Flor Santos (the kumare of Claire's). "Now that I am performing with them, I'm sure I will learn a lot from them."
Of course, there's the radio to thank for. Some radio stations do play old familiar songs (dzBB weekdays after lunch), that's why the new generation of music-lovers can hum or sing along to Rico's Kapalaran, Rey's Kung Kailangan Mo Ako, Imelda's Isang Linggong Pag-ibig and Claire's Sayang. Nobody raises a howl over the four singers' "titles," right? Rico is Total Entertainer, Imelda is Sentimental Songstress, Rey is Mr. Hitmaker and Claire is Asia's Sweetest Voice (and Karen Carpenter of the Philippines).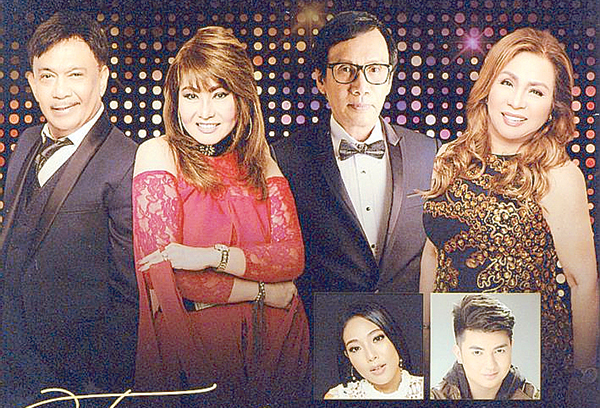 The concert's poster: Get set for a night of throwback songs blended with laughter and of making fun of each other…at the Resorts World Manila's Newport Performing Arts Theater on February 14.
They make fun of each other and, watch out, nobody gets pikon (onion-skinned).
As they usually do, during the Timeless presscon at Icon Hotel (on Timog Ave., Quezon City, a fitting venue for the "iconic" seniors), they poked fun at each other.
Describing the type of audiences that they attract, Rey said, "Hajji tickles the senior citizens, mostly smelling of Bengay, with his pa-pogi antics. Rico attracts those riding in tandem and the kubrador ng jueteng. Si Nonoy, karamihan sa mga nanonood sa kanya mga naka-wheelchair at dextrose. At ako, 'yung mga edukado ang nanonood sa akin," adding in mock apology, "pasensya na, pagkakataon ko na ito."
Commented Lolit Solis, "They must really be good friends to make fun of each other without being offended, hindi napipikon."
Rico picked on Claire's "healthy" arms and Imelda's "600 to 700 followers" on social media. It's okay with the two but they protest when Rico call them "formalin beauties." It's this spirit of fun and music and laughter that characterizes their show(s) and the audience never seems to get tired of them.
So what can we expect from their Valentine show?
"Claire and I can wear a two-piece while singing," threatened Imelda.
(Produced by Ana Puno, Timeless OPM is directed by Freddie Santos, with Gerry Matias as musical director. For tickets, call 891-9999 or 908-8000 loc. 7700; or check out www.ticketworld.com.ph.)
(E-mail reactions at [email protected] and [email protected] For more updates, photos and videos, visit www.philstar.com/funfare or follow me on Instagram @therealrickylo.)
Isn't Rita 'intimidated' by Rico & company?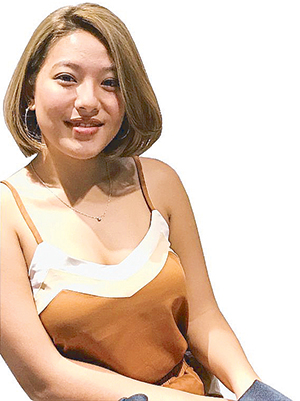 The granddaughter of the late comedian Teroy de Guzman, Rita Daniela considers Rico J. Puno as her mentor
After changing her surname twice (from Rita de Guzman then to Rita Iringan), the bedimpled kontrabida-turned-sweet-girl in the GMA soap Impostora (with Kris Bernal playing dual roles) has finally (happily!) settled for Rita Daniela. The granddaughter of the late comedian Teroy de Guzman, Rita beat Julie Anne San Jose in the 2005 QTV-11 singing contest Popstar Kids.
It's only now that Rita is being recognized not only for her singing talent but also for her tri-media acting talent, having done a few movies (Dilim in 2014 and The Strangers in 2012), a musical (Maynila) and other soaps (Villa Quintana, Mundo Mo'y Akin, Pepito Manaloto, Mulawin vs. Ravena, etc.).
Turning 23 (on Sept. 15), Rita rued the fact that she wasn't able to enjoy the company of her Lolo Teroy who died before she was born.
"I've seen very few of his movies on YouTube," said Rita, "but I've been hearing a lot about him from my mom (one of Teroy's children)."
It's Rita's first time to perform with the likes of Rico, Rey, Imelda and Claire in Timeless OPM. Asked if she's not "intimidated" by her idols, Rita admitted, "Yes, I am, especially kay Kuya Rey, Ate Imelda at Ate Claire."
But not with Rico?
"Nope," said Rita. "Tito Rico is my mentor. He's a good friend of my dad (Red Valdez). They have come a long, long way."
Rey, Imelda and Claire assured Rita (and LA Santos for that matter) that there's really no reason to be "scared."
A junior at La Salle taking up a course in Film, Rita hopes to direct a film (or a TV show). She already has an idea what kind of thesis she'll do.
"I was a member of SK (Sangguniang Kabataan) in Parañaque City when I was 16," said Rita, "so I am familiar with the hocus-pocus in politics, the under-the-table wheelings and dealings. Very political."
By the way, told that televiewers hate her for her kontrabida turns (Impostora, etc.), Rita smiled.
"Ay, natutuwa po ako! It means na effective ang acting ko!"
How Ronnie did it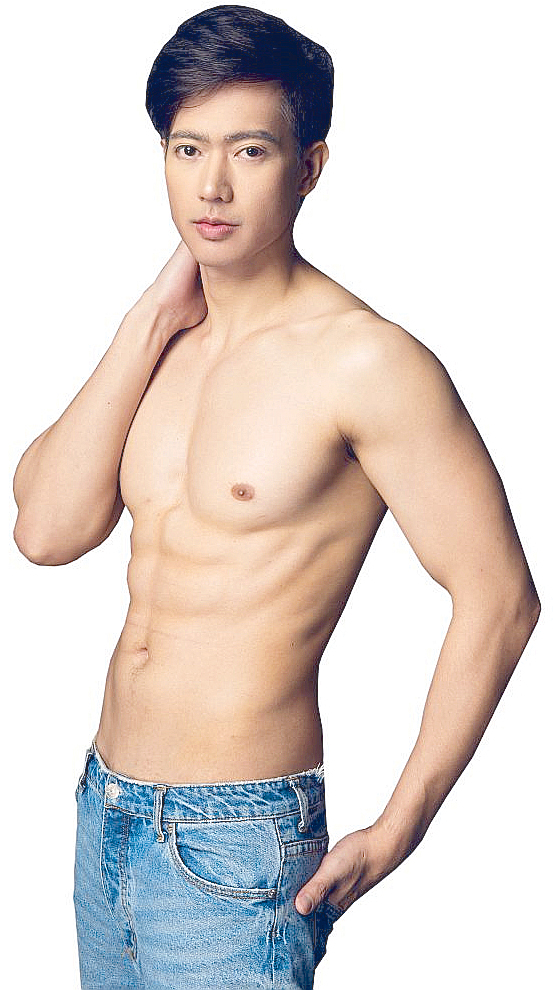 Holistic Integrative Care Center (HICC), a special clinic which promotes natural healing through proper diet and conducts different types of therapy to activate the self-healing of the body, has chosen singer-actor Ronnie Liang (photo) as its new ambassador.
According to Ronnie, to achieve a well-sculpted look, he has given up fatty foods (like pork and beef) and takes mostly vegetables, fruits, chicken (without the skin) and fish. He also avoids rice. The result? A healthier and better physique with six-pack abs.
'It's for my new look that HICC took notice of me,' said Ronnie.
As HICC ambassador, he helps promote a hale and hearty living by using an integrative approach to heal different types of ailments and to help achieve a healthier body.