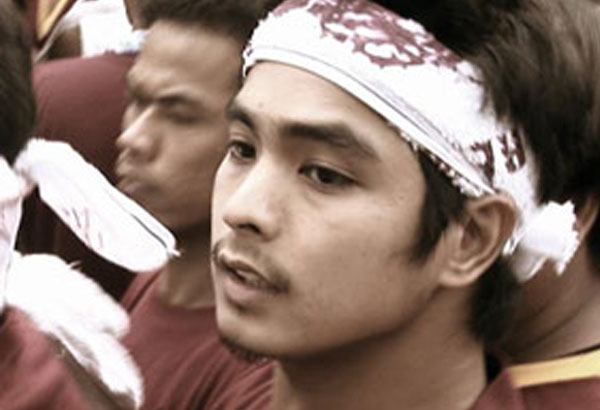 Coco Martin is a famous Nazareno devotee. Pang-Masa/File
Celebrities with a known devotion to the Black Nazarene
MANILA, Philippines — On January 9, around four million local and foreign devotees flocked to the annual Black Nazarene procession in Quiapo, Manila, and among them are celebrities.
But the stars, who seem to be far more blessed than you and me, seem to have everything. What more can they ask for in life?
As it turns out, these stars are as devoted to the Black Nazarene as any other believer, and here is why.
Angeline Quinto
The Kapamilya singer-actress' devotion to the Black Nazarene dates back to 15 years ago, when she was nine. In 2011, the "Star Power: Search for the Next Female Pop Superstar" winner even joined the sea of humanity that walked barefoot every time the Traslacion came around.
Angeline never imagined her devotion to the Nazareno will change her life years after, when her mom fell ill. She went straight to Quiapo Church after visiting her mom at the Philippine Heart Center, every single day.
Now that her mom is well again, Angeline's faith has grown by leaps and bounds. She took time off from her packed schedule last year to mount the carriage bearing the centuries-old image. This year, Angeline got a pleasant surprise when Joseph Magcalas of Apalit, Pampanga gave her a small replica of the Black Nazarene.
Coco Martin
Like Angeline, Coco's faith in the Black Nazarene goes back to his childhood, when he tagged along with his grandmother in going to the church.
Years later, the star of the hit teleserye "Ang Probinsyano" found himself in front of the Black Nazarene again.
"Sinasabi ko, 'Mahal na Nazareno, bigyan Niyo lang po sana ako ng trabaho, kahit ano. Kahit hindi na po ako matulog, tatanggapin ko po iyan, basta bigyan Niyo po ako ng maayos na trabaho na mabubuhay ko ang pamilya ko," he relates.
Coco believes the Nazarene's generosity is responsible in granting 10 of his 15 petitions. So he makes it a point to go to Quiapo Church, even if he is busy. He tries to be as low key as possible to avoid distracting other devotees.
Last year, Coco heard Mass at the church before the procession kicked off. Then, he joined the sea of humanity and was rewarded with the rare privilege of touching part of the Nazarene image.
Kris Aquino
In 2013, Kris held a Black Nazarene handkerchief while asking Msgr. Clem Ignacio to pray for her friend Boy Abunda's mother, who was then confined in the hospital. Kris acted as proxy for Boy, who cannot be present at that time. She placed the handkerchief in a ziplock then sent it to Boy.
Noli de Castro
The veteran broadcaster would forego his chores as primetime news anchor to go to Quaipo and join the feast of the Black Nazarene.
Other celebrities who have braved the crowd and joined the Traslacion include award-winning actor Christopher de Leon and funnyman Bayani Agbayani.
Stars who have a veneration for the Black Nazarene include celebrity siblings John and Camille Prats, Quezon City mayor Herbert Bautista, singer-actress Vina Morales and TV host Amy Perez.