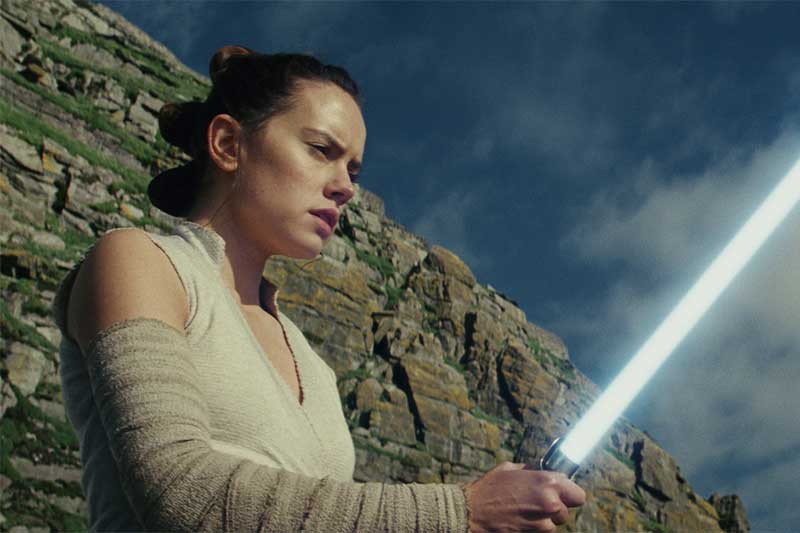 Daisy Ridley returns as Rey in "Star Wars: The Last Jedi." Walt Disney Company/Released
Review: Female characters shine in 'The Last Jedi'
MANILA, Philippines — The late Carrie Fisher and Daisy Ridley return as General Leia Organa and Rey, respectively in Rian Johnson's "Star Wars: The Last Jedi" but the franchise introduces two new powerful female characters in its new installment.
Aside from Fisher and Ridley, Gwendoline Christie reprises her role as the First Order's Captain Phasma. Laura Dern, who plays the role of Vice Admiral Amilyn Hodo, and Kelly Marie Tran, who plays Resistance fighter Rose Tico, are among the new characters introduced in "The Last Jedi."
The sequel of "The Force Awakens" takes off from the final scene of the previous movie where Rey finally finds Luke Skywalker, played by Mark Hamill.
"The Last Jedi" is reminiscent of "The Empire Strikes Back" in such a way that Rey, a force-sensitive desert scavenger, finds the last remaining Jedi master in Luke. In "The Empire Strikes Back," Luke goes to the swamp planet of Dagobah, where he received a training from exiled Jedi Master Yoda.
Fresh off killing his father Han Solo, Kylo Ren (Adam Driver) continues to struggle as the light side of the Force continues to call on him. Kylo and Rey seems to have formed a connection since their lightsaber duel on Starkiller Base.
The film also brings back Finn (John Boyega), Poe Dameron (Oscar Isaac), Maz Kanata (Lupita Nyong'o), Supreme Leader Snoke (Andy Serkis), General Hux (Domnhall Gleeson), C-3PO (Anthony Daniels) and introduces a hacker (Benicio Del Toro) and new cute creatures called Porgs.
Written and directed by Rian Johnson, "The Last Jedi" is produced by Kathleen Kennedy and Ram Bergman while J.J. Abrams, Tom Karnowski and Jason McGatlin are the executive producers.
In Philippine cinemas December 13, "Star Wars: The Last Jedi" is distributed by the Walt Disney Company (Philippines).