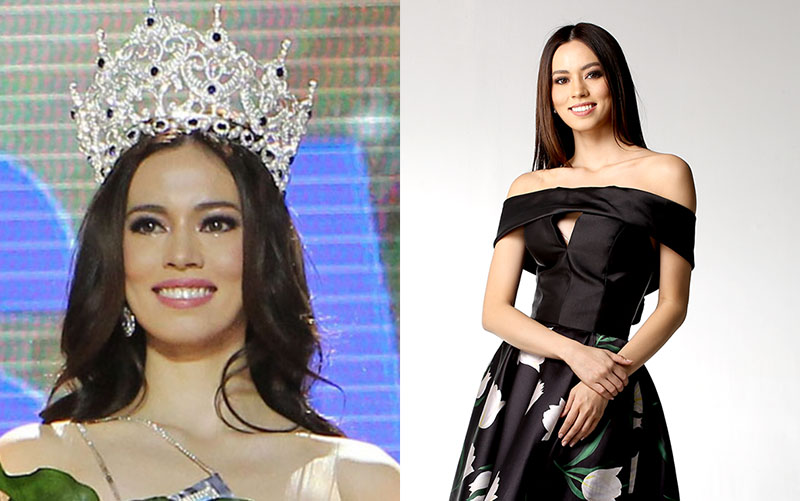 Former Ateneo courtside reporter Laura Victoria Lehmann was crowned Miss World Philippines on Sunday night, September 3, at the Mall of Asia Arena. Facebook, Twitter/Miss World Philippines
Philippines enters Miss World 2017 Top 40
MANILA, Philippines — Miss Philippines Laura Lehmann has officially entered the Top 40 of the Miss World 2017 beauty pageant to be held on November 18 at the Sanya City Arena in Sanya, China.
The 24-year-old TV host from Makati has advanced into the Top 40 after she was hailed as one of the Top 5 in the contest's Beauty With a Purpose segment and has won in her group in the Head-to-Head challenge.
Established in 2001, the Beauty With a Purpose challenge is where contestants discuss their advocacies. Lehmann's is a five-year plan to help indigent moms under the care of Jose R. Reyes Memorial Medical Center in Manila to produce more breast milk that could help address malnutrition and underweight among their babies.
This year, the courtside reporter has aided the center secure a milk pasteurizer, mechanical breast pumps, and a special freezer that can preserve milk for months.
WATCH: Miss Philippines' Beauty With a Purpose video
YouTube/Miss World
In her Instagram post, the Ateneo University Psychology student, who dreams of becoming a doctor, happily shared that her milk bank project for the pediatric ward has been selected as among the semi-finalists in the Beauty with a Purpose challenge. Philippines has not yet won in this segment.
"I think that when you look at the babies, and you realize how small they are, you realize how innocent they are…You don't choose where you were born, but you can choose what you do with your life. And you can choose to help," she said in her Beauty With a Purpose video.
For the next challenge, a new segment called "Head-to-Head," the 118 contestants were divided into small groups and asked a coronation night-like question that they were allowed to only answer in 30 seconds or less. The girls were randomly grouped through a draw, the first ever for the pageant.
WATCH: Miss World's first ever draw for Head-to-Head challenge
YouTube/Miss World
Laura was grouped with Miss Thailand, Myanmar, Lesotho, Turkey, and Serbia and they were individually asked the same question about how they would address cyberbullying.
Miss World Head to Head Challenge - Group 17https://t.co/qADwjveIbZ

— Miss World (@MissWorldLtd) November 16, 2017
In the video, Laura answered: "Well actually, I really like this question because I think it's a topic that all of us can relate to because as beauty queens, you know, we do get bashed online. There's a lot of negative comments, especially when the competition gets tough. So I think it's a question that we understand, but we also know that it's something that's very hard to avoid. Because sometimes, we can't really control what other people really say or what other people think.
"But I think the best thing that we can do is use our platform and use our voices because the whole world is watching us. So whenever we see someone being bullied online, I think we can't be passive bystanders. We have to so something about it, we have to point it out, and we have to remind them that trolls and bashers are not allowed on our Facebook pages and it's our job to just post things that are positive, rather than negative or something that condemns people."
Will Laura prevail in giving Philippines its second Miss World crown after Megan Young?
As Laura said in her Beauty With a Purpose video: "I know that as Miss World Philippines, I'm not Superwoman. I can't change the world. But maybe if we just do the little things, then at the end it makes a difference."