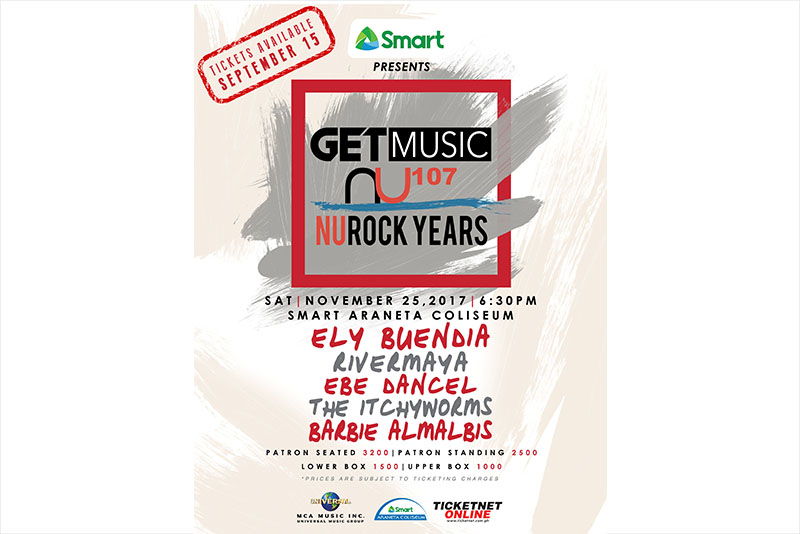 Smart Music Live presents GETMUSIC Nu Rock Years is happening on Saturday, November 25 at the Smart Araneta Coliseum.
Relive the sound of a generation at GETMUSIC Nu Rock Years
(philstar.com) - September 15, 2017 - 10:36am
MANILA, Philippines — It's been claimed that the advent of local Pinoy Rock in the ';70s was the golden age of the genre – mainly because the urgency of the times produced local artists who would forever pave the way and influence those who were lucky enough to witness it first-hand. Even so, the following decades would prove to be a continuous uphill battle for the music to find its proper place in mainstream music.
Which is why from the '90s and into the early years of the millennium, it can be argued that this was the period of when it all came together – when the music and the artists not only reshaped the genre as pundits and fans knew it, but became a household name and solidified itself in the consciousness of Filipinos from all ages and backgrounds. Remember when you first heard the Eraserheads' "With A Smile" and cheered-up a buddy of yours? Or how Rivermaya's "214" or "Torpe" by Hungry Young Poets perfectly encapsulated that feeling of butterflies in your stomach as you braved asking out your high school dream date to prom? We bet you remember how Sugarfree's bittersweet anthems got you through your first breakup, and how Itchyworms' brand of wacky-yet-intelligent lyricism got you on your feet later-on.
Call it a generation, an era or a movement… undoubtedly, this was the time when bands were churning-out hit-after-smash-hit, and influencing a new generation of decade-spanning youngsters and music fans. More notably, this was the period when a seminal radio station - known as NU107FM, or simply, "the home of nu rock" - led the charge and became an institution local music enthusiasts could rally behind.
So it's about time that we all celebrated this epoch of creativity and wonderfully diverse music, as Smart Music Live presents GETMUSIC Nu Rock Years, happening on Saturday, November 25 at the Smart Araneta Coliseum. Far from simply being a nostalgia trip, the event boasts of an impressive lineup of legends who are not just relevant, but who are still at-it – changing the face and sound of local music as we speak: from iconic songwriters Ely Buendia and Ebe Dancel singing their greatest hits, to Rivermaya and Itchyworms whose undying anthems have spanned age groups, and Barbie Almalbis, who effortlessly remains to carry the torch for female musicians and songwriters all over the land. For serious local music fans, this is the big event they have been waiting for… a time to get-together again, re-live the years and revisit the "NU Rock" sound. None other than Paolo Valenciano will be directing the show, who for sure, will inject a youthful treatment to the overall production.
Tickets will officially be on sale on September 15 through Ticketnet Online, with Patron Seated at P3,200 and Patron Standing at P2,500. What's even more exciting is that fans who buy immediately shall be rewarded with a month-long early bird promo, with top-tier tickets at P2,500 and second-tier tickets at P2,000. Interested parties can either log on to their site, or call 911.5555 for inquiries and reservations.So hurry and tell all your friends!
GETMUSIC Nu Rock Years is presented by Smart Music Live and Smart, and made possible by MCA Music Inc.
For more information, check out the official Facebook page of MCA Music: https://facebook.com/mcamusic