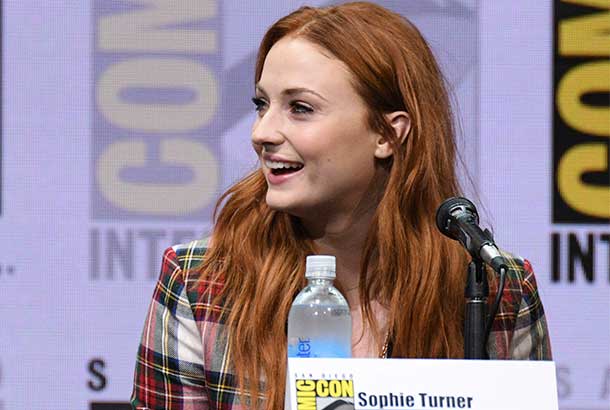 Sophie Turner attends the "Game of Thrones" panel on day two of Comic-Con International on Friday, July 21, 2017, in San Diego. Photo by Al Powers/Invision/AP
'Game of Thrones': Sophie Turner says Sansa is 'woke now'
SAN DIEGO — Sansa Stark is woke now, Alfie Allen has a cute dog and everyone got sick of answering all those questions about whether Jon Snow was dead or alive, but little else was revealed at the annual "Game of Thrones" panel at San Diego Comic-Con on Friday.
Speaking to a 6,500-person crowd during the show's Hall H panel at San Diego Comic-Con, Sophie Turner was joined by some of her fellow cast mates include Alfie Allen (Theon Greyjoy) and his dog Abby, Gwendoline Christie (Brienne of Tarth), John Bradley (Samwell Tarly), Isaac Hempsted Wright (Bran Stark) and Nathalie Emmanuel (Missandei). Hodor actor Kristian Nairn moderated the gathering.
Notably missing were the show's biggest stars, like Emilia Clarke (Daenerys Targaryen), Kit Harington (Jon Snow), Peter Dinklage (Tyrion Lannister) and Lena Headey (Cersei Lannister), as well as showrunners David Benioff and D.B. Weiss.
The popular HBO show kicked off its seven-episode seventh season last July 17 (Manila time), with the new episode called "The Queen's Justice" airing today (Manila time).
As usual, the cast remained tight-lipped about the current season or the next, which is planned to be the series' last.
Turner, whose Sansa Stark has emerged as a major player in the world of Westeros, said her once-naive character no longer sees the world through "rose-tinted glasses."
"She's woke now, guys, she's real woke," Turner said. "She's cool, she trusts no one whether it be man or woman or family or not and I think that's important when you play the game of thrones."
She acknowledged the brewing tension between Sansa and her half-brother Jon Snow (Harington), who are now working together.
"There is still that sibling rivalry back from when they were young. There's still that sexism that's ingrained in the culture," she said. "He's the military man, she's the politician. I think they need to realize that they need to stop fighting for ultimate power and just work together."
Speaking of Jon Snow, the cast members laughed about how annoying it was to have to answer questions about whether or not his character was alive or not for a year. The secretive show played coy about his fate between seasons five and six.
Actor John Bradley said they basically had to talk about it every five minutes "for a year." Nairn added that in a moment of frustration, he just said "I don't care," which websites extrapolated to mean that he "hates Kit Harington."
Christie, who also has a pivotal role in another property that inspires feverish fandom, Star Wars, said that she always loved Star Wars because it "gives a sense of home."
Going into season seven of "Game of Thrones," she said there is a similar feeling.
"I look forward to the resonance of Game of Thrones carrying on through people's lives so that they have the same feeling of home and love for it," Christie said.