For a change, Brillante turns in feel-good drama for his 57th B-day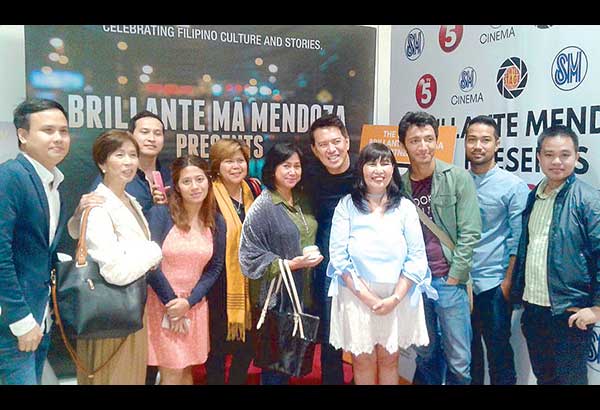 MANILA, Philippines - Brillante Mendoza is known for turning in dark, brutal and depressing films that earned him worldwide accolades including a Cannes Best Director laurels for his gritty Kinatay. It is for this reason that we were shocked — in a good way — that a Brillante Mendoza can also deliver a crowd-pleasing, feel-good movie which is what Filipino viewers need right now.
It's Kadaugan, Brillante's latest made-for-television project which is part of the monthly Brillante Mendoza Presents on TV 5, airing on July 30 in time for the filmmaker's 57th birthday.
The must-see drama revolves around Tere, a Cebuana, who, like many other women in her town, is hoping to marry a foreigner who can give her and her clan a better life. "If you marry me, you marry my family," she reminds a potential husband in one scene. The man, however, is not ready to commit and leaves her. In her quest for another foreign husband, she gets pregnant but the man eventually abandons her and her still unborn baby. Just as she has moved on and decides to raise her son single-handedly, a touching turn of events takes place.
Kadaugan is beautifully intertwined to the Kadaugan sa Mactan, a famous festival in Cebu that celebrates Filipino courage and resiliency as it relives the saga of the infamous battle between Ferdinand Magellan and his troops and the gallant chieftain of Mactan, Lapu-Lapu, and his men.
"Kadaugan sa Mactan is similar to Tere's journey," explained Brillante at a press conference at the Director's Club at SM Megamall. "It's a rhetorical symbol for the battle of Tere for love."
Kadaugan is shot entirely in Cebu with an all-Cebuano cast and crew, according to Brillante. "I intentionally involved Cebuano talents as part of my advocacy for regional filmmaking," he noted. The dialogue is in Visayan dialect with English subtitles.
Leading the cast is the beautiful Dionne Monsanto, who is compelling as Tere. The former Pinoy Big Brother housemate-turned-dramatic actress became a household name for her portrayal of the antagonist Lucy Villadolid in the hit drama series Tubig at Langis. As Tere, Monsanto manages to convey a wide-range of emotions that only experienced actors can do. In a scene where Tere nonchalantly declares that she's no longer hurting and has decided to just spend her life taking care of her son, many in the audience started crying buckets — tears of joy, actually — knowing that Tere is at last free from pain and suffering.
The male lead, Johann, is essayed impressively by newbie Daniel Marsh of the Juan Direction fame. Marsh, who also grew up in Cebu and actually speaks the Cebuano dialect, is a revelation playing a young tourist from the Netherlands who is not ready for lifetime commitment. He's comfortable in front of the camera and delivers the right amount of emotions his character calls for.
The very competent cast includes veteran actress Gloria Sevilla, recognized as the Queen of the Visayan movies; the ever reliable character actress Suzette Ranillo; indie actors Matt Daclan and Albert Chan, and sexy comedienne Keanna Reeves, who effectively provides the film's comic relief.
Kadaugan is written by one of Brillante's young proteges, Eero Francisco, a 23-year-old filmmaking scholar and graduate of De La Salle-College of Saint Benilde.
Eero provided Brillante a rich and fast-paced material that gave the director a chance to once again display his power to make viewers feel as if they're witnessing every scene up close as it unfolds right before their very eyes.
We all know that Brillante thrives at delivering sordid plots that highlight misery, desperation and death which the western world enjoys watching. But we also know now that Brillante Mendoza can bring hope and healing and empowerment to wounded souls.