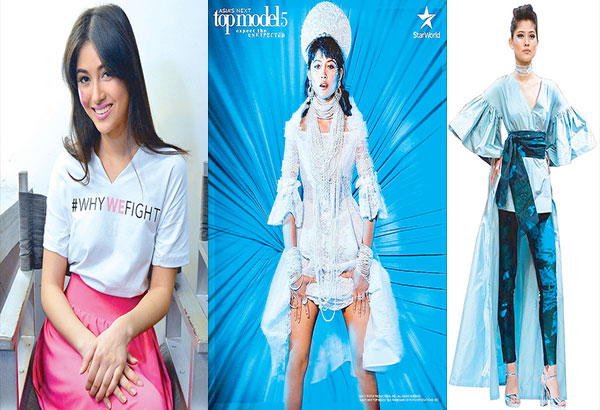 The first Filipina to win Asia's Next Top Model (AsNTM) confesses in an exclusive Conversation that when she thought of quitting the grueling competition in Singapore, she would recall what her late mom would always remind her and her three sisters, 'Believe in yourself; you can do it!' — Photos of Maureen in '#WhyWeFight' shirt by Ver Paulino; Maureen during Asia's Next Top Model 5 are from AsNTM Facebook
Maureen Wroblewitz: Mother knows best
CONVERSATIONS
-
Ricky Lo
(The Philippine Star) - July 8, 2017 - 4:00pm
"My mom was a fighter," Maureen Wroblewitz replied when asked what inspired her during the highly-competitive Asia's Next Top Model (AsNTM). "Before she died, she would always remind my three sisters and me, 'Believe in yourselves; you can do it!'"
Being the shortest (at 5'6") and the youngest (at 18) among the hopefuls from all over Asia, Maureen thought she didn't stand a chance and was the most surprised when she bagged the title, a first for the Philippines (whose bet two years ago, Katarina Rodriguez, was crowned 2017 Bb. Pilipinas-Intercontinental, finished second runner-up).
As part of her prizes, Maureen will appear on the cover of Nylon Singapore, a Subaru Impreza car. She will be heading to Europe where she will be given the opportunity to be represented by internationally renowned Storm Model Management.
So what would she do with her car?
"My sisters and I will go on a road trip," smiled Maureen.
The STAR caught Maureen at a Makati City studio while being photographed by Sara Black for the #WhyWeFight campaign of the ICanServe Foundation, a breast cancer advocacy group that promotes Awareness and Early Detection. The flagship program, "Ating Dibdibin," a community-based breast cancer screening program, is the first of its kind in the country and partners with local governments to provide access to affordable diagnostics and timely cancer treatments. ICanServe is also a founding member of Cancer Coalition Philippines which is working for Congress to pass an Integrated National Cancer Prevention and Control Act.
Maureen's mom, a Filipina, succumbed to breast cancer, that's why she's supporting the foundation.
"Maureen's mom Mariefe used to be an ICanServe volunteer because she was a cancer patient," shared Kara Magsanoc-Alikpala, a breast cancer survivor who is the founder of the foundation. "She passed away in 2009. Mariefe was a kind, strong, nurturing person. That's why it was easy for Maureen to embrace this advocacy. So I knew Maureen since she was a little girl. Her dad and my uncle also work together."
Sara herself got a cancer scare a few years ago when a general check-up revealed an unknown mass in her breast. Luckily, an incisive biopsy recommended by her doctor confirmed that the mass was benign.
Conversations asked Sara about Maureen as a photography model.
"She's amazing," said Sara. "You can see that there's a fire in her eyes. I love shooting newbies because they are so fresh, they don't have any stored bad history. She's so easy to direct. I love shooting women who don't know yet that they are super beautiful and Maureen is in that stage now. She hasn't realized that she's just becoming this butterfly; she's in that stage of metamorphosis that she's ready to explode. She's very down-to-earth and grounded."
Incidentally, The FashionCanServe2017 show #WhyWeFight is set for Oct. 8 at the ballroom of Raffles Makati (the host), supported by Philip Stein, Jewelmer, Security Bank, Del Monte Philippines, Manulife, Estee Lauder Group, Ideal Vision, Mundo Design, Mercedes Benz, Summit Media and Solar Entertainment.
Your surname is a tongue twister. Wroblewitz. How do you pronounce it?
"Robol-weetz. It's German but it's actually kind of a Polish name. My family came from Golina (in Poland) which is part of Germany. I was born in Saudi Arabia, where I grew up, and our family moved to Germany when I was 12, one year after my mom died in Saudi Arabia. I have three siblings; we are all girls, I'm the third. We live with our dad who is with Ramcar."
Sorry to hear about your mom. What are your memories of her?
"I knew that she had been sick since I was five years old. She had breast cancer for eight years and it had spread all over her body. We would always pray together…we were very religious. My mom was very supportive, always there for us. During the last few weeks of her life, we prayed together even harder. We became even closer."
Any last word to your mom?
"I didn't have a chance to talk to her. She passed away in Saudi Arabia. When we went to the hospital, she was already kind of asleep, so I didn't get to talk to her."
Pieces of advice that she left with you?
"She always told us to be ourselves, to believe in ourselves. She always encouraged us, 'You can do it!'"
So you remember that when you went to Singapore to compete in Asia's Next Top Model (AsNTM)…
"…Whenever I felt like giving up, I would just think of my mom. She was my inspiration. I would tell myself that I was doing it for my mom. She was very strong, she was a fighter, and I wanted to show people that I was like her."
There was a little issue about AsNTM because 2015 Miss Universe Pia Wurtzbach was one of the judges. Like you, she's half-German/half-Filipina. How much weight did Pia's vote count?
"Pia was a guest judge and she was very fair to every candidate. Her comments were very fair. She wasn't biased at all. Besides, it was not just her who was making the decision; there were other judges from other Asian countries."
How did you feel during the whole competition (13 episodes good for one season)?
"I had a little bit of modeling experience before I went to Singapore, but not enough. I started modeling only last year when I moved here to the Philippines. I was 18 then and I did commercials and photo shoots for only about three months. I was getting used to everything, to selling clothes. When you model, you are actually selling clothes."
Who pushed you into joining AsNTM?
"I was growing up very shy. It was kind of a reality-TV and I was scared. There were so many pretty girls. I knew about the competition but I never thought of joining. It was my manager who encouraged me, 'Oh, you should go and try.' So I went, not expecting anything. I just showed up for the casting and for the interview, and they took me in."
How many auditioned?
"There were 14 of us when the show started. Every week, one girl would be eliminated and then there wouldn't be anyone eliminated; but sometimes, there would be double elimination until only three of us were left standing."
You were the shortest (5'6") and the youngest (18) among the contestants, so what did you think were your winning qualities?
"I think my inexperience was an advantage. In a competition like that and you are very new, you are open to learning. You learn, you absorb and you apply what you learn. A professional model should have done it so many times already and it's hard to change your ways. But being a newcomer, you are open to learning more and more. You are very raw."
How did you react to the bashing?
"I'm not the type of person who fights back; I simply absorb. I know that there are all sorts of opinions and I just accept them. I knew that I deserve to be in the competition and I took that as a motivation, especially when I got to the Top 6."
What can you tell your bashers?
"I'm more than just a pretty face. Being inexperienced can be a great advantage."
Has your victory sunk in already?
"Actually, I knew the result when we finished shooting in April. But we were not allowed to even leak it because we signed a confidentiality clause. I was excited when I thought how the Filipinos would react to my winning but I kept quiet."
Your winning has changed your life radically. How are you dealing with it?
"I'm still getting used to it."
Your boyfriend must be insecure now that you are a star.
(Laughing) "I don't have a boyfriend."
Any models that you look up to and in whose footsteps you may want to follow?
"They are mostly foreign models. One of them is Cara Delevingne." (Aside: Cara Delevingne is in the movie Valerian and the City of a Thousand Planets with Rihanna and Dane DeHaan. Pioneer Films is releasing the movie nationwide third of this month.)
(E-mail reactions at entphilstar@yahoo.com. For more updates, photos and videos, visit www.philstar.com/funfare or follow me on Instagram @therealrickylo.)