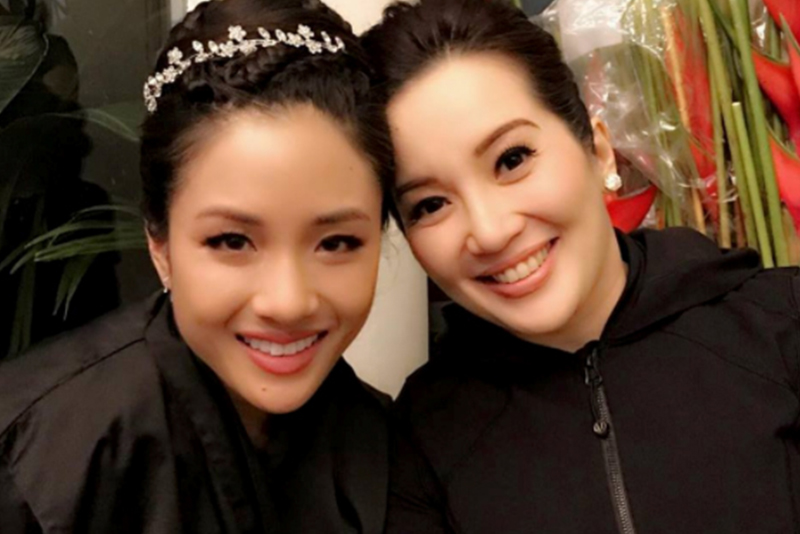 Kris Aquino (right) with supposed "Crazy Rich Asians" co-star Constance Wu. Screenshot from Facebook/Kris Aquino
Crazy rich eyebrows: Kris Aquino recommends microblading
MANILA, Philippines — Bella Thorne and Oprah Winfrey are among the Hollywood celebrities who have reportedly tried microblading, the so-called "holy grail" of eyebrow shaping.
In the Philippines, among those raving about microblading is "queen of all media" and rumored "Crazy Rich Asians" star Kris Aquino.
In a recent press conference for antibacterial product Fucidin, Kris said her friends who have tried microblading look good.
Whena Pino and Ron Pena are among those in the Philippines specializing in microblading. Pino is the Philippine organizer of PhiBrows, an organization that trains and certifies microblading experts around the world.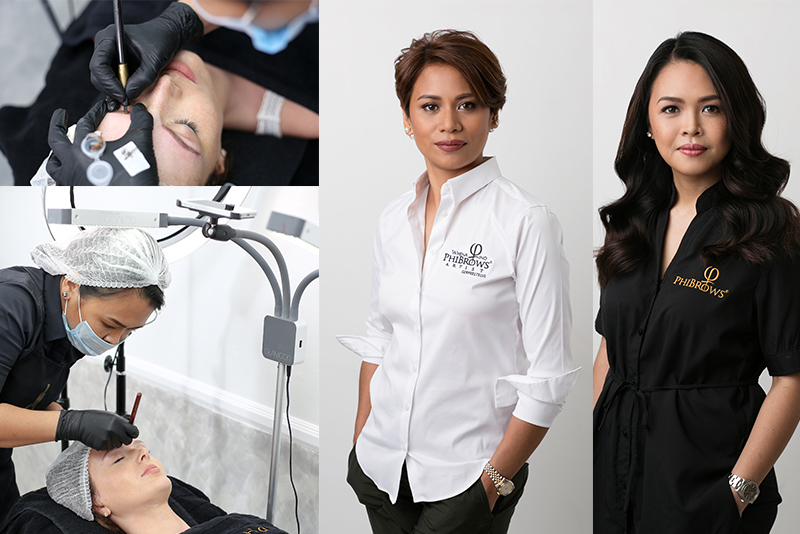 From left: PhiBrows microblading procedure, microblading artists Whena Pino and Ron Pena
Started in Belgrade, Serbia, the organization was founded on the principle of Phi or the "Golden Ratio," the scientific measurement of beauty. According to this principle, faces are judged as attractive based on their Golden Ratio proportions between the width of the face and the width of the eyes, nose and eyebrows. By incorporating this principle and the European standards on safety and quality, PhiBrows was able to achieve a technique that combines science and aesthetics.
The academy's three-tier training program has bred masters in the art of microblading. Called PhiMasters, they travel around the world to educate artists on the Phi technique aimed at ensuring that only the best are accorded the seal of approval and awarded the right to be called a Phibrow artist.
Currently in the Philippines, there are 37 certified and accredited artists, and this list includes Pena and Pino. Having been trained by top master Dovile Zilinskaite, Pena and Pino have mastered the skill in creating "hyper-realistic" eyebrows using the Phi technique.
"Hyper-realistic brows are arches that follow the brows' natural arch, shape and hair flow. That's the PhiBrows way," Pena explains.
"Microblading is the most natural approach to semi-permanent eyebrows," Pino says.
"Microblading, basically, is also a tattoo in principle, but it's highly specialized that's why we usually don't associate it with tattoo. But in principle it is," Pena adds.
The technique is done by first, drawing a shape on the eyebrow area using a special compass. The shape and color are determined based on Golden Ratio calculations and not on trends, so the eyebrows stay classic and "scientifically" true to what flatters the person, Pena says.
Following this customized shape, the artist then makes strokes of hair using natural pigments and a specialized tool with microblades, akin to getting a tattoo but with minimal pain similar to just having a salon eyebrow threading or facial.
After the procedure that lasts from one to two hours, the client is then given after-care instructions. The client then returns for a retouch after a month. If taken cared of properly, the semi-permanent tattooed eyebrows could last for five years, says Pena.
Here are other advantages of microblading, according to Pena and Pino:
The eyebrows do not discolor over time.
Since microblading is a superficial treatment, it is only done in the middle of the dermis and the epidermis and does not penetrate the deeper layers of the skin, so there is zero hazard and perfectly safe.
It does not interfere with the eyebrows' natural growth.
It makes minimal scarring and pain. You can even sleep during the treatment.
Microblading, says Pena and Pino, is particularly popular among flight attendants, newscasters, politicians and athletes because it allegedly gives them naturally looking eyebrows every day and saves them time from grooming or applying eyebrow makeup.
As one ages, eyebrows are said to get thinner over time. So, besides those who are aging, microblading is also advisable for those who are at least 18, for both men and women, not only for vanity but also for enhancing one's general appearance, says Pena.
"Microblading is such a hit among Filipinos mainly because it does give you a structure for your face; it frames your face very well," she assures.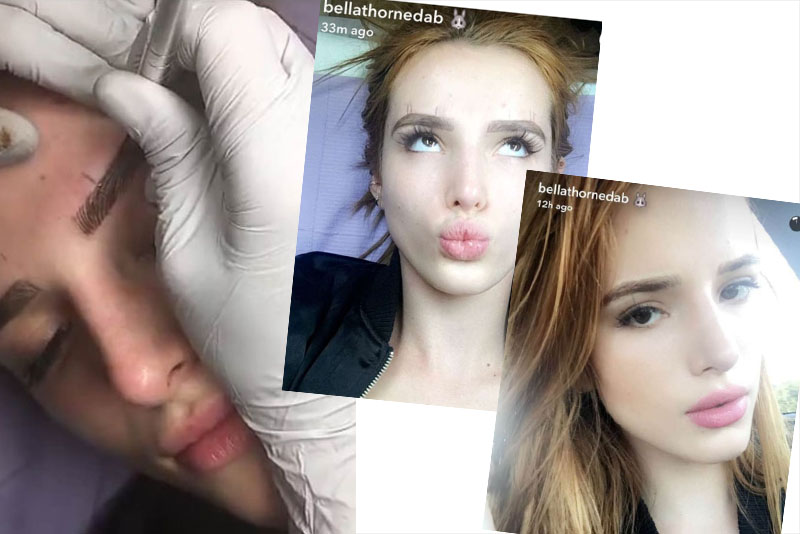 American actress and singer Bella Thorne sharing on Snapchat her microblading experience.
Scientific studies also show that people who are more attractive or whose faces are nearer to the principle of the Golden Ratio are more successful. Thus, if one's eyebrows are in accordance with the Phi of one's face, then it could make one more attractive and more likely to be successful, says Pena.
To hasten the healing of eyebrows that went through microblading, Kris recommends using antibacterial ointments like Fucidin.
"Filipinos' number one concern is beauty and nothing is wrong about looking good!" she enthused.