Ex-Darna Nanette Medved collaborates with Solenn Heussaff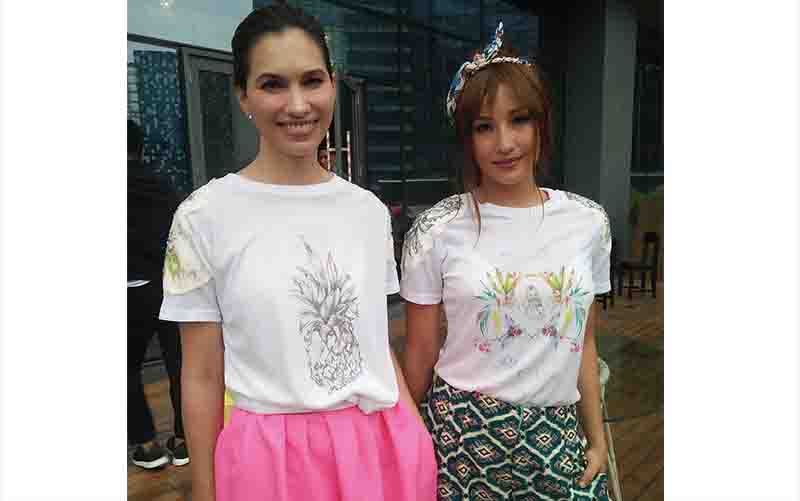 MANILA, Philippines — Summer is over and it is again the time of the year for kids to go back in school. For sure, on the first day of classes, there are hundreds of reports of school classrooms shortage.
GenerationHOPE founder and president, former actress Nanette Medved-Po, believes the government simply cannot do it alone, so her social enterprise aims toward building public schools.
Thirty seven classrooms have been built by GenerationHOPE'S Hope in a Bottle Purified Drinking Water, so the team realized the growing interest of Filipinos in buying a socially and environmentally responsible brand. Hence, Nanette's team created the Hope in a Shirt, a shirt made from 100 percent recycled plastic bottles, to build more classrooms.
Knowing that actress Solenn Heussaff is into arts, Nanette ask her if she is willing to collaborate and create custom designs for an exclusive collection.
"She (Nanette) called me and asked me because she knows I'm very much into art and I love drawing and their company works on building classrooms for the children, so when she asked me to do the collaboration, I couldn't say no because it is something I love to do, art, and the same time, I'm helping for education for the kids," Solenn said.
Nanette said the shirt collection is very exclusive and there are only 200 shirts to be purchased. "It's is super limited. It was designed that way because we really want this to be a super exclusive collection not because we're trying to make money but more of an awareness exercise for public school classrooms and also environmentally friendly through recycling," she added.
Each T-shirt is made of 11 plastic bottles. For the design, Solenn said there are only three designs.
"I basically drew a kid and flowers because if you give education to a child they will blossom for something bigger and better. It is a simple of beauty and blossoming," Solenn said.
The collection will be launched in a special Hope-branded vending machine inspired by New York Fashion Week. The Hope vendo will pop up in three surprise locations for only two days each, so check Hope's Facebook and Instagram page for updates. Thereafter, the shirts will be available exclusively at online store Zalora.