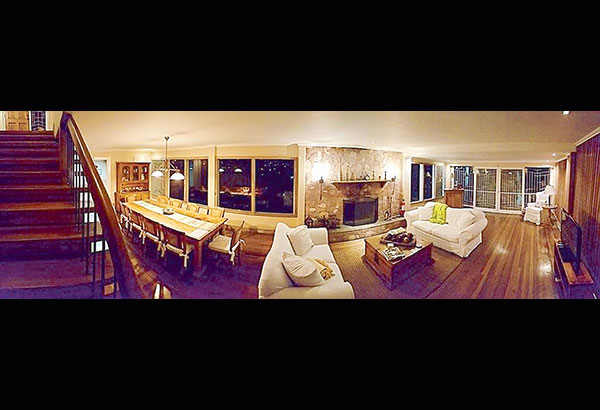 The living room and wooden stairs leading to the second floor
The place to stay in Baguio
When you book your stay at The Country Place Baguio, one of the many things that will never go unnoticed is Mrs. B. Mrs. B is Soc Baylon, (but she prefers to be called Mrs. B) whose lovely, endearing Ilonggo accent has not been abated despite the many years abroad. Maybe, it is the Ilonggo in her that makes her more lovable.
She tells you stories of every nook and cranny of The Country Place Baguio, of every celebration spent, of special guests who have either dazzled and captivated her or simply bored her or left her turned off. And yes, of how Baguio has changed.
Mrs. B is no stranger to Baguio. Her love affair with the city started early. She has been going up to Baguio since she was little. "Baguio, for me, is such a honeymoon city. Ever since I was a child, I love Baguio. Somehow, it relaxes me," she explains.
But she notes that Baguio is different now. "So much has changed within the city. One has to travel to the mountainside to smell the pine. However, people like myself love to go down memory lane and rekindle childhood Baguio summer and Christmas vacations."
For someone who has spent half of her life in Northern America, Baguio provided a beautiful way out of retirement. The city was the perfect place. "I lived in North America more than half of my life. I am used to cold weather although not snowy cold."
Then there is also the proximity to other nearby places.
"An hour and a half drive down, you can spend the day surfing, swimming and snorkeling in La Union," she says.
Coming out of retirement from years of living abroad, Mrs. B engaged in an excursion with her husband to Baguio.
"When our two sons finished school, they both told us to travel while we can still get on the bus. So, we decided to see if Baguio would be it and we are happy that our Lord has always been guiding us."
And when the owners (her cousin, Saripaz Villar's family) suggested if she would be interested in running The Country Place Baguio as vacation residences, Mrs. B had no second thoughts. Besides, she has always loved the countryside.
"As a hotelier, my dream was to run a vacation property where one can just loosen up and relax and not feel cooped up. With the size of the residences and garden, one can have time to appreciate the simple things in life."
It is not easy to separate Mrs. B from The Country Place Baguio, since it has always been a vacation home. "We spent summer holidays here. The stairs and most of the wall paneling are pine from the '50s. One can get a feel of living in a country set-up with a city view from the huge glass windows and verandas."
To step inside The Country Place Baguio is like going into those beautiful houses you only see in Town and Country or Better Homes and Gardens. "This was built in 1958 as a vacation home. Each residence has its own garden for morning coffee. You can just stroll around our rosemary garden and enjoy an evening drink while sharing bonfire stories. It is one's home away from home."
For Mrs. B, every corner of The Country Place Baguio is a favorite and every nook and cranny is special. Each spot is a treasure.
"I would start with the six-car garage, and the four gardens where you can gather around the bonfire with your favorite drink. The glass room overlooking the city view is also special. I think this is my spot to read a book and doze off."
Visitors of The Country Place Baguio are encouraged to "Make It Your Own..." Mrs. B says she wants her guests to be "relaxed and to enjoy every aspect of the residences and gardens during their stay and, hopefully create fond memories."
Running The Country Place Baguio is neither hard nor easy. "I am very lucky to enjoy and love what I do and hopefully our guests are happy with our hospitality."
She is also ably assisted by an equally kind and gracious staff. Mrs. B has thoroughly trained them: From dressing up a table, pouring that glass of water to proper placement of spoon and fork or holding that umbrella and other courtesies. "We go by the following dictum: Respect, accountability, anticipation and team work. Our only aim is for our guests to enjoy their stay and create happy memories."
The Country Place Baguio, where there are no high or low seasons but "year round rates," is open to all markets.
"We managed to book company team building sessions, family reunions, corporate meetings and at times individuals who just want to relax by the fireplace at night with a glass of wine. I try to suggest other options to our potential guests when all residences are taken and to try us again when accommodation is available," adds Mrs. B.
The Country Place Baguio has also been visited by celebrities. Among those who have stayed at the place were Martin Nievera, Jaya, Lani Misalucha and the boy band 26HundredB.C.
Like Mrs. B and the rest of us, Baguio will always be one of the special places to be. Mrs. B has found the reasons why people keep on coming back to the City of Pines. "It has a beautiful weather and awesome views. Then there are the restaurants that are Baguio-based only. You also go back because of the people and their culture. And one must not forget the strawberries."
I have stayed at The Country Place Baguio a number of times. I love the place. It is my second home in Baguio.