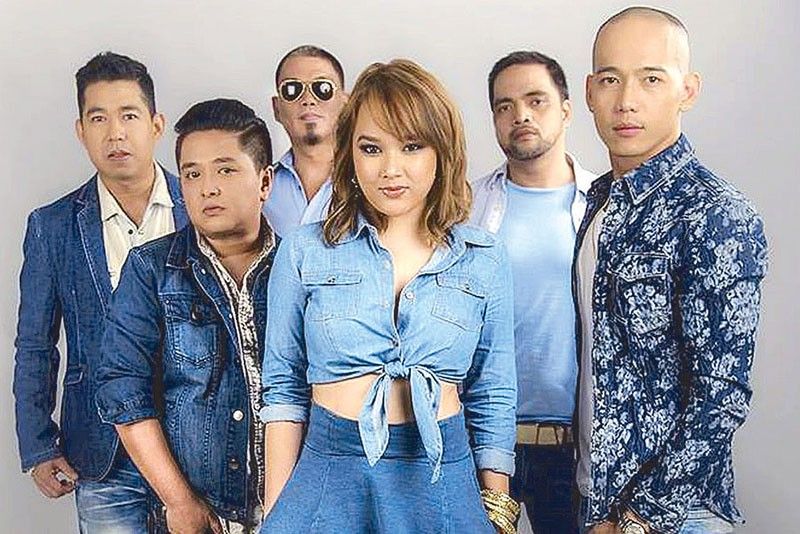 From left, back row: Tat Suzara (guitars), Gerd Banzon (drums) and Rommel de la Cruz (bass); front row, Mike Luis (keyboards), Ava Santos and Joshua Desiderio (keyboards) — all vocals
For Freestyle, change is good
MANILA, Philippines - Two decades after Freestyle stormed the local music scene and charted such unforgettable hits as Before I Let You Go, This Time and So Slow, the band is still very much around and remains very much active. Yes, despite the change of frontliners.
Undoubtedly, Freestyle has become a byword in the local entertainment scene from the time it hogged the limelight, tracing its humble beginnings in Davao.
While other bands that soared at the same time had long left the music scene, Freestyle has weathered every experience they needed to hurdle — from great successes to painful struggles.
Although the band has experienced change of members, especially its original frontliners such as Top Suzara and Jinky Vidal, Freestyle has stood the test of time. And how!
Believe it or not, but Freestyle, no matter how popular the band has become, has experienced rejection, being compared with other bands and even a dip in the pay scale. Just when band members thought everything was going on smoothly, something happens that shakes the world of the members.
Top left the band in April 2005, while Jinky went solo in 2012. Freestyle is now under 1Entertainment, Inc. with Celeste Pacana as manager.
They have admirably survived the change of frontliners through the years. "They did it with great optimism," says Celeste. "They always believed that change is always for the good, too."
Drummer Gerd Banzon and lead guitarist/back-up vocals Tat Suzara are the only two original members remaining today. The present line-up of members is made up of Joshua Desiderio and Mike Luis on vocals and keyboards, Rommel de la Cruz on bass guitar and Ava Santos, the sole female vocalist.
Thankfully, Freestyle knew and learned how to weather struggles. They constantly pray for "wisdom, strength and guidance" before they go onstage to perform. Finding other means of income to augment their earnings, side projects and small businesses to keep them afloat became challenges for the group.
More recently, Freestyle released an independent album, Mga Kwentong Kinanta, featuring newest member, Ava. The album is trying to create a distinct and unique sound for the new members.
For instance, Ava can hold her own with the original hits of Freestyle, but she has also developed her distinct interpretation of some OPM songs to make it her own. Joshua, for his part, came out with the hit Half Crazy and Mike interpreted other songs like Changes and his infectious and entertaining Michael Jackson songs.
With the ever-changing trends in the local music scene, Freestyle has admirably coped with being a popular band. They believe they must be aware and conscious of the present circumstances and embrace the new trends. It's a struggle though, but the band knows they need to roll with the punches and get on with the program.
Basically, Freestyle knows how to "keep working hard, despite the new responsibilities and even the distractions." More originals are in the works and churning them out as quickly as they can online and hoping for the best all the time.
At present, Freestyle regularly performs at 19 East, 12 Monkeys, Eton Centris Walk, Historia Boutique Bar and Restaurant and Chaos in City of Dreams. On May 3, the band will regale guests in the town fiesta in Sta. Cruz, Lubao, Pampanga. On May 20, they will be featured at the Azul Bar at Aquatico in Laiya, Batangas and on May 27, they will perform in a fundraising concert at UST.